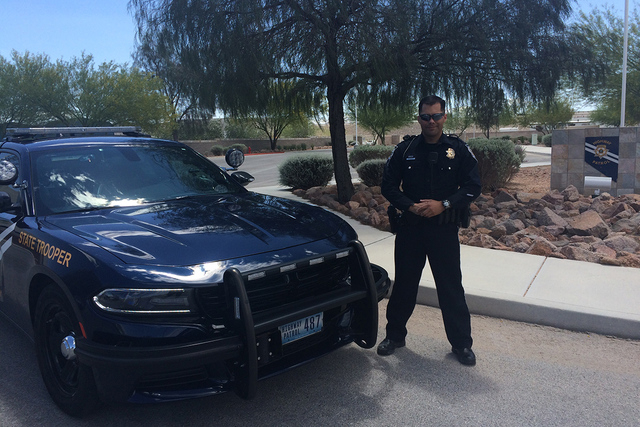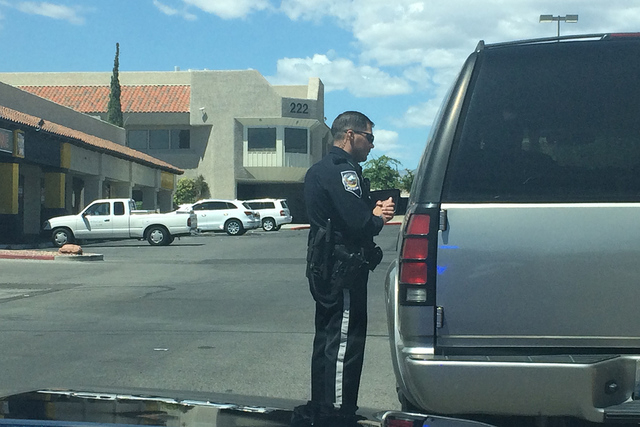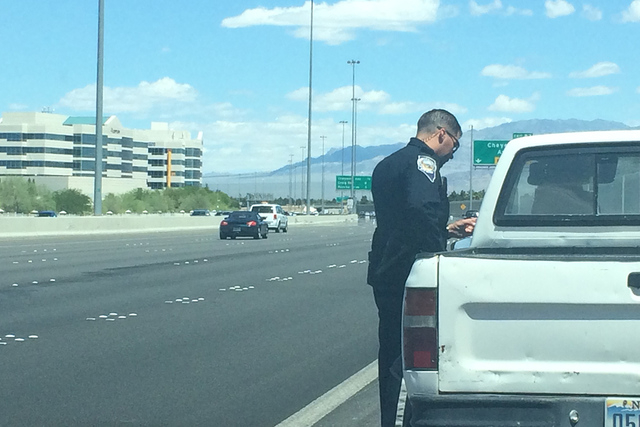 This week marks the beginning of the national Click It or Ticket campaign, a multi-jurisdictional law enforcement program focused on saving lives.
The Nevada Highway Patrol and Las Vegas, North Las Vegas, Henderson and Clark County School District police join forces before Memorial Day to ticket and educate people about seat belt safety during this federally funded campaign.
"The enforcement is strategically planned ahead of the Memorial Day holiday, one of the busiest, and often deadliest, travel weekends of the year," according to NHP.
Failing to wear a seat belt is a secondary violation, meaning another law has to be broken before a ticket can be written for a seat belt violation, NHP trooper Jason Buratczuk said.
During a ride-along Monday with trooper Sam Acosta, who has been participating in the campaign for about six years, a reporter watched as about eight vehicles were pulled over in about four hours for primary violations such as expired registration, speeding, following too closely, or having an inoperable taillight. The drivers then were ticketed for not wearing a seat belt.
Acosta said he has noticed more people not wearing seat belts on surface streets and using the excuse of "just going down the street."
"You are more likely to get into an accident within a few miles of your home because you're familiar with the area and not paying as much attention," he said.
The ticket for not wearing a seat belt is $25. "I wish it was more because of how important it is," Acosta said.
"Until legislation makes seat belt enforcement a primary violation, it makes it harder for us to enforce them, and until the cost of a seat belt ticket increases to other comparable violations, the impact will be minimized by the violator," he added.
Some excuses people give for not wearing seat belts, in addition to going short distances, involve some kind of urgency such as having to go to the hospital or a complaint that the strap is uncomfortable.
Ra-Jon Reed, who was pulled over for speeding and was wearing his restraining device, said, "I wear my seat belt for safety so I don't go through the windshield."
Acosta said the chances of surviving when ejected from a vehicle are slim, "especially with the rocky landscape in Las Vegas."
Although officers try to enforce seat belt laws on all shifts, extra troopers sign up specifically to write tickets and educate people putting their lives in danger by traveling unrestrained.
"This isn't an event that we're generating revenue from," Buratczuk said. "We're merely saving lives."
Everyone in the vehicle is required to wear a seat belt, and a ticket can be issued for every person who fails to comply.
A person is 60 percent more likely to survive a crash if wearing a seat belt, Buratczuk said.
From 2010 to 2014, more than half of vehicle occupants killed in crashes weren't wearing seat belts, according to the National Highway Traffic Safety Administration.
"I like to help people," Acosta said, "Part of my job is to work with people and educate them."
Contact Lawren Linehan at llinehan@reviewjournal.com or at 702-383-0381. Follow @lawrenlinehan on Twitter.