Lawsuit plaintiffs ask Vegas court to 'affirm black lives matter'
November 24, 2015 - 2:01 pm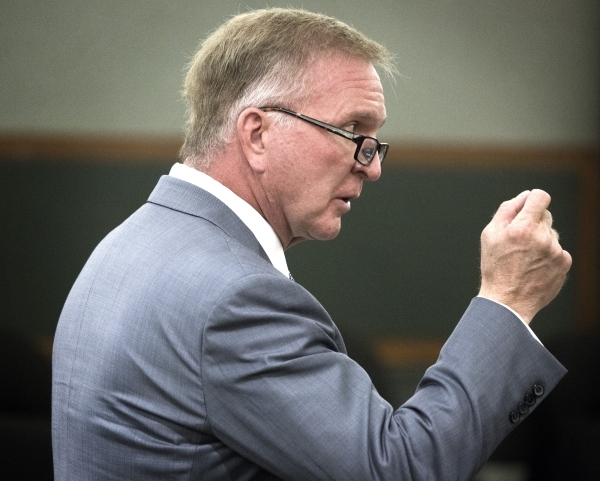 Attorneys pursuing a medical malpractice case against Summerlin Hospital Medical Center will be allowed to ask prospective jurors about their racial biases, a judge ruled Tuesday.
"It should be noted, however, that such questions are appropriate and are asked in every case," District Judge Jerry Wiese said.
The judge made his ruling in response to an unusual motion filed by attorneys representing Nyiesha Costa, who is black, and the estate of her 8-year-old son, Nikhelais, who died at Summerlin Hospital on May 25, 2010. The document was titled, "Plaintiff's Motion to Affirm Black Lives Matter."
Wiese said he thinks Costa's attorneys chose that title to attract media attention.
"You can tell from the cameras that are here that it was successful," the judge said. "I don't know that that was appropriate, but it is what it is. I'm going to be real clear that the court acknowledges that black lives do matter, but the court does not take an official position with regard to the Black Lives Matter political movement."
Attorney Robert Eglet, who represents the plaintiffs, said the purpose of their motion was "to ferret out potential racial bias in the jury."
"This motion was not any effort to suggest that any of the defense counsel or their clients are racially biased, and that that has anything to do with the liability in this case," Eglet said.
The Black Lives Matter movement began after a neighborhood watch organizer fatally shot Florida teenager Trayvon Martin in 2012. Since then, the movement has led to protests over a range of racial issues, including the deaths of black people at the hands of law enforcement officers.
"Yes, that is a politically charged issue right now in the United States, and that is why that issue is the perfect issue to be discussed with the jury, because people have strong feelings one way or the other," Eglet said at Tuesday's hearing. "And those strong feelings about the Black Lives Matter movement, in fact, will reveal the either explicit or implicit or unconscious biases that jurors may hold against black people. That is an appropriate subject."
The Clark County coroner's office determined that Nikhelais died accidentally as a result of "acute lung injury due to anesthetic drug reaction." A trial in the malpractice case is scheduled to begin May 31.
"I will not allow the case, that as far as I can tell has nothing to do with race, to be turned into a case that deals with race," Wiese said Tuesday.
He said he did not know exactly what kind of order Costa's attorneys were seeking with their motion, but he interpreted it as a request to question prospective jurors about their racial biases.
"I am going to allow discussion about racial bias," the judge said. "We would allow that in every trial."
Attorney Ian Houston, who represents Summerlin Hospital, agreed that "ferreting out racial bias is appropriate" during jury selection.
"However, with respect to the specific mention of the Black Lives Matter movement, that's where we feel there's an opportunity to inflame, confuse and mislead jurors," he told the judge.
Eglet said multiple studies have shown that racial biases "have become more internalized, more implicit or unconscious because of social pressures and race as a taboo subject."
"Studies show that white people often perceive black people as feeling less pain because they have faced more hardship during their lives," he argued.
Such perceptions affect the value of the case, Eglet said, "and the defense knows it."
— Contact reporter Carri Geer Thevenot at cgeer@reviewjournal.com or 702-384-8710. Find her on Twitter: @CarriGeer