Lawsuit targets Las Vegas court collection practices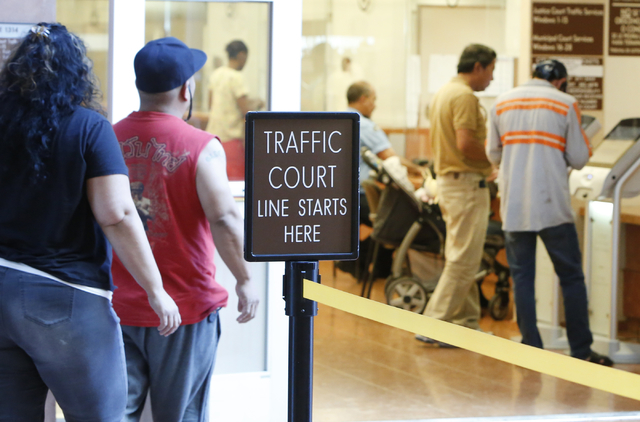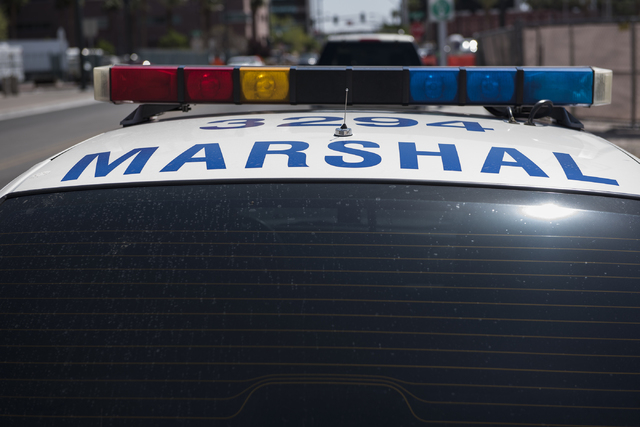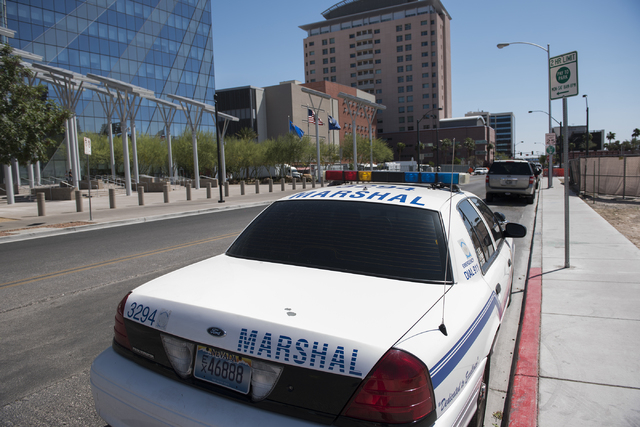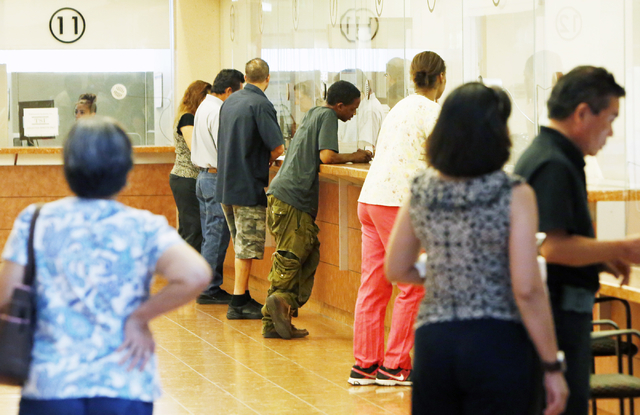 City employees, state lawmakers, former judges and defendants have spent months blasting the Las Vegas Municipal Court's "money hungry" courtroom hearing and cash collection practices.
A motion filed against the city last month seeks to do something about it.
The 14-page legal challenge, drafted by defense attorney Craig Mueller, accuses the court of levying unconstitutional fines and extracting hefty fees from poor defendants.
It also alleges the court denied constitutional due process rights to Eric Siegler, who faced a pair of warrants tied to fix-it tickets he racked up in 2014.
Mueller looked to quash those warrants back in April, when he says an unelected, City Council-appointed traffic commissioner tried to force Siegler to pay down $450 in fines before his case could be heard by an elected judge.
Siegler's case was eventually taken before Municipal Court Judge Martin Hastings, who quashed his warrants and waived his fees. Not long after, the city attorney's office filed a motion against Siegler to clarify the "process leading to quashing of bench warrants."
City Attorney Brad Jerbic declined to comment on pending litigation.
Mueller suspects the move is simply an attempt to protect a traffic court system built around unaccountable judges, exorbitant fines and plain old "extortion."
That's why he hopes Siegler's legal challenge — set to be heard by Hastings on July 22 — can force the court to change its ways.
"My hunch is (traffic court) is designed to do exactly what they're doing with it: To make sure you don't get to a judge and you get screwed out of these outrageous fines," he said. "I think we can force them to rethink it.
"If nothing else, we can embarrass them into changing it."
CRITICISM PILES UP
Mueller isn't the first to slap the court with the "extortion" label in recent months.
Current and former Las Vegas employees, who asked not to be identified for fear of retribution, said the city is treating its poor and minority residents like a cash machine. They say the court's approach to misdemeanor warrants prioritizes cash above public safety and pressures marshals to take a credit card payment in lieu of locking up even violent offenders.
Staffers who spoke with the Las Vegas Review-Journal in March compared those practices to policies uncovered in Ferguson, Mo., where weeks of rioting and grand jury proceedings followed the shooting death of 18-year-old Michael Brown, an African-American, at the hands of a white police officer in August. The officer, Darren Wilson, has not faced criminal charges in connection with that death.
State lawmakers and Las Vegas bail bondsmen echoed some of those same criticisms in April, lambasting the court for acting as a "collection agency" determined to preserve its right to threaten defendants with arrest for the most minor of offenses.
A Review-Journal analysis of nearly 39,000 outstanding court payment plans conducted two months later found those in hock to the court spent an average of almost three years trying to pay down what they owe on an initial misdemeanor, parking or traffic offense. On average, three-fourths of them will miss a payment and pick up a warrant that could prove a one-way ticket to jail.
Mueller's motion cites that story as further evidence of the court's "arbitrary and capricious" approach to cash collections.
It goes on to blame city leaders for creating a system that allows elected judges to delegate large chunks of their caseload to unelected traffic commissioners — a practice Mueller and other attorneys said runs counter to state and federal law.
Short of suing the city, former Municipal Court Judge Dayvid Figler wondered where someone might take a complaint about those commissioners, who aren't explicitly recognized as judicial officers under state law.
"It is disconcerting that they just created this new judge with no power of recall," Figler said. "I don't know where you get your redress.
"I think the (municipal) court should have to chime in on why they think what they're doing is right."
PAY TO PLAY
Court officials, by their own admission, make little or no effort to find out who can afford the court's fines, usually charged for small-time property and traffic crimes ranging from trespassing to speeding.
But officials maintain they do not "force people to pay money they can't pay just so we can keep running our business."
Forced or not, the court has found ways to squeeze more money out of fewer cases.
Per-case revenue is up 124 percent since fiscal year 2003, despite a 36 percent drop in the number of cases filed.
That's thanks in part to several fine and fee increases enacted over the past decade, including some changes that could see defendants spend months or years paying the court hundreds or thousands of dollars in late fees before even starting to pay down an initial past-due fine.
For years, defendants like Siegler — who might not be able afford the city's $300 to $400 average fine — have been charged $50 to enroll in court-provided financial counseling. Starting this month, they'll have to shell out a $2.50 transaction fee every time they put one of their payments on a credit card.
Another, larger fee increase — a $85 warrant quashing fee the court had automatically waived until October — plays a central role in Siegler's pending legal battle with the court.
Mueller said unelected traffic commissioners treat those assessments like an "admission fee" to court hearings already guaranteed under the constitution.
"There's absolutely nothing right about what the city is doing," he said. "It's so far wrong, in so many ways, it's offensive."
CITY RESPONDS
Councilman Bob Coffin doubts City Attorney Jerbic would let Las Vegas' leaders adopt an unconstitutional courtroom procedure.
The two-term councilman represents residents in two of the city's seven poorest ZIP codes, home to many of those defendants most vulnerable to rising court fines and fees.
He said the legal challenge authored by Mueller could "solve a lot of questions" surrounding the court's handling of such cases, though he's not sure any of those questions ought to revolve around traffic commissioners.
"I'm comfortable with the traffic commissioners to the extent that I can be," Coffin said. "I'm not a lawyer and we will, as a lawsuit is filed, find out if we made a mistake."
Coffin couldn't quite remember why the city decided to start appointing traffic commissioners in the first place.
He said the move was probably aimed at lightening elected judges' heavy workloads and said in his view, traffic commissioners haven't been afforded too much power under city code.
Councilman Ricki Barlow, who represents residents in three of Las Vegas' most cash-strapped ZIP codes, sounded equally unconcerned by the suit.
But he said the Review-Journal's June analysis of court payment plans raised plenty of eyebrows both in and outside City Hall.
Barlow expects that analysis to bring changes at the court, explaining the city is already in the process of assessing court practices and drafting recommendations to be mulled by Las Vegas leaders.
He declined to elaborate on that process, which he said should be completed in a "short period of time."
Former Municipal Court Chief Judge Bert Brown — who has said it's perfectly legal for traffic commissioners to preside over misdemeanor court sessions, including in-custody TV appearances made by defendants housed at the Las Vegas Detention Center — was away at a legal conference and could not be reached for comment.
Newly christened Chief Judge Cedric Kerns was out of the office for medical reasons and also could not be reached for comment.
Contact James DeHaven at jdehaven@reviewjournal.com or 702-477-3839. Find him on Twitter: @JamesDeHaven.