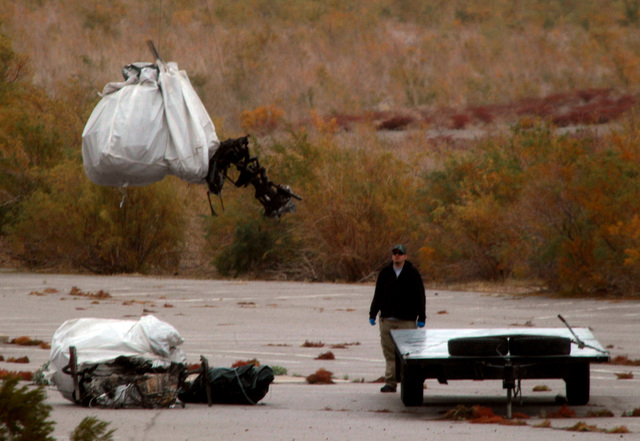 A Las Vegas jury "can make the helicopter tour industry safer" by awarding millions of dollars to the families of four people who died in a 2011 crash, a lawyer argued Thursday.
"You can raise the bar of safety," attorney Gary Robb told jurors. "You have the power, and I urge you with every fiber of my being to use it."
The Missouri lawyer represents the families of two married couples who died in the Dec. 7, 2011, crash near Lake Mead. In 2009, Forbes magazine described Robb as "the most successful helicopter-crash plaintiff attorney in the country."
Jurors heard four hours of closing arguments Thursday in the case against Sundance Helicopters Inc. They are expected to begin their deliberations this morning.
Investigators with the National Transportation Safety Board said a worn lock nut came loose in a Sundance tour helicopter, causing the aircraft to spin upward out of control, then make a sharp turn and rapid descent before crashing.
They determined that a self-locking nut in the rotor mechanism had been reused in violation of guidelines. Other contributing factors were "the improper or non-use of a split pin (or 'cotter pin') to secure the degraded nut, in additional to an in­adequate post-maintenance inspection."
The Eurocopter AS350-B2 was returning to McCarran International Airport from a twilight flight over Hoover Dam and Lake Mead when it suddenly made the strange maneuver before plunging into a ravine in the River Mountains, 14 miles east of Las Vegas. The heli­copter then broke into pieces and burned.
Killed in the crash were Lovish Bhanot, 28, and Anupama Bhola, 26, a honeymooning couple from India; Delwin and Tamara Chapman, both 49, a couple from Kansas, who were celebrating their 25th wedding anniversary; and the 31-year-old pilot, Landon Nield.
Robb said the passengers heard the pilot scream as they experienced a "horrific descent and G-forces unimaginable."
Attorney Timothy Ryan, who represents Sundance Helicopters, said the case "isn't about whether there was a tragic accident."
"Five people died. Stop saying four," Ryan said after listening to Robb's argument.
Contact reporter Carri Geer Thevenot at cgeer@reviewjournal.com or 702-384-8710. Find her on Twitter: @CarriGeer.