Laxalt's ex-law firm comes to his defense
August 21, 2014 - 8:28 pm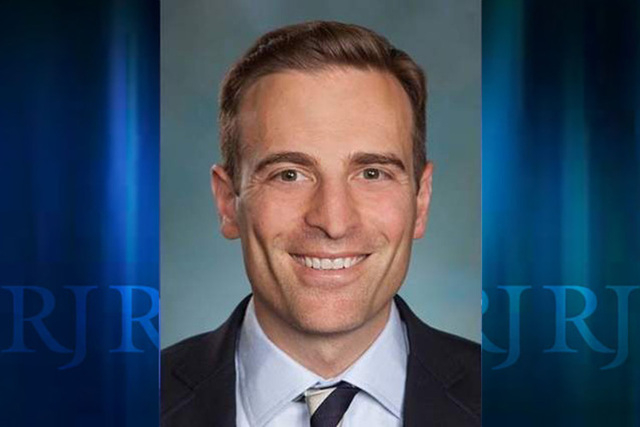 Republican attorney general candidate Adam Laxalt's former law firm came to his defense Thursday, saying leaked notes from four attorneys giving him a negative job review don't reflect other "highly favorable" evaluations he has received and don't represent the company's views on Laxalt.
"He is a capable and talented attorney who serves his clients well and, as such, we would welcome his return to the firm should he desire to do so in the future," said a statement released by Lewis Roca Rothgerber LLP.
The law firm said it had launched an investigation of what it called a serious "security breach."
"These are private, confidential documents of our firm, are not intended for the public, and, indeed, many portions of internal lawyer reviews are not shared with or known to the person being reviewed," the law firm said. "Release of these documents was not authorized by the firm."
The leaked document, titled "FY11/12 Performance Evaluation Meeting Notes," said Laxalt needed to work on improving "the quality of your work" and on his "legal writing skills."
The notes from the Lewis and Roca Associate Evaluation and Compensation Committee also said, "He is a train wreck" because of sloppy work and a lack of "the basic skill set" needed for an attorney.
The notes recommend "a freeze in salary, deferral, and possible termination." The attorneys also, however, suggested Laxalt attend seminars to improve his skills in legal writing and basic legal principles.
Jon Ralston, who writes a political blog and hosts the television program "Ralston Reports," obtained the document and posted it on his website Wednesday. He said he had authenticated the document.
Laxalt said he and his wife knew the race would be a challenge, and he dismissed the attack on his record as politics.
"We are stronger than the pettiness that is facing us today," Laxalt said in a statement Thursday. "My candidacy, background, and broad experience as an attorney is and will continue to be in sharp contrast to my opponent's."
Laxalt did concede it wasn't easy making the change from being a JAG officer to a lawyer in private practice.
"No doubt, the transition from a JAG officer in the Navy to a large, private firm came with its challenges," he said. "But, I met those challenges head-on, as I have always done, and ended up earning a promotion. … This was the result of my successful representation of Fortune 500 companies, a large Nevada city and some of Nevada's top job-providers and taxpayers."
The leak of the highly critical review is likely to harm Laxalt's bid against Ross Miller, his more well-known Democratic opponent and the current secretary of state. Laxalt already was considered the underdog in the Nov. 4 election.
Lewis Roca, in releasing a statement backing up Laxalt, could be trying to protect itself against any liability.
Laxalt, a former Navy judge advocate general, began at the law firm in 2011. The purported negative review came in fiscal year 2011-12. In 2012, the firm said it promoted Laxalt to "of counsel," a lawyer in the company but not a partner.
"The portions of the reviews in question are from 2011-12 and do not include other highly favorable feedback Adam received during his tenure with the firm," Lewis and Roca said.
The law firm noted that it has not taken a side in the race, although some partners back Miller and others back Laxalt.
"This should be expected in a firm as large and diverse as ours," the law firm said.
"We do wish to clarify, however, that the review documents being discussed in the media do not represent the current view of Lewis Roca Rothgerber LLP about Adam. … He made excellent contributions to our firm."