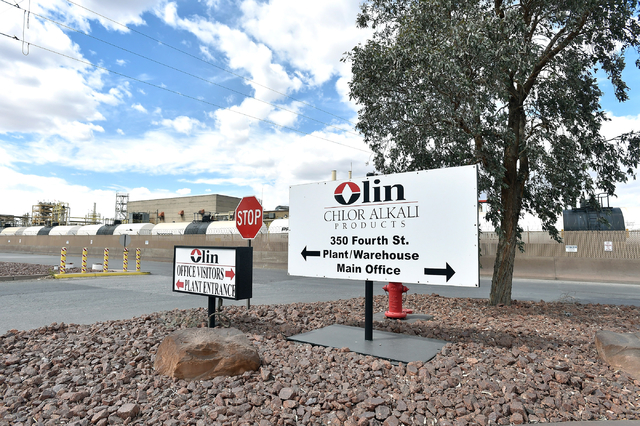 One of the chemical plants that gave Henderson its start will lay off about 100 workers and halt chlorine production in the coming weeks.
Missouri-based Olin Corp. announced plans last week to close and reconfigure its factory within the industrial area along Lake Mead Parkway north of downtown Henderson.
Olin officials said they will stop making chlorine and lye at the site as early as Thursday, when the company will begin converting the facility into a bleach factory and a distribution center for other industrial chemicals.
The plant is expected to shed about 80 percent of its workforce in the process.
The layoffs are set to begin in May, said Bill Locke, a district representative for the United Steelworkers, which represents about 60 plant employees through the Henderson-based Local 5282.
He said 100 jobs might not sound like a lot in the grand scheme of things, but their elimination will affect the local tax base.
The plant offered good pay and benefits to workers who will now have to move someplace else to find the same kind of work or take other jobs locally for less money, Locke said.
"This is a one-of-a-kind manufacturing job in this valley," he said. "If you don't have money, you don't spend it."
Plant worker Kyle Welch, who serves as Local 5282's treasurer, said the scale-back also could hurt supply houses, rental equipment companies and others that do business with the factory.
The union is conducting "effects bargaining" with Olin to work out the terms of the layoff and ensure fair treatment for those who lose their jobs and those who get to keep them.
Locke said the plant's partial closure could spell the end of Local 5282. Membership in the 61-year-old bargaining unit will be so depleted by the layoffs that it might make sense to roll those who are left into another Steelworkers group in the valley.
Olin's announcement to shareholders does not give a reason for the changes in Henderson, but Locke blames "bad (U.S.) trade policy and corporate greed."
"Basically, what they're saying is they can't sell the product," he said. "China and Russia are flooding the market. It's cheaper to get it from overseas. We can't compete with that."
Olin is also scaling back chlorine production at its other, larger factories in Niagara Falls, New York, and Freeport, Texas, but no layoffs were announced at those sites.
"Unfortunately, this facility here is the one that's taking the biggest hit," said Locke, who used to work at the Henderson plant.
The chemical factory has operated for about 75 years. It was founded as part of the World War II industrial boom that spawned a tiny factory town called Henderson, now Nevada's second-largest city.
But the plant was also the scene of one of the worst chlorine-related accidents in the nation's history.
In May 1991, rags clogging equipment at what was then known as Pioneer Chlor Alkali Co. Inc. caused a pipe to fail, spilling 42 tons of liquid chlorine that evaporated on contact with the air.
The resulting toxic cloud blanketed Henderson and eastern Las Vegas, sending 300 people to hospitals and forcing some 10,000 residents to evacuate.
Pioneer Chlor Alkali later agreed to pay $10,000 to an educational organization to avoid criminal prosecution.
It also spent $1 million on plant upgrades and settled 5,000 claims in connection with the accident.
Pioneer merged with Olin in 2007 to create the nation's third-largest chlorine producer.
Last year, the publicly traded corporation moved farther up that list when Dow Chemical Co. spun off much of its chlorine manufacturing business and merged it with Olin.
Contact Henry Brean at hbrean@reviewjournal.com or 702-383-0350. Follow @RefriedBrean on Twitter.