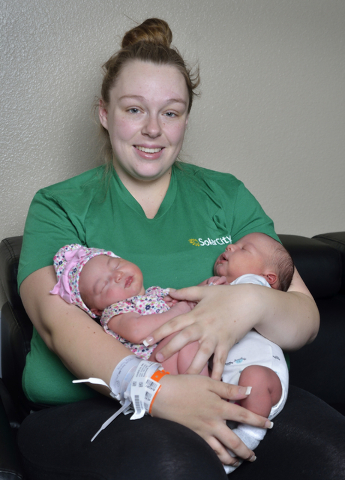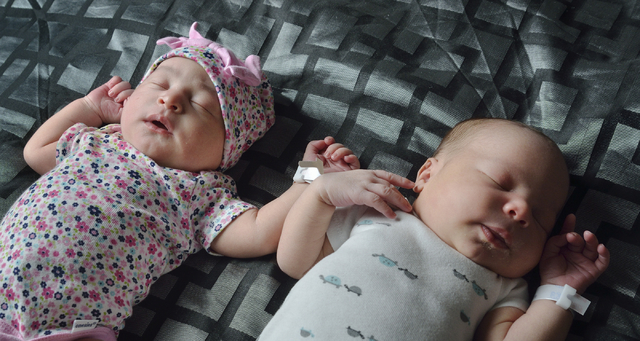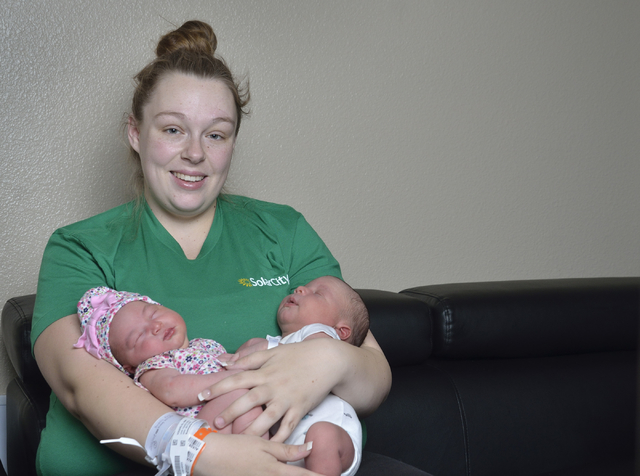 At less than a week old, Olivia Nicole Pea and Elijah Jordan Pea are already newsworthy.
It's not their heights or weights or even the fact that they're fraternal twins that's earning them the extra attention.
It's their birthday.
The brother and sister, who were delivered Feb. 29 at Summerlin Hospital Medical Center, are leap day babies, born on that extra day tacked onto the end of February every four years.
North Las Vegas resident Amy Youdelis, mom to the twins, said she discovered she was having two babies just a few weeks before her delivery.
"When they did the ultrasound, they were like, 'Oh yeah, there's another one in there,'" she said.
The chance of being born on Feb. 29 is about 0.0007 percent, and Clark County's major hospitals reported more than 60 leap babies this year.
On each of the past two leap days, in 2008 and 2012, a total of 86 live births were recorded overall in the county, according to the Southern Nevada Health District. The data for those years includes any home and emergency room births. Information on the number of births that occurred outside of major hospitals this year is not yet available.
Youdelis said she and the twins' father, Randy Williams, were excited for the additions to their family, which already includes a 2-year-old son, Jayden Tremain Pea.
The twins were delivered roughly two weeks before their March 12 due date, Youdelis said.
Olivia made her debut at 9:19 a.m., one minute before her little brother. Elijah won the size competition, weighing nearly a pound more.
While preparing to check out of the hospital Wednesday, Youdelis said the babies have been well-behaved so far, but she hadn't had a chance to parent all three kids at the same time.
"I'm happy right now. I haven't gone home yet, so I haven't done all three at once," she said.
As for any future fights over the shared birthday celebrations, Youdelis already has that figured out. Olivia will celebrate her birthday on Feb. 28, Elijah will celebrate his on March 1, and once every four years, they'll revel in the fun of a shared Feb. 29 party.
"My family is very excited for the leap year birthday," she said.
Contact Pashtana Usufzy at pusufzy@reviewjournal.com or 702-380-4563. Find her on Twitter: @pashtana_u