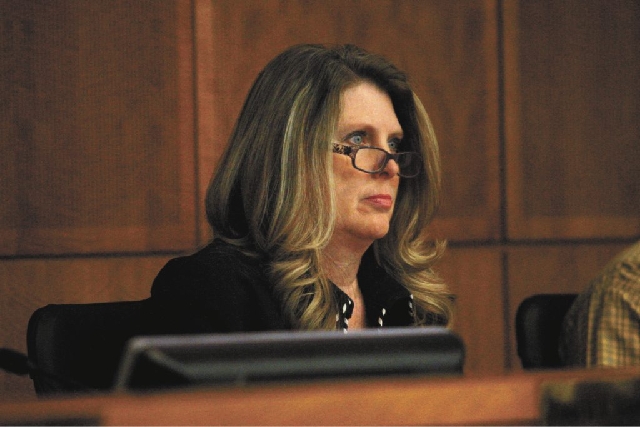 North Las Vegas voters shelved Mayor Shari Buck on Tuesday, ousting the first-term incumbent in favor of former state Sen. John Lee.
Lee, 57, out-raised his opponent by nearly $55,000 on his way to getting more than half of all primary ballots, averting a June 4 general election showdown with the city's first elected female mayor.
Second-place finisher Buck was opposed by public employee unions and was forced to defend herself for supporting construction of a new City Hall right before the deep recession struck the city. But she was supported by the Southern Hills Republican Women's Club and the Las Vegas Association of General Contractors.
"I don't ever view myself as a victim," Buck, 52, said as the final precincts trickled in. "I don't know if the turnout made a difference. … The voters made their decision."
Three-term state legislator Lee, who picked up endorsements from former Buck backers at the North Las Vegas Police Supervisors Union and the Las Vegas Metro Chamber of Commerce, was more than happy to take a bigger than expected piece of a smaller primary pie.
"I couldn't have done it without every single one of you," Lee told a supporters gathered in his dining room.
"For four years it's been (Mayor Buck's) town and her gavel and her funds," he said between smatterings of applause. "I've always been an inclusive person: Now it's going to be our town and our funds, just with my vision."
City Councilwoman Anita Wood retook her seat outright, getting well over half of all votes cast in Ward 3.
She more than doubled votes received by newcomer Janice Ridondo, a liaison for Clark County Commissioner Tom Collins making her first bid for a North Las Vegas council seat.
Wood, who outraised Ridondo by nearly $10,000, said it was money well-spent.
"I had a great, great team," the 48-year-old councilwoman said of her campaign staffers. "(Winning outright) has been our plan from the get-go, but I think it was my experience that made the difference.
"It's something my opponents just didn't have," she concluded.
Things aren't quite as settled for the top two finishers in Ward 1, where high school teachers Isaac Barron and Jared Hardy emerged from a four-deep field of campaign rookies.
Barron, 42, received just under half the votes. He said he never really expected to stake a claim to term-limited Councilman Robert Eliason's seat before the June 4 general election.
"I think everyone plays to win, but we worked hard and we've always been prepared to go to a general election," Barron explained. "It's a difficult thing to win straight-out in a four-way race and I had very strong opponents."
Hardy, 38, raised $29,889.79 compared with Barron's $64,548.29.
Both City Council members and the North Las Vegas mayor serve four-year terms, which will start July 1. The mayor earns $47,889.14 a year and council members earn $41,826.98.
Contact Centennial and North Las Vegas View reporter James DeHaven at jdehaven@viewnews.com or 702-477-3839.