Less time in security lines with TSA's PreCheck program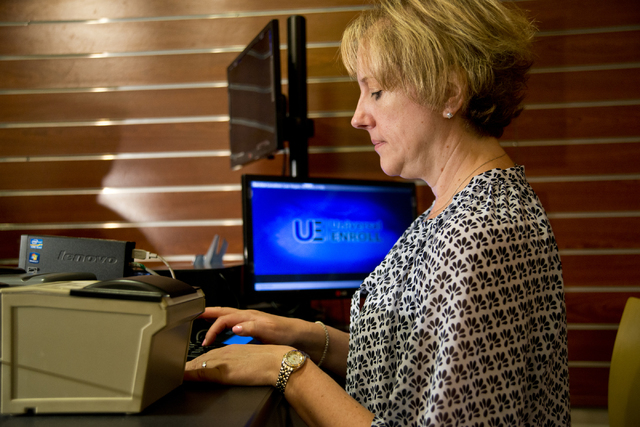 Michelle Bondietti spends three weeks a month catching planes to destinations across the country as a traveling manager for J.C. Penney.
The frequent flier from Las Vegas said she wanted to make her trips a little smoother.
So Bondietti and her husband, Brian, walked into an office tucked near a security checkpoint at McCarran International Airport and signed up Wednesday for the Transportation Security Administration's PreCheck program.
"I thought it was going to be a more arduous process," Bondietti, 49, said. "But it was actually pretty simple."
The PreCheck program started at four airports in October 2011 and has spread to more than 160 airports across the country.
For $85, participants are assigned a "known traveler number" after undergoing a voluntarily background check through the FBI's crime database. Vetted travelers can use that number for five years, allowing them to wear their shoes, belts and light jackets while going through an expedited security screening process.
Austin, Texas, resident Claudia Miller said she enrolled several years ago, when she and her husband, Arlyn, started traveling more frequently.
"It's awesome because you don't have to take your computer out of the bag or worry about all of the little things that you usually need to do in the security lines," Miller, 61, said Wednesday while walking toward the PreCheck line after a five-day visit to Las Vegas.
More than 3 million people are registered with the "known traveler" program, about one-third of whom signed up in the past six months in response to complaints of long U.S. airport security lines.
Security lines at McCarran average 13 minutes, but especially large crowds have led to waits lasting up to 20 minutes in some areas of the airport. Waits at the airport's PreCheck lane usually last less than half that, TSA spokeswoman Lorie Dankers said.
Thirteen of the 28 air carriers serving McCarran participate in the PreCheck program, with Frontier and Spirit airlines expected to join later this year.
"One of the best insurances against having to stand in long, general screening lines is to sign-up for PreCheck," Dankers said.
More than 32,000 people have enrolled at the three enrollment centers in the Las Vegas Valley as of Friday, according to the most recent TSA figures. For those interested in registering, more than 3,000 appointment times are available for the next 45 days.
Airline passengers might also qualify for PreCheck without ever having to formally apply for the program, based on a "risk-based algorithm" that includes gender, date of birth, flight route and other factors that TSA officials declined to disclose, citing security concerns. Race and ethnicity are not among the considerations, officials said.
"The experience was painless, except for the $85, but at least I don't have to take off my shoes," Derry Royal, 56, of Palo Alto, California, said as he exited McCarran's PreCheck office. "I figured I might as well make things easier for the next five years."
Contact Art Marroquin at amarroquin@reviewjournal.com or 702-383-0336. Find @AMarroquin_LV on Twitter.
Where to sign up for PreCheck
• McCarran International Airport, Terminal 1, near the C gates
• EMSI, 2080 Flamingo Road, Suite 302, Las Vegas
• H&R Block, 2801 N. Green Valley Parkway, Henderson
• Walk-ins are accepted. Appointments can be made at universalenroll.dhs.gov.