Library District in Las Vegas sued after banning gun-carrying woman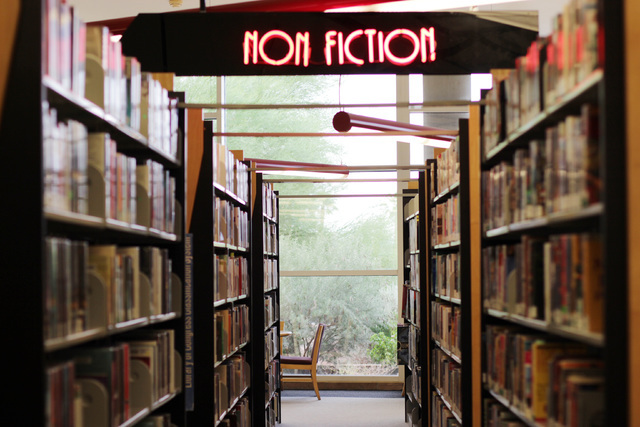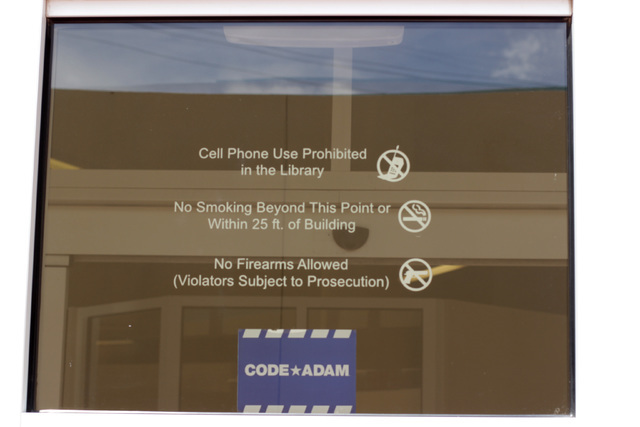 Michelle Flores and her three children visited the Rainbow Library one day in mid-March, browsing the stacks for books to take home.
After an hourlong search, Flores checked out some reading materials, and with her three children in tow, proceeded to the library's exit.
But she was stopped, and now she's suing the Las Vegas-Clark County Library District over the events that followed.
According to court filings, library personnel summoned police, who handcuffed Flores and took her firearm, holster and five rounds of ammunition.
Flores was then given a notice of trespass and banned from the Rainbow Library and all other district libraries for one year.
"In 2015, the Legislature passed a law, Senate Bill 175, that reserved the authority to regulate the possession of firearms solely to the Legislature," her attorney Jeffrey Barr said. "This case is about whether the library district must follow Senate Bill 175. Michelle Flores was banned from the library for exercising her constitutional rights."
According to Barr, Flores wants the ban overturned and the library district to follow Nevada law, just as the city of Henderson libraries began complying a year ago.
After a meeting with Henderson Police officer Zane Simpson, questions were answered, and the Henderson library staff received notification on May 6, 2015. That notification read: "Generally, a person has the right to carry a gun openly, and he/she is not required to verify legal status with paperwork of any kind."
Since then, Henderson Libraries has complied with the law, Executive Director Angela Thornton said.
"We had some questions initially," Thornton said. "Some of the points weren't clarified. We had staff and customers who were asking questions. I think initially, they were a little apprehensive. I think they weren't sure where libraries fell into the mix."
Thornton referred to NRS.265, which says a person shall not carry or possess a dangerous weapon while on the property of the Nevada System of Higher Education, a private or public school or child care facility, or while in a vehicle of a private or public school or child care facility.
"I think people felt we should have fallen under that category," Thornton said. "Once we realized where we fell into the law, it was then all about compliance and making people feel as comfortable about it as we could."
The announcement further detailed the actions of library staff should they observe a person who is openly carrying. Library staff are asked to notify a supervisor, observe the person discreetly, and if the patron is behaving normally, they should not be concerned, the announcement said. Only if a person is behaving erratically should staff contact police.
"We haven't had any problems with it," Thornton said. "I think staff have seen some open carriers, but they're very occasional. Nothing that has been any kind of a problem or challenge."
Open carry gun advocates would like to see the library district address the issue, and expressed their frustration during public comment at the district trustee meeting last fall.
One trustee spoke to the Las Vegas Review-Journal as a political candidate, not as a library district representative.
"I think it's going to be something we're going to have to take up in the Legislature to make that distinction (regarding where libraries fall when it comes to open carry)," Shannon Bilbray-Axelrod said. "I think it was a complete oversight."
As a Democrat running for state Assembly District 34, she will face off against Republican Matt Williams in the November election.
"I worry about open carry in areas where I bring my children," Bilbray-Axelrod said. "I've been going to the library with my daughter since she was 3 months old. It's a place people would assume would be weapon-free."
Karen Bramwell-Thomas, public relations manager for the library district, said because of the current litigation and advice of counsel, she could not comment on the litigation or the library's firearms policy.
However, on the district website, the rules of conduct state "firearms are prohibited," and cites NRS.3673. That statute, however, refers to concealed firearms.
Flores' civil complaint against the library district says, "The district does not have the authority to ban Michelle (Flores) because the district does not have the authority to make rules relating to the open possession of firearms."
The filings also say "the district's conscious and willful disregard of the legal rights of Michelle (Flores) resulted in her public humiliation and emotional distress."
Barr said her damages could well exceed $10,000.
"What price would a jury put on being humiliated in front of your children for exercising your constitutional rights?" Barr said.
Flores, who homeschools her children, filed an April 29 preliminary injunction seeking to restore her library privileges. The hearing is set for 9:30 a.m. Tuesday in the Eighth Judicial District Court.
The district's counsel, Kelly Stout of Bailey Kennedy LLP, said the firm does not comment on pending litigation.
As of June 16, the library district has paid its counsel $1,000 in attorneys' fees and costs to defend the case, Bramwell-Thomas said. Because of the litigation is ongoing, the library district anticipates that additional fees will be billed and paid in the future, she said.
The actions that the Las Vegas-Clark County Library District takes could influence other library districts in the state.
Boulder City Library Acting Director Kimberly Diehm said she wasn't even aware of the law. She said the library has a "firearms prohibited" sign on the front door. Diehm has been at the library for seven˜ years, and it's been there the entire time.
Contact Natalie Bruzda at nbruzda@reviewjournal.com or 702-477-3897. Find @NatalieBruzda on Twitter.