Like many others, Mexican national leaving Las Vegas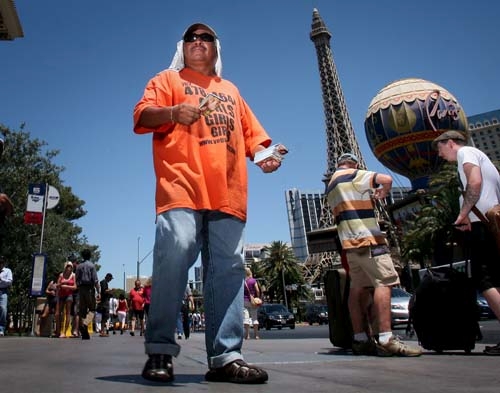 Every man has his breaking point, and Elias Garcia Vicente, it would seem, has reached his.
After five years of hustling for jobs in Las Vegas, the illegal immigrant from Mexico's Gulf Coast is calling it quits and heading back home to Veracruz.
Handing out girlie cards to tourists on the Strip just isn't cutting it anymore, he says.
He makes $250 a week – and that is after putting in 10 hours a day, six days a week.
"It's time to go home," said Garcia Vicente, 56, as he took a break and sat in the shade one afternoon, explaining his situation in Spanish. "It used to be I could get two to three jobs easy here. Now, all I've got is this. It's getting to the point where I can't feed myself, pay the rent and send money back home.
"So I'm figuring I might as well just go home.
As soon as he saves up enough money, he plans to leave Las Vegas in relative style: aboard an air-conditioned Greyhound bus headed south for the Mexican border town of Nogales.
His imminent departure will be in stark contrast to his arrival: He walked nine straight days through the Arizona desert with little water, the prospect of jobs leading the way.
But the plenitude of jobs has long dried up. The American dream hasn't lived up to its billing, and Garcia Vicente is just one of hundreds of thousands of Mexican-born immigrants who are returning home in record numbers – in what many demographic experts are referring to as "reverse migration."
IMMIGRATION AT A STANDSTILL
If there were ever a gauge on just how badly the U.S. economy is doing, it would be this: Mexican immigrants, documented and undocumented alike, are returning home, hoping to find jobs and a better life in a country historically known for its Third World conditions.
A recent study by the Washington, D.C.-based Pew Hispanic Center reports that 1.4 million Mexican-born immigrants left the United States between 2005 and 2010, more than double the number between 1995 and 2005.
In fact, the study cites, that the same number of Mexicans returned home as entered the United States, perhaps a first in the history of Mexican migration.
"The largest wave of immigration in history from a single country to the United States has come to a standstill," writes the study's author Jeffrey Passel in the opening lines of the April study. "After four decades that brought
12 million current immigrants, most of whom came illegally, the net migration flow from Mexico to the United States has stopped and may have reversed."
And the number is growing by the day because a weakening U.S. job and housing market, adds Passel, who called the results "a real eye-opener."
The conclusion was based on Mexican census data that had not been readily available in years past, he said.
IN THE SCHOOLS
In Las Vegas, where the unemployment rate is 12 percent and where the construction industry is a mere shadow of its former powerful self, the Mexican exodus can be felt up close and personal.
More than 1,000 Mexican families have left the Clark County School District's Adult English Language Program and headed back to Mexico in search of jobs with their children – some of whom can't speak Spanish – in tow, said Priscilla Roche, the program's director.
It used to be that the parents in the district's English as a Second Language classes would "go into hiding," Roche said, when the U.S. Immigration and Customs Enforcement would conduct its annual raids. It wasn't uncommon for the parents to go missing for a few weeks.
This time, she said, they're gone for good.
She knows because many of them stopped to say "good-bye" before they left – among them 14-year-old Giovanni Escalera, who played in the mariachi band at Rancho High School but who knows no Spanish. His father, a construction worker, was unemployed for far too long and felt he had no recourse but to take his family back to Guadalajara, Mexico, Roche said.
"It's sad. The American dream is vanishing," she said. "They're all going back to try and find work – in body shops, in grocery stores, in roadside markets, in factories – if they're lucky. They're going to take whatever they can find, just like they did here. Their mind-set is, 'We need to get back home where at least we have family support.' "
AT THE CONSULATE
At the Mexican Consulate in downtown Las Vegas, the departures have caused a buzz of activity as an increasing number of families are showing up and asking for Mexican citizenship applications for their children.
They're also asking the consulate to notarize local school transcripts so the Mexican government will accept them and their children can transfer without any problems, said Atzimba Luna Becerril, consul for community affairs.
It used to be that the consulate would get maybe one or to two such requests a month, Luna Becerril said. These days, the consulate is fielding one to two such requests a day.
One great concern for Mexican consular officials is the legion of U.S.-born children who are returning to Mexico and do not know Spanish.
"There's this interesting dynamic going on," Luna Becerril said. "The parents are Mexican citizens, the children are U.S. citizens because they were born here, and now many of them have to find private schools in Mexico where English is taught. If they go to the public school system, the instruction is going to be in Spanish, and there's a good chance that they'll fall behind in their studies."
The reverse migration has reversed the roles of the generations: Here, immigrant parents would apply for U.S. citizenship and try to improve upon their English language skills by taking classes; over there, the children are applying for Mexican citizenship and need to either learn Spanish or find English instruction.
"What you have are desperately poor families trying to come up with the money to pay for private schooling for their children," Luna Becerril said. "It's just not a realistic possibility."
EBB AND FLOW
This is not the first time Mexican immigrants will return to Mexico in large waves, according to the Pew study.
It happened during the Great Depression. The Mexican-born population here hit a peak at 640,000 in 1930, but when the U.S. market crashed and poverty set in, the population fell dramatically after hundreds of thousands of them were deported to Mexico, according to the study.
It wasn't until the 1950s, when the United States needed workers in the fields of California, that the Mexican-born population rose dramatically again – under the Bracero program.
By 1970, the Mexican-born numbers rose to about 760,000, a number that has since grown and can be felt in the state of Nevada.
Of the roughly 2.7 million people who live here, about one in four are Latino, and most of them – 78 percent – are of Mexican descent or have some sort of family ties in Mexico, according to Angela Kelly, vice president for immigration policy for the Washington, D.C.-based Center for American Progress.
Hispanics have gone from
19.7 percent of the total population in 2000 to 26 percent in 2010. The explosion accounted for 46 percent of the state's overall population growth in the past decade, Kelley said, and helped Nevada gain a new congressional seat in the wake of the 2010 Census.
But there are also thousands of illegal immigrants who carry no political clout and are merely here to make money and to fashion better lives for themselves, she said.
A great wave of Latino immigrants arrived in Las Vegas in the late 1980s, with the construction of megaresorts and high-scale casinos along the Strip. But the state's history of immigration goes back much further.
The first wave of immigrant workers to be found in Nevada can be traced as far back as the 1860s, when thousands of Mexicans who had been displaced by the Mexican War found jobs in the copper mines in Northern Nevada, said Ron James with the Nevada State Historical Preservation Office.
Another wave of immigrant workers from the south followed, this time Chileans whose mining experience drew them to the region, James said.
At the beginning of the 20th century, Mexican labor, in part, fueled the construction of a pair of railroads that crisscrossed the state, said Guy Rocha, a former state archivist and historian.
During World War II, a sizable Mexican population worked at the magnesium plant in Henderson. In the late 1950s, Cuban immigrants displaced by Fidel Castro's revolution wound up in the gaming industry here.
But without question, the Latino population is now at its highest in the state, and though there will always be the likes of undocumented workers filling jobs along the Strip, their numbers, at least now, seem to be dipping.
UNCERTAIN FUTURE
Garcia Vicente said many of his friends and co-workers have already left town and he feels their absence. They would pool their money and buy groceries together.
Although he worked twice as hard and earned half as much money in Mexico, he lived better than in Las Vegas, he said.
In Mexico, Garcia Vicente worked 12 hours a day, six days a week for a wood wholesaler. He made $140 a week. On the Strip the hardest part of the job is merely standing, something a comfortable pair of shoes can solve.
And yet the quality of life here is lacking.
Back home, there was never a shortage of cheap fruit and vegetables that grow in abundance along the Gulf Coast. There was never a shortage of cheap meat, which is sold in just about any road side market.
Here, he has adopted U.S. dietary habits and has grown accustomed to eating processed foods. The prices are too high for fresh food and his wages are simply too low, he said.
There was a time, back in the boom times of the '90s, that Mexicans would return home with a good sum of money and buy up land where they once lived.
That's no longer the case, Garcia Vicente said.
He is not sure what he will do in Mexico once he returns. He knows he doesn't want to cut wood. But he is optimistic that he will find something.
And he is happy that he will see his family and friends again. The sense of community to be had there outweighs the prospect of unemployment.
"Here, I can always get a job, and I can always come back. It's just time to go home," he said. "I worked on a ranch, and I'm hoping to get work back on the ranch again.
"I miss Mexico, I miss the people, I miss the community there."