Little evidence of deadly Flight 114 remains in the hills above Las Vegas
November 14, 2014 - 6:19 pm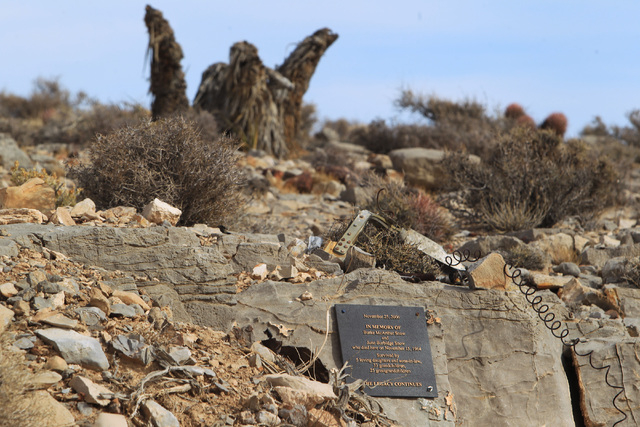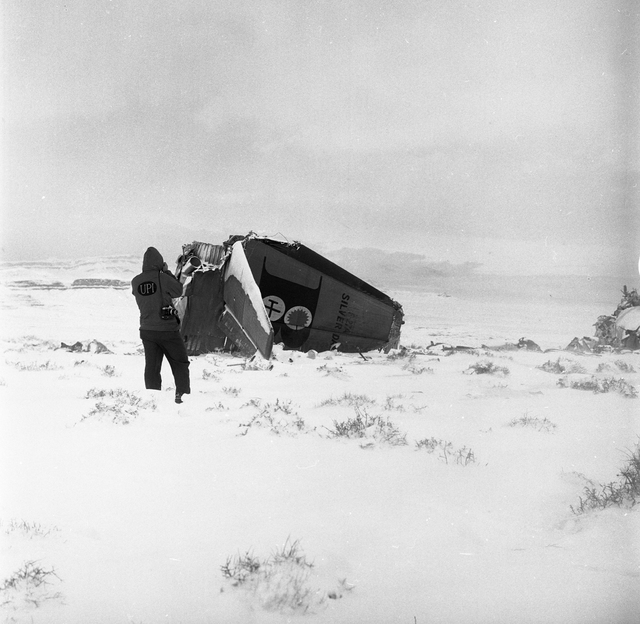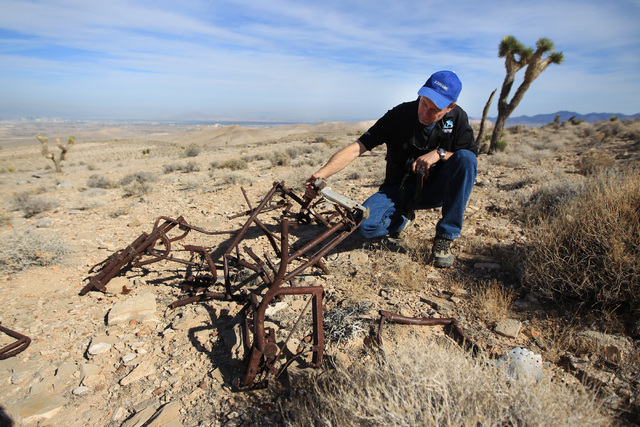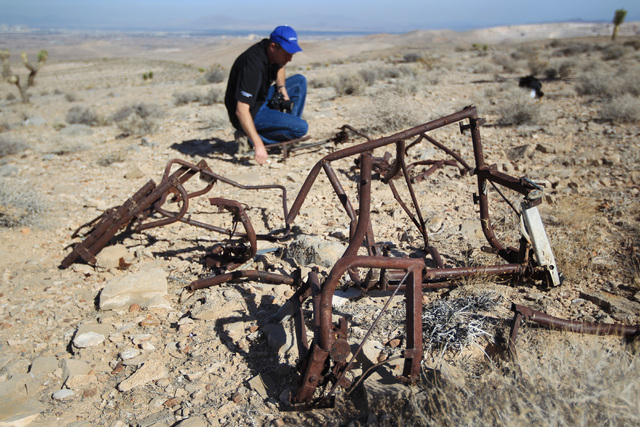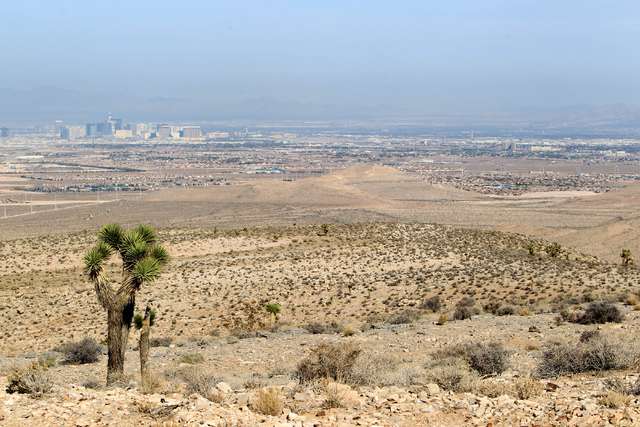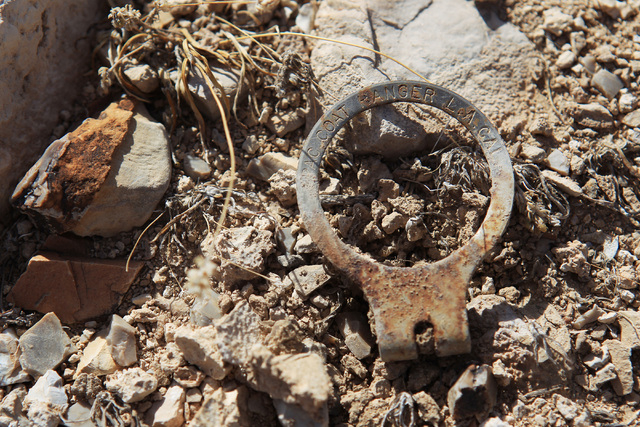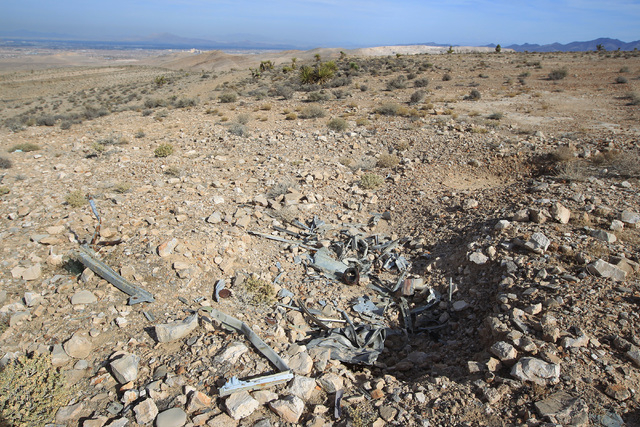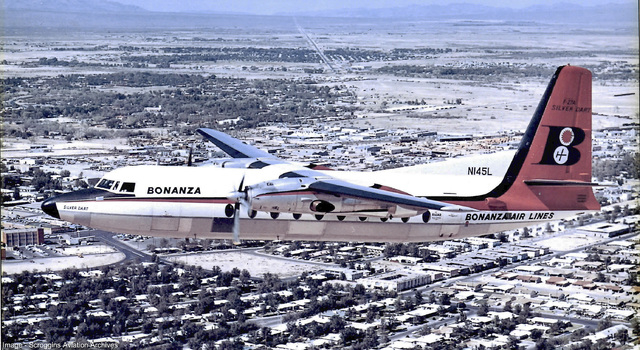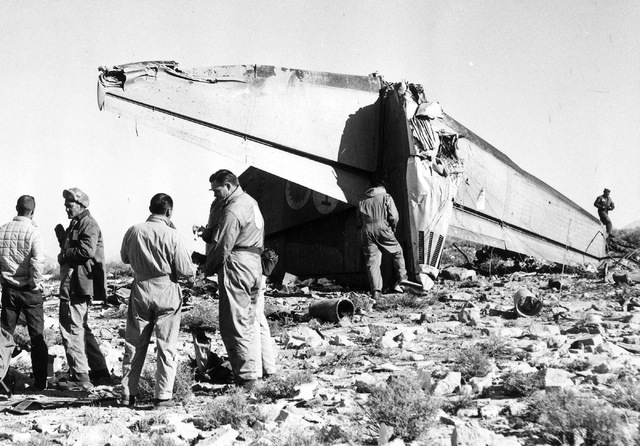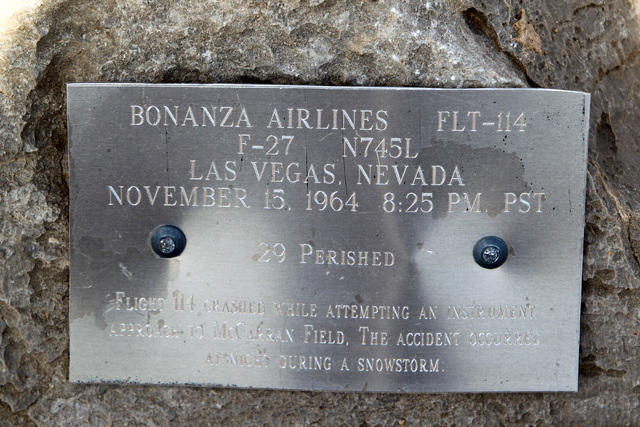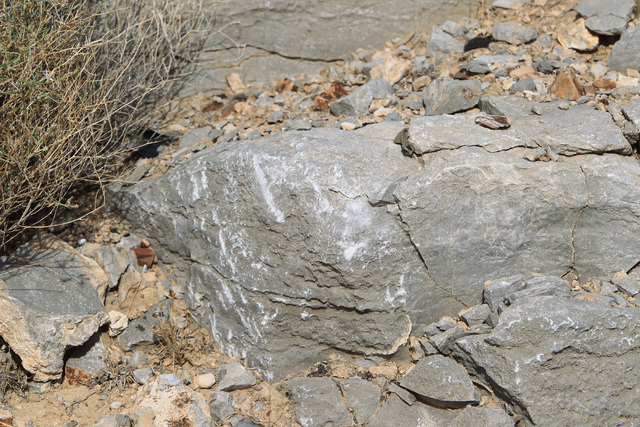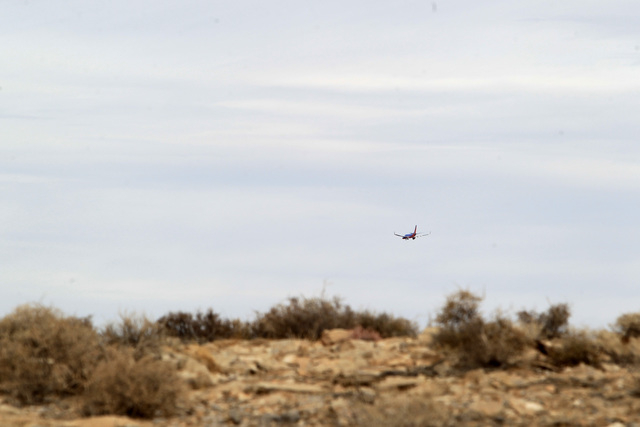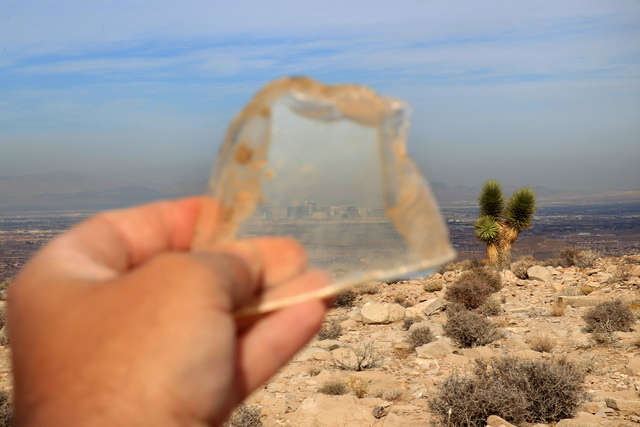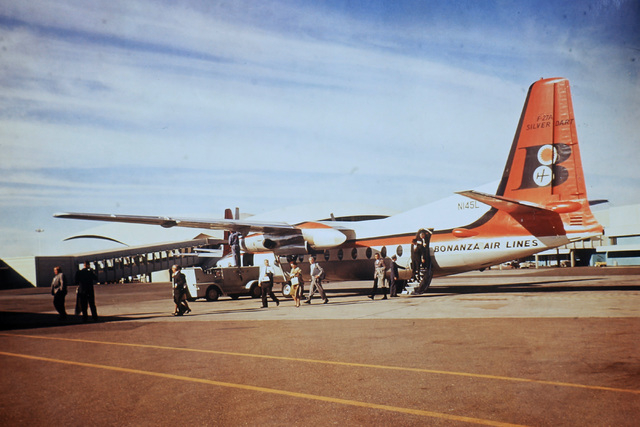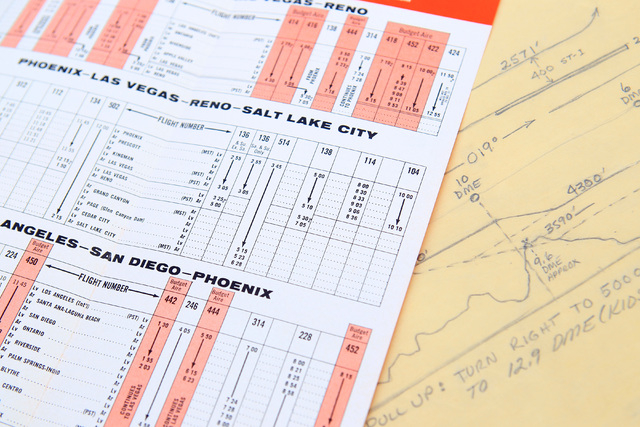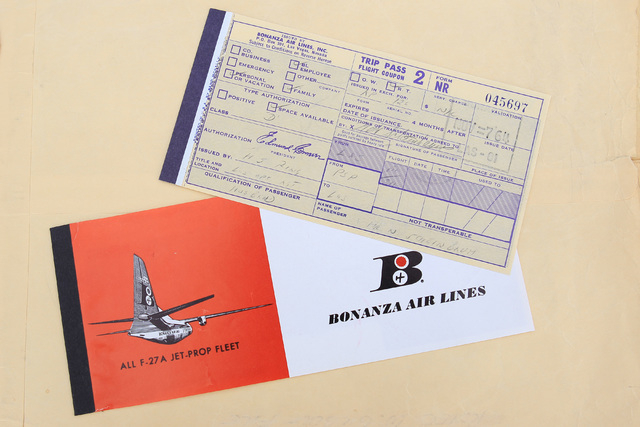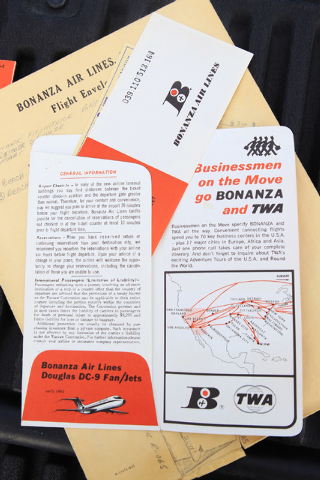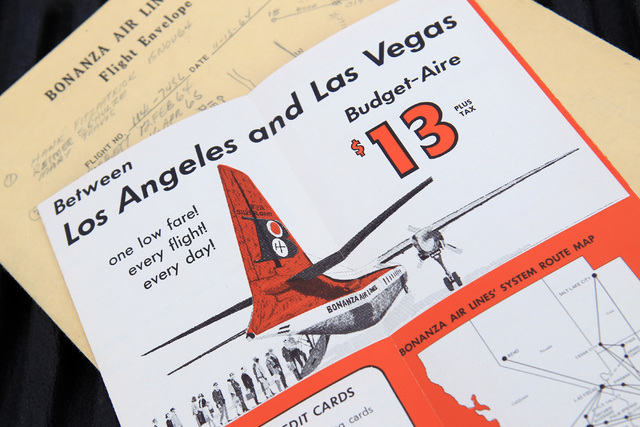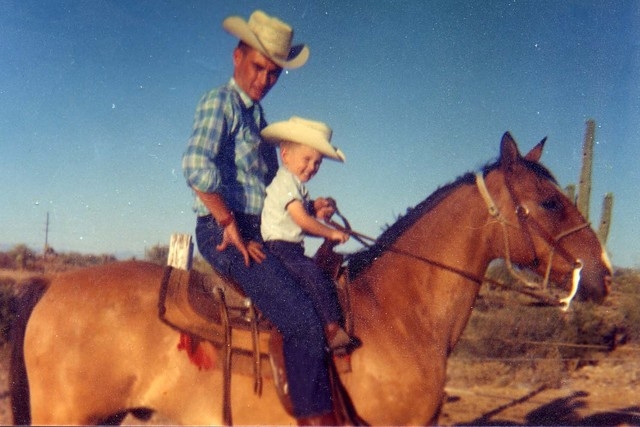 On a tabletop mountain overlooking Las Vegas, scattered fragments of twisted metal and yellowed plastic hint at the horror that unfolded here 50 years ago today.
Walk the area for just a few minutes, and you'll spot pieces as large as dinner plates stitched with orderly rows of rivet holes.
Most of the debris would fit in your hand, but on the mountain's northern slope, you can still find the mangled frames of some passenger seats rusting in the dirt.
Bonanza Airlines Flight 114 from Phoenix was on approach to McCarran Field when it slammed into the top of the mountain and tumbled, scattering wreckage across the rocky plateau. The crash killed everyone onboard — 29 people doomed by a faulty chart in a freak snowstorm.
Two plaques honoring those who died have been bolted to the rocky ledge close to where the twin turboprop aircraft impacted the mountain.
Doug Scroggins first found his way to this hard-to-reach place in the early 1990s, when he was hunting down old military and commercial crash sites as an aviation archaeologist. He's been back a few times since then, most recently on Thursday when he guided a reporter and photographer to the site.
On a previous trip, he came across a pillow from the plane and an intact armrest, complete with padding and a little slot for smokers to rest their cigarettes. He also found the Hobbs meter, an onboard device that records how long an aircraft had been in use. It was frozen forever on the plane's final hour.
"It's crazy. Some of the stuff you come across is just unbelievable," said Scroggins, who now runs an aviation salvage business that supplies aircraft and parts for everything from movie productions to government testing.
Bonanza Flight 114 went down at 8:25 p.m. as a rare mid-November snowstorm blanketed the mountain top in white. Darkness and the weather kept search teams from finding the wreckage until the following day.
Scroggins said some large pieces were lifted off the mountain by helicopter. Much of the rest was bulldozed into the ground after investigators finished their work. There appears to be nothing of value left there now.
They found no evidence of a mechanical failure. The aircraft was functioning normally when it descended below the ridge line.
Based on their radio traffic, the flight crew didn't know anything was wrong until it was too late. They asked about wind conditions at the airport, and that was it. Their final transmission began with the words "Flight one-fourteen," then ended abruptly.
Twenty feet higher, and they might have cleared the mountain without ever knowing it was there, said Scroggins, who still helps maintain BonanzaAirlines.com, a website dedicated to the first Las Vegas-based commercial carrier.
It was the only fatal crash in the 23-year history of the airline, which was launched in Las Vegas in 1945 and merged with two other carriers to form Air West in 1968.
Robert Gordon Young was 3 years old and living in Phoenix when he lost his father in the crash. Gordon Young worked for American Tobacco and was headed to Las Vegas on business that day 50 years ago.
Young, who now lives in Florida, said the trauma of his father's death seemed to bring him closer to the rest of his family, especially his paternal grandparents and his mother, who was three months pregnant when her husband was killed. In that way, he said, "My dad was a big presence in my life."
Young joined the Air Force in 1982, specializing in flight controls and instrumentation. In an odd twist, he wound up stationed at Nellis Air Force Base, resulting in a strange bit of symetry: His eldest son's birth certificate and his father's death certificate were both issued by Clark County.
Among the metal scraps and other debris, Scroggins pointed out pieces stamped with part numbers matching the Fairchild F-27 aircraft. In less than an hour, he found three small chunks of the aircraft's skin painted in Bonanza's trademark orange.
The accident was initially blamed on pilot error. It wasn't until later that suspicion turned to a new set of airport approach charts that the pilots were given just a few weeks earlier.
Those charts appeared to give improper "step-down procedures" for approaching Las Vegas from the southwest, causing the flight crew to descend too low too soon into the last band of mountains at the valley's edge.
Maybe on a clear, moonlit night, pilot Henry "Hank" Fitzpatrick and co-pilot Reimer Schulze might have been able see well enough to notice the mistake and avert the crash, Scroggins said. But with the clouds and snow and an aircraft built before the advent of collision warning systems, all they had to go on were their instruments and their charts. They never had a chance.
"What a waste for something so easily corrected," he said. "Truly, it's just a waste."
The families of those killed on Flight 114 eventually sued Jeppesen, the company that made the charts. By the time a settlement was reached and the families agreed to share Jeppesen's payout of almost $500,000, "Bonanza was long gone," Scroggins said.
Young said his mother was not part of the lawsuit, but she did receive a small payment from the airline that she used to help him and his younger brother go to college.
He's never been to the crash site, but he hopes to visit one day.
"I love the idea of the plaques, that someone went to the trouble to put them there," Young said. "I would love to be able to go there and take some flowers and say some prayers."
As Scroggins walked the mountaintop Thursday afternoon, a steady stream of jetliners crossed overhead on their way to McCarran. Scroggins pointed out how the impact site and debris field lines up perfectly with Runway 1, about nine miles away.
In the light of a clear November day, the path to the airport was easy to see.
Contact Henry Brean at hbrean@reviewjournal.com or 702-383-0350. Follow @RefriedBrean on Twitter.
CRASH SITE:
Click to see a Google Earth image showing the area where the plane crashed in 1964. Also, below this story, find a Google map showing the location.
AIR DISASTERS
Excluding tour flights, Nevada has seen six major commercial airline crashes resulting in 275 deaths:
Jan. 16, 1942: TWA Flight 3 crashed into Mount Potosi south of Las Vegas; 22 dead, including movie star Carole Lombard.
Sept. 5, 1946: Trans-Luxury Airlines flight crashed in thick fog while landing in Elko; 20 dead. A 3-year-old boy was the lone survivor.
April 21, 1958: United Airlines Flight 736 collided midair south of Las Vegas with an F-100F fighter jet from Nellis Air Force Base; 49 dead. No survivors
March 1, 1964: Paradise Airlines Flight 901A crashed into a mountain near Lake Tahoe; 85 dead.
Nov. 15, 1964: Bonanza Airlines Flight 114 crashed into a mountain south of Las Vegas; 29 dead.
Jan. 21, 1985: Galaxy Airlines Flight 203 crashed after takeoff from Reno; 70 dead; the only survivor a 17-year-old boy thrown clear of the wreckage.