Locals get first look at plans for I-15-Tropicana Avenue intersection
October 1, 2015 - 4:40 pm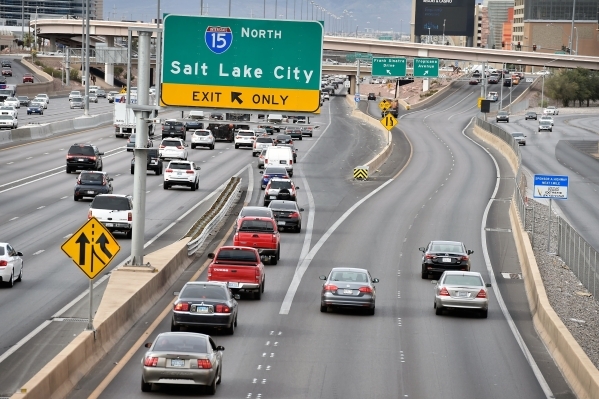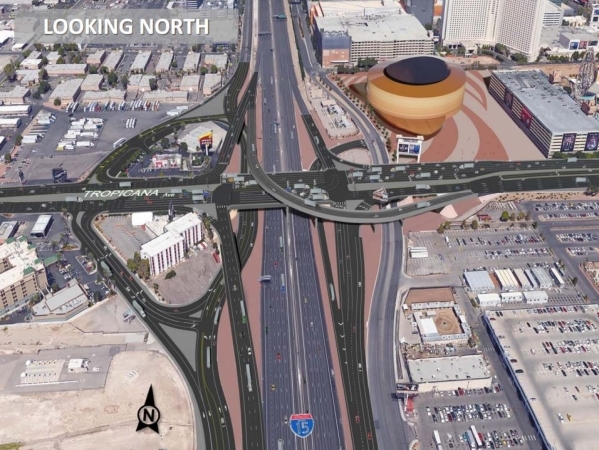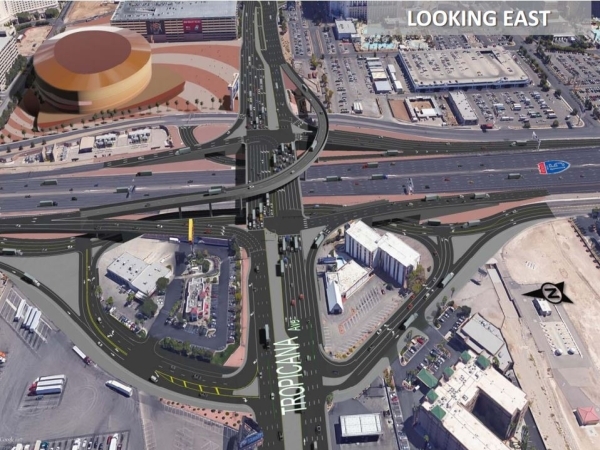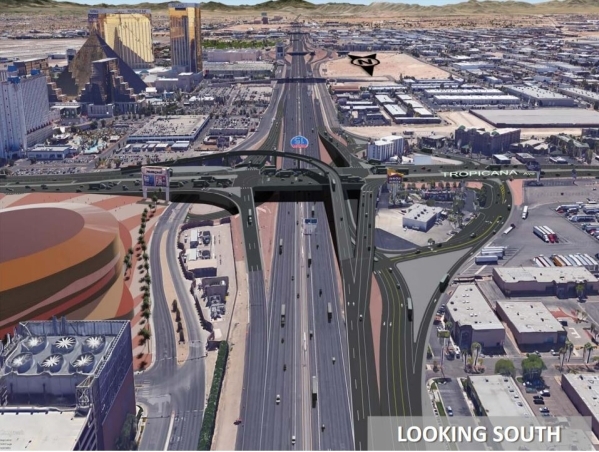 Southern Nevada residents should be just catching their breath after enduring the huge Project Neon program sometime after 2020 when the next big Interstate 15 freeway work gets underway.
The public got its first look at the $190 million I-15-Tropicana Avenue Interchange proposal at a public open house meeting Tuesday at the Hampton Inn Event Center on Dean Martin Drive.
Planners are in the earliest stages of considering improvements necessitated by traffic growth in the shadow of the new 20,000-seat arena west of New York-New York.
About 25 meeting attendees, many of them business people concerned about how the project would affect access to their properties, asked questions and reviewed maps and renderings of the interchange known in the engineering world as an "expanded tight diamond interchange."
The Nevada Department of Transportation is accepting written and emailed comments through Oct. 16 on the feasibility study that eventually will lead to environmental studies, design, right-of-way acquisition, permitting and construction of the project. Written comments can be sent to Project Manager Jeff Lerud at NDOT, 1263 S. Stewart St., Carson City, NV 89712, or emailed to info@dot.state.nv.us.
The need for the project, like most transportation department efforts, involves making the interchange safer. There were 989 crashes along Tropicana Avenue between Valley View and Las Vegas boulevards between 2010 and 2013 and of them, more than half were accidents at the interchange ramp intersections.
Congestion and delays are common in the area. The northbound frontage road, known as a "collector-distributor," is frequently backed up past Russell Road to the 215 Beltway. A logjam occurs when traffic is trying to accelerate onto northbound I-15 while others are slowing to the Tropicana exit. The biggest problem is that the Tropicana bridge over I-15 — built in the 1960s — isn't wide enough to allow construction of a longer acceleration lane for vehicles merging onto I-15.
In addition, Tropicana's bridge clearance is 15 feet, 10 inches — 8 inches less than the standard minimum clearance. That has resulted in big rigs and vehicles towing tall loads to collide with the bridge structure.
The number of vehicles on I-15 near the Tropicana overpass is expected to increase from 245,000 vehicles a day in 2014 to 295,000 vehicles a day by 2035, thanks in part to the new traffic generator in the neighborhood, the arena being built by MGM Resorts International and AEG Live. Volume also is expected to climb on the narrow Tropicana bridge by 48 percent.
How do you fix it?
What the transportation department is proposing is to rebuild the entire interchange, including the sweeping flyover bridge that connects southbound I-15 traffic to eastbound Tropicana and the Las Vegas Strip.
Other features of the project:
— Onramps and offramps will be expanded.
— Triple-left-turn lanes will be built at signaled intersections.
— The northbound frontage collector-distributor road entrance to I-15 will be lengthened.
— A bridge will be added for Dean Martin Drive traffic to pass beneath Tropicana.
— The entire Tropicana bridge over I-15 will be lengthened to meet height and width clearances.
— The existing flyover ramp will be replaced to meet height and width clearances.
Contact Richard N. Velotta at rvelotta@reviewjournal.com or 702-477-3893. Find him on Twitter: @RickVelotta.