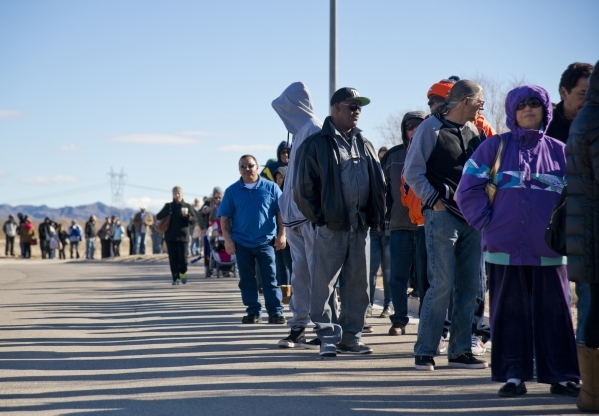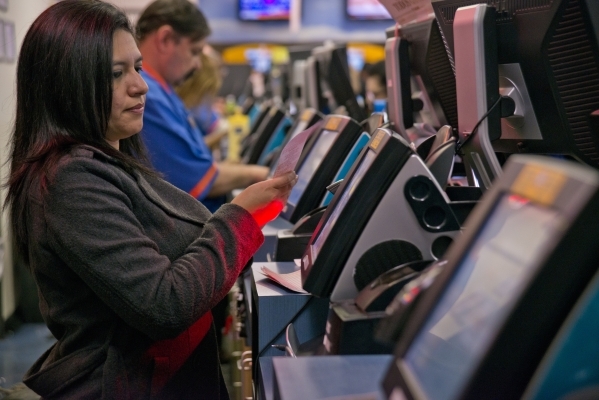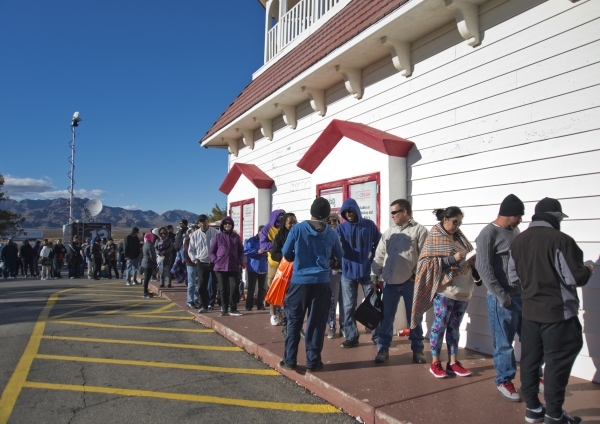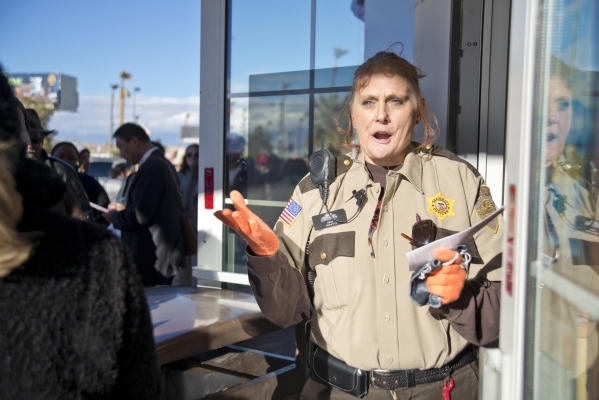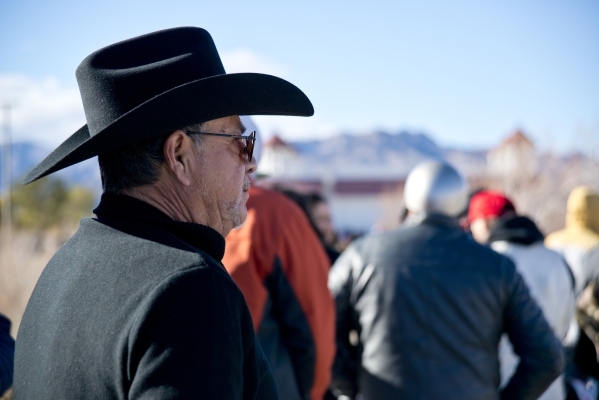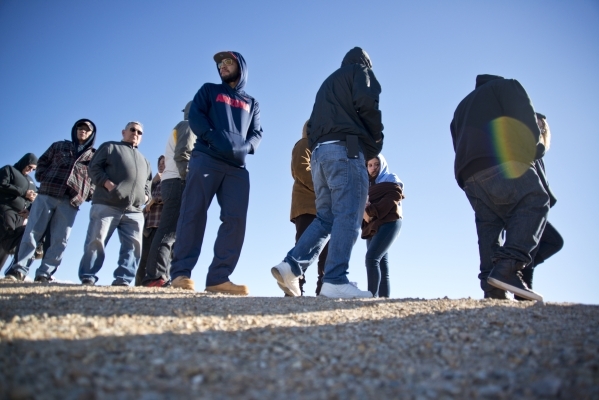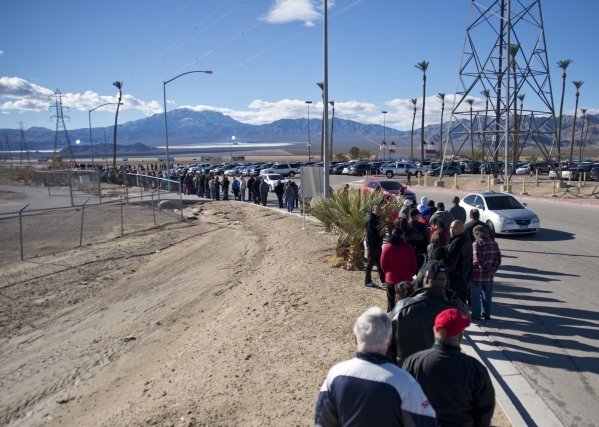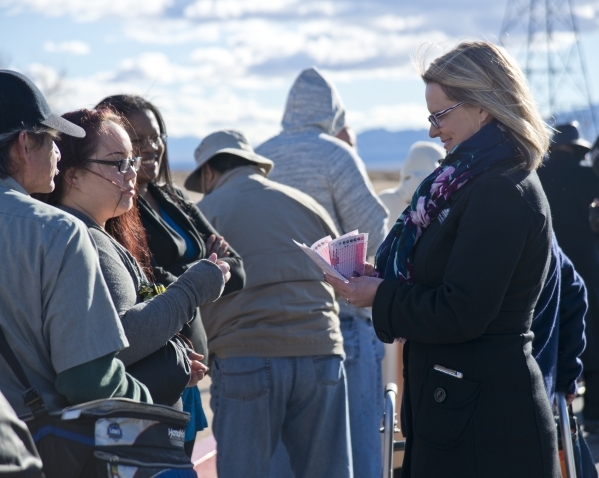 PRIMM — Elizabeth Watson woke up Friday feeling lucky, and good thing. The Las Vegan and her daughter Sandy Love planned to drive from Las Vegas to the Primm Valley Lotto Store for a shot at the record $800 million Powerball jackpot.
A line stretching for yards behind the tiny convenience store showed that hundreds of other jacketed, mittened, sometimes ski-capped people had the same lucky feeling. Even if the odds of winning exceed 1 in 292 million.
Watson, 81, said she wondered if she should wake Love, 56, who had worked late into the night in her job as a Venetian bartender.
"I had to do this," said Watson, who, equipped with a walker and clad in a face scarf, was braced for a long wait. "But I was afraid to ask her."
Love wanted to win, not just for herself, but for her neighbors. She would use the winnings to buy a block of new houses so everyone could live together in style.
"You know when you get really good neighbors you don't want to lose them," Love said.
The excitement for the twice-weekly Powerball draw has grown with the prize, now the biggest ever. The money grew by $300 million between Wednesday's drawing, which failed to produce a jackpot winner, and Friday. It will grow even more by tonight's draw.
No one has hit the jackpot in 18 drawings; no player has matched all six winning numbers since Nov. 4. Forty-four states, including California and Arizona in the West, and three U.S. territories offer Powerball. Nevada doesn't, hence the queue.
What could you do with $800 million? Loads. A movie fan could buy 72.7 million night-show tickets ($11 on Fandango.com). A car lover could buy 26,666 all-electric Chevy Bolts, which debuted this week at CES (retail price $30,000). Or someone needing a home could buy 3,686 Las Vegas houses at the median price of $217,000.
George Wilson, 72, works right by the store as a part-time craps dealer at the Primm Valley Resort. The Las Vegan had waited an hour in line by about 1 p.m. and said he would buy five tickets and share the jackpot with his family.
"I get everything straightened out, I'd retire," he said. "And I'd travel."
Where?
"Everywhere, I guess," he said. "No place in particular, just go."
The line would cause three-hour waits. But Melinda Garcia was neither impatient nor grumpy. She was singing.
The 37-year-old Las Vegan who runs several businesses including one offering custom nail design, called her trip to Primm a "golden thread," inspired by a recent trip to the Department of Motor Vehicles. The plates she received for her classic car read "500X," and she figured it a cosmic Las Vegas sign.
"I think it means I'll get 500 times the rewards, and I'll love it," she said. "The main thing I do is love. I love people, I love air, I love earth, I love dirt, I love flowers, I love trees, I love everything."
She said she planned to continue her entrepreneurism with the jackpot. But if others won, she hoped they'd share the love, and the cash.
"Whoever wins this money, they can create jobs; they can create happy families. They can pay people … what they deserve to be paid for these jobs that they do so they can go home with roses for their wife, candy for their kids and make love."
If the folks in line thought they were due for a big payday, the Primm Valley Lotto Store could probably agree. California Lottery spokesman Alex Traverso said the shop, established in 1992, has never sold a winning jackpot. Doing so would bring a $1 million bonus for its owner, Affinity Gaming.
Even if they don't deliver a jackpot, Powerball sellers gain with every ticket sold. Traverso said the shops collect 4 percent from self-service ticket sales and 6 percent of sales from touch-screen Altura machines. Traverso said he had heard the Primm store sold around $200,000 in tickets on Wednesday alone.
Traverso guessed that if no one hits the jackpot Saturday and the prize tops $1 billion for the next draw, his phone, which has already received reporters' calls from as far away as New York, will get even busier.
"Every news outlet in the galaxy will be trying to call me then," he said.
Keith Davidson, 64, made his own call to ask his friend John Kaahui, 79, if he wanted to go for tickets. Waiting for Powerball tickets seemed like something for the Las Vegans to do, Davidson said, and no wait could faze him. In 1994, he said, he spent eight hours in line in Yorba Linda, Calif., to see the body of the recently deceased President Richard Nixon. That wait wasn't worth it, he said; the casket was closed.
Kaahui said he was sure he would win the jackpot and sure how he would use it.
"I'd finance research to find a cure for aging," he said, "so I could live long enough to spend the rest of the money."
Find Matthew Crowley on Twitter @copyjockey.