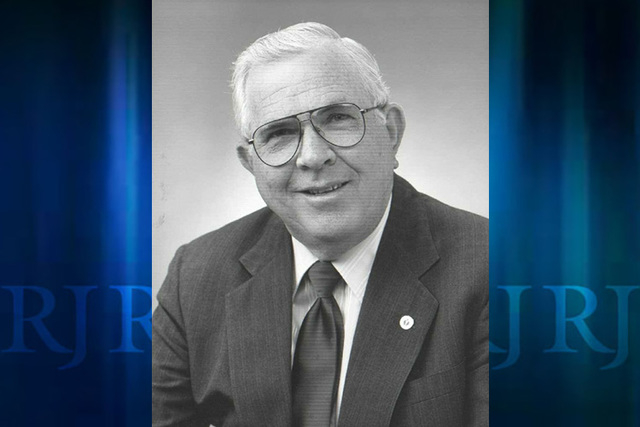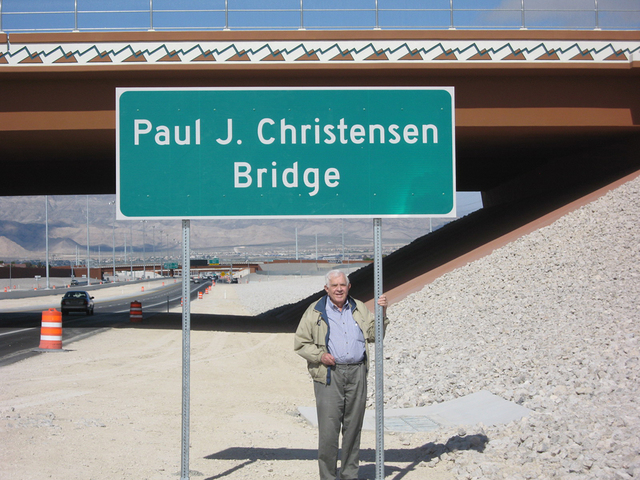 Longtime Las Vegas public servant Paul Christensen died Sunday at the age of 82.
Christensen worked for Southern Nevada for about 23 years on both the Las Vegas City Council and the Clark County Commission.
Christensen's daughter, Laura Haven, 54, of Las Vegas, said he had been sick for a while. He caught pneumonia and couldn't shake it.
But he had a long, happy life. He had four children with his wife of 62 years, Norma Christensen, and lived to meet four great-grandchildren and be excited for a fifth.
"That was really the most important thing he did was his kids," Haven said.
Haven said he began his career in politics when she was just 13 years old, but he was always a good dad, she said. Christensen rebuilt cars as a hobby, and when each of his four kids turned 16, he would buy them an old car to work on together.
"He was always really sweet to everyone," she said.
However, those who worked with Christensen said he had a big personality and was never shy about expressing his opinions.
"He really didn't suffer fools," Lucy Stewart said. Stewart worked with Christensen and said he was also kind, generous and fun.
He decorated his desk with novelties: he had a "B.S. Repellent" spray can, as well as fake ears and comical signs along the lines of "You can't fix stupid," Stewart said.
"He always had a fun office to go to," Stewart said. "He really loved life."
Stewart said it wasn't uncommon for her to tell him a great joke and later hear it around the office as a joke Christensen told.
"He was just a unique human being," former County Commissioner Bruce Woodbury said. "It was a pleasure to work with him. He made life real interesting."
Woodbury said his friend devoted his life to public service because he loved it.
Christensen was born in Milford, Utah, and moved to Las Vegas in 1939 – the year his father, M.J. Christensen, started the family's jewelry business. Christensen graduated from Las Vegas High School in 1950 and earned his bachelor's degree from Brigham Young University.
He enlisted in the Air Force, serving as a pilot during the Korean War and returning to Las Vegas in 1957 to work in the family's jewelry stores. He married Norma Lee on June 10, 1952.
In the 1970s, Christensen followed in his father's political footsteps — he was in the Nevada Assembly in the 1950s and the Nevada Senate in the 1960s. He was re-elected to the Las Vegas City Council in 1977 and 1981. During his time on the City Council, he worked to widen Jones Boulevard, increase the number of firefighters and improve police presence in the city.
He brought his concerns about crime, traffic and water to the Clark County Commission, to which he was elected in 1984 by a landslide. He won re-election twice before he was defeated by Lance Malone in 1996.
He was also chairman of Las Vegas Convention and Visitors Authority and president of Las Vegas Valley Water District. Christensen was appointed by Gov. Kenny Guinn to serve on the transportation services authority board for approximately five years, during which time he became the chairman.
On Oct. 15, 2013, Clark County commissioners voted unanimously to approve naming the bridge over Decatur Boulevard at the northern 215 Beltway the Paul J. Christensen Bridge.
Haven said he continued to do philanthropic work until his health began to fail.
"He lived a long, full life, but it's sad to see him go," Woodbury said.
The family is planning funeral services for Christensen at the Church of Jesus Christ of Latter-day Saints, 3400 W. Charleston Blvd., at 11 a.m. Saturday. A viewing is tentatively scheduled for Friday night at Palm Mortuary, 1600 S. Jones Blvd.
The public is welcome to attend.
Contact Wesley Juhl at wjuhl@reviewjournal.com and 702-383-0391. Find him on Twitter: @WesJuhl