LV's historic Westside Grammar School to get face-lift
December 23, 2014 - 7:08 pm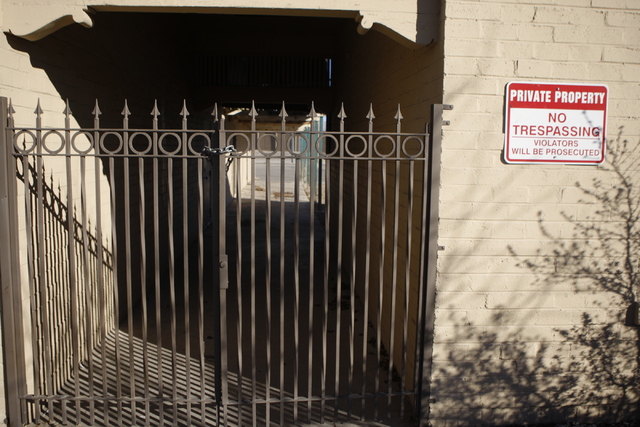 Las Vegas' Westside Grammar School has a long history of firsts.
The city's first public school, built in 1923, counts as the first attended by Native American students from the Paiute Indian Colony and the first to welcome African-American students into its classrooms in the 1940s.
The school was the first attended by members of some of Las Vegas' most prominent families and, in 1979, became the first in Southern Nevada named to the National Register of Historic Places.
Las Vegas leaders added another first to the list this month, putting long-planned Westside School renovations at the top of the list to receive a multimillion-dollar share of federal redevelopment tax incentives awarded to the city in August.
City Council members plan to break ground next month on a $15 million face-lift at the school, pouring nearly half of Las Vegas' $28 million in New Market Tax Credits toward a project expected to bring thousands of square feet of new retail, office and museum space to the 91-year-old site.
The 5,453 square-foot city-owned school, which was officially phased out of the school district in 1967, includes a 12,600-square-foot schoolhouse annex added to accommodate a booming wartime population in 1948.
It is in West Las Vegas — the wedge-shaped, historically African-American neighborhood roughly bounded by Rancho Drive and Interstate 15 between Carey Avenue and Bonanza Road.
The schoolhouse site is already home to KECP-FM, a long-running music and public affairs radio station, which is in line for at least six-figures worth of tenant improvements as part of the Westside School's renovation.
Workers hope to wrap up work on the 2.6-acre complex by June 2016.
City leaders expect the project to generate 24 permanent jobs, along with 64 construction jobs over the next 18 months.
They expect a lot more from the project once its complete.
"We've been working on this for a long time, trying to get the money together," city spokeswoman Margaret Kurtz said. "They're hoping for something like a Starbucks, maybe other businesses in there. The Westside School Foundation has been trying to put together a museum collection for the school for a while.
"They're hoping to build this into a vibrant community center — doing for the Westside what the Fifth Street School did for Las Vegas Boulevard."
It's been almost a decade since Westside School advocates were able to secure financing to encourage a mixed-use development at the site.
City and community leaders were able to pony up $625,000 to support planning and emergency roof repairs in 2005, but found little public or private interest in funding the project during the recession.
A few years and dozens of grant applications later, school renovation backers were able to raise more than 18 times that figure, a feat Councilman Ricki Barlow characterized as nothing short of "historic."
"This is very significant," Barlow said at a Dec. 17 City Council meeting. "This goes back to when I was first elected in 2007. I just want to thank (the community) for not giving up."
Las Vegas will commit around $3 million in capital project and redevelopment funds to the renovation, with New Market Tax Credits allocated to the city and U.S. Bank going to fund the rest of the project.
City staffers said they will maintain "operating control" over the historic school under the terms of a 60-year ground lease signed by city leaders early this month.
That same agreement turns over property management and tax credit compliance duties to the Historic Westside School Corp., which was registered to developer and former City Council member Frank Hawkins.
Hawkins did not return requests for comment.
Contact James DeHaven at jdehaven@reviewjournal.com or 702-477-3839. Find him on Twitter: @JamesDeHaven