Making her Las Vegas debut weeks ahead of schedule, baby Rylin earns first baby honors
January 1, 2017 - 8:07 pm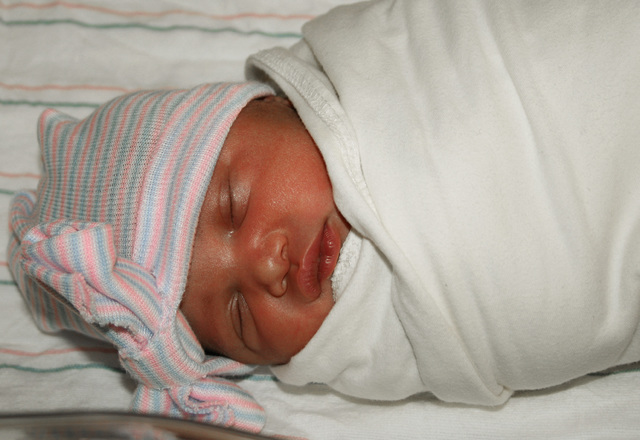 She came into the world about three weeks early, but the surprise appearance of Rylin Zyairah Davis, the first baby born in a valley hospital in 2017, made the arrival of the new year that much brighter for her parents.
"I was not expecting her to be born so soon," said her mother, Joslind Nathan, 23, of Las Vegas. "I'm really excited. I just want to be a good mom."
Weighing in at 6 pounds, 12 ounces and measuring 19¾ inches long, Davis was born at 12:27 a.m. New Year's Day at Sunrise Children's Hospital.
"I love kids. I love babies, and I have my own now," Nathan said of her firstborn child. "It's really a blessing."
Nathan added she is at ease knowing her daughter is healthy.
When she was about five months into her pregnancy, Nathan was told there was a possibility her child might have Down syndrome.
"It was a false alarm," Nathan said. "She was born healthy; that's all that really matters."
Rylan's father agreed.
"It is definitely a comforting feeling to make sure she comes out with 10 fingers, 10 toes," said Ryan Davis, 29, of Las Vegas. "Her eyes are working, because she's starting to blink and open them."
Nathan named their daughter Rylin to closely mirror her husband's name.
The new baby and her parents were greeted with a "First Baby of the New Year" gift basket from the hospital, which included a bath tub, baby wipes, a bottle brush and soap, a discovery set, a grooming kit, a rattle, a onesie, a hat, booties and diapers.
Baby and mom are expected to leave the Maryland Parkway hospital Monday.
While Rylin Davis earned first-baby-born honors, she certainly wasn't the only baby in the valley on New Year's Day and not even the only one born at Sunrise Children's Hospital.
As of press time, a baby boomlet was underway at the hospital, with eight other tiny humans making their debut Sunday and more expected before midnight, Sunrise staff said. All babies born Jan. 1 received a "My First New Year" onesie from the hospital.
Contact Natalie Bruzda at nbruzda@reviewjournal.com or 702-477-3897. Follow @NatalieBruzda on Twitter.
RELATED
Two-year twins: Babies born Dec. 31 and Jan. 1 in San Diego and Phoenix