Malaysian man pleads not guilty in World Cup betting case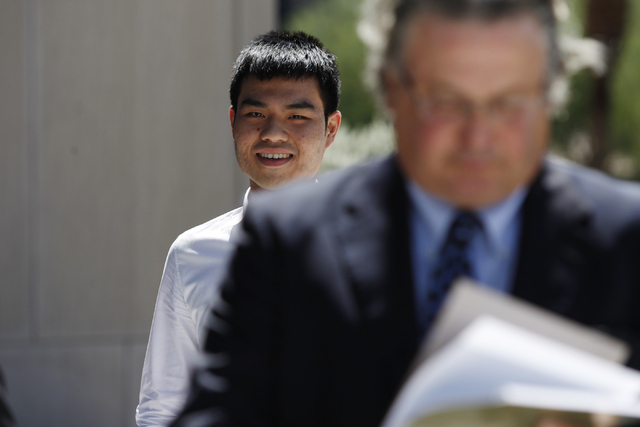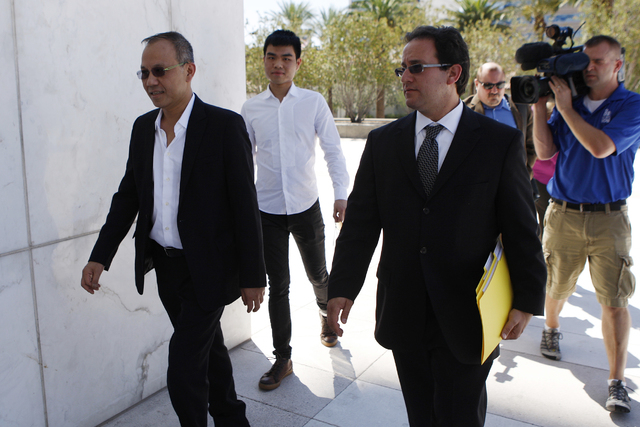 Malaysian businessman Wei Seng "Paul" Phua, the man authorities consider the ringleader of a multimillion-dollar World Cup betting scheme, pleaded not guilty in federal court Tuesday to illegal gambling charges.
His son, Darren Wai Kit Phua, 23, of Malaysia, also pleaded not guilty.
U.S. Magistrate Judge Cam Ferenbach set a Sept. 29 trial for both men, who are free on bail.
Afterward, Paul Phua's lawyer David Chesnoff said Phua is digging in to fight the charges.
"We adamantly maintain our innocence," Chesnoff said.
The Phuas and six other defendants arrested in the scheme last month, are each facing one count of transmission of illegal wagering information and one count of operating an illegal gambling business, both felonies.
The indictment alleges the defendants ran the illegal operation, which took bets on the World Cup soccer tournament in Brazil, from June 6 through their July 13 arrests in Las Vegas.
Phua, 50, a frequent player at poker tables in Las Vegas and Macau, and the other defendants were taken into custody by FBI agents on the Strip after a raid days earlier. The international betting operation is alleged to have begun in Macau.
The raid occurred at three exclusive Caesars Palace villas after the Strip resort tipped off authorities to the operation. Caesars Palace was not a target of the investigation.
In a criminal complaint in Las Vegas, the FBI alleged Phua was "known by law enforcement to be a high-ranking member of the 14K Triad," one of the largest criminal syndicates in the world. Chesnoff, denied the organized crime ties.
Phua and more than 20 other people were arrested June 18 in Macau for running a large gambling operation that took in hundreds of millions of dollars in illegal bets on the World Cup, the Las Vegas FBI complaint alleged.
After his arrest in Macau, Phua was released on bail and flew to Las Vegas on his private jet, where he and his associates resumed their illegal gambling at Caesars Palace, according to the complaint.
Since Phua's arrest in Las Vegas, top professional poker players have rallied around him.
Phil Ivey and Andrew Robl have posted a total of $2.5 million in bail for both Phuas.
Other defendants including Malaysian junketeer Seng Chen "Richard" Yong, 56, and his son, Wai Kin Yong, 22, are to be arraigned on Thursday.
Federal prosecutors consider Richard Yong, who also is well-known on the professional poker circuit, a ranking member of the betting operation. Both men were ordered released from custody last week on a total of $2 million bail to be posted by Ivy and another big-name poker player.
Contact Jeff German at jgerman@reviewjournal.com or 702-380-8135. Find him on Twitter: @JGermanRJ.