Man attending Electric Daisy Carnival in Las Vegas dies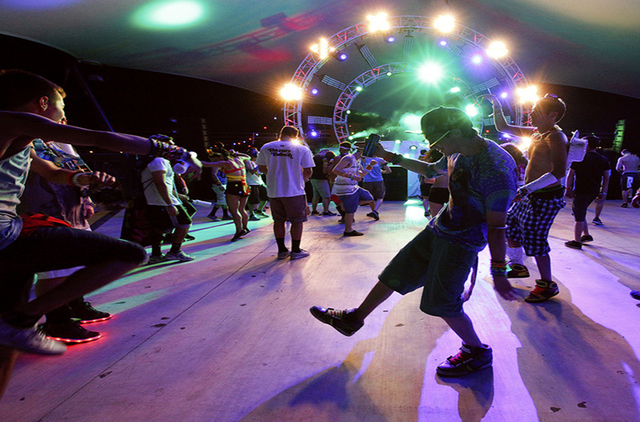 A man who was rushed to the hospital from the Las Vegas Motor Speedway died early Saturday morning.
The Clark County coroner's office identified him as 24-year-old Montgomery Tsang, of San Leandro, Calif.
Tsang died at University Medical Center at 6:15 a.m. The cause and manner of his death had not been determined Saturday afternoon.
The motor speedway is hosting the electronic dance music festival, the Electric Daisy Carnival, this weekend.
According to festival organizers, Insomniac Productions, 134,000 people attended the first night of EDC on Friday.
No one from Insomniac Productions would speak with the Review-Journal Saturday afternoon, but the company released a statement through the public relations company Kirvin Doak Communications.
"Today we learned some very tragic news, that after attending the festival a guest of the show has passed away. We are deeply saddened by this news, and hope that everyone will join us in keeping his family and friends in their thoughts during this very difficult time. Dance music fans pride themselves in being part of a loving community and, as we get ready to start the second night of the show, we ask everyone to help us keep this event safe," the statement, attributed to Insomniac spokeswoman Jennifer Forkish read.
"One death is one too many, and we all must do our part to keep each other safe, healthy and happy, tonight and every night," it said.
But this is not the first death for the festival, which is associated with excessive partying, rave culture and drugs. The Review-Journal has reported at least three other deaths at previous festivals.
Organizers moved the festival to the Las Vegas Motor Speedway from the Los Angeles Memorial Coliseum in 2011 after a 15-year-old girl overdosed on the club drug Ecstasy and died in 2010.
The girl's family received a settlement of $190,000 on behalf of the stadium, event promoter Insomniac and a former coliseum manager, lawyers said earlier this month.
In 2012, a 22-year-old woman who had paranoid delusions after taking drugs at the Electric Daisy Carnival died after she fell from her Strip hotel room, according to her family and friends.
Emily McCaughan, a pre-med student at the University of Arizona, fell more than 20 stories from her Circus Circus hotel room to her death sometime after midnight on a Monday, the last night of the three-day music festival at Las Vegas Motor Speedway.
McCaughan's family said she had taken Ecstasy.
That same year, 31-year-old Olivier Hennessy, from Ponce Inlet, near Daytona Beach, Florida, was hit by a truck as he left the festival.
Police said Hennessy was struck about 4:30 a.m. as he crossed Las Vegas Boulevard South in front of gate 6 at the speedway. Hennessy was taken to UMC, where he remained in critical condition for almost a week and later died.
On Saturday, Las Vegas police said 29 people were arrested in connection with narcotics, and five people were taken to hospitals out of the 249 people who received medical treatment Friday night.
Review-Journal writer Andrea Corral contributed to this report. Contact Wesley Juhl at wjuhl@reviewjournal.com and 702-383-0381. Find him on Twitter: @WesJuhl.