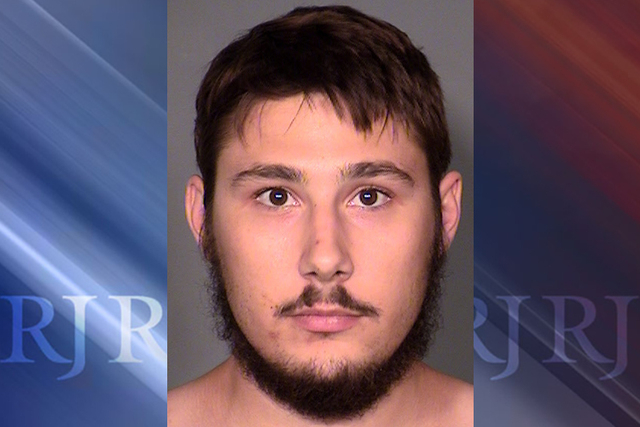 The driver involved in a central valley hit-and-run crash that killed a 67-year-old bicyclist Thursday night has been arrested on DUI charges, according to Las Vegas police.
Zoltan Istvan Pentek, 22, of Las Vegas, was arrested by Nevada Highway Patrol about 10 minutes after he fled the wreck that killed 67-year-old Larry Martinez and caused two other collisions, Las Vegas police said Tuesday in a press release.
Martinez was struck and killed about 11:40 p.m. near the intersection of Charleston Boulevard and Mojave Road, police said. He was wearing a reflective vest and riding a Specialized Hard Rock GX mountain bike when he was hit from behind.
The driver who struck him in a dark green, four-door, 1999 Honda Civic DX took off, police said.
But parts of the Civic that struck Martinez were found near the bike, police said.
About 10 minutes later, police said, the same Civic was in another crash near the intersection of Charleston and Lamb boulevards, about 1.5 miles from the scene of the hit-and-run. NHP investigated this crash.
Police later learned the driver was Pentek, according to an arrest report.
NHP troopers found Pentek to be impaired and arrested him at 12:22 a.m., the release said.
While Pentek was being taken into custody, a Glock 19 with a full magazine and one loaded chamber fell from his shorts, Pentek's arrest report said. Troopers also found a half-full bottle of Captain Morgan on the floor in the backseat of the Civic.
He was booked on one count of driving under the influence, having an open alcohol container in his vehicle, failure to decrease speed or use due care, possession of a gun while under the influence, carrying a concealed weapon without a permit, according to jail records.
Metro used a piece of trim that fell off of the Civic at the scene of the fatal crash to link Pentek, the release said. Using the car's VIN, police found DMV records showing that a temporary permit for the Civic was issued to Pentek on May 15 and expired May 30.
That resulted in an added charge of operating an unregistered vehicle.
On Monday, Pentek was charged with DUI involving death and leaving the scene of an accident involving death.
Pentek is being held at the Clark County Detention Center without bail. He is scheduled to be in court Wednesday.
Pentek had also been involved in a crash earlier the same night on Interstate 15, south of the Charleston exit, his arrest report said. An NHP trooper found Pentek at fault for the crash, which happened at 9:57 p.m.
He completed a written statement at the scene and was cited, police said. No signs of impairment were detected and he was released, his arrest report said.
Later, Pentek told police he didn't remember being involved in the first two wrecks.
Contact Kimber Laux at klaux@reviewjournal.com or 702-383-0381. Find her on Twitter: @lauxkimber.