Man charged with extortion in videotaped stripper sex case pleads guilty
November 3, 2015 - 5:04 pm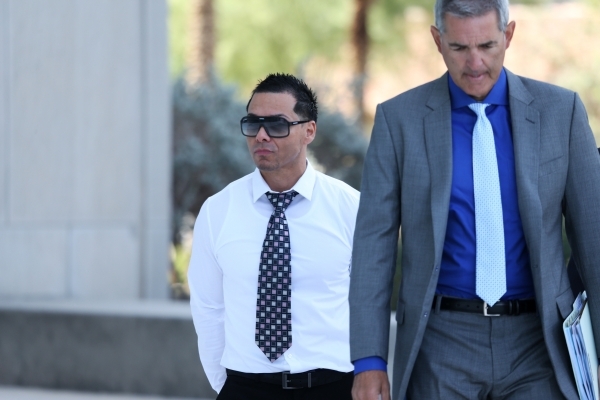 A Las Vegas man charged with trying to extort $200,000 from a married businessman videotaped having sex with a stripper entered an emotional guilty plea Tuesday in federal court.
Wiping tears from his eyes, Ernesto Joshua Ramos, 38, pleaded guilty before Chief U.S. District Judge Gloria Navarro to one felony count of use of a facility of interstate communication to promote extortion.
The scheme is alleged to have been hatched in November after the stripper, Ramos' live-in girlfriend, taped herself having sex with the wealthy businessman — without his knowledge — during a rendezvous outside the country.
Navarro set a Feb. 4 sentencing date and allowed Ramos to remain free on his own recognizance. He is barred from coming within 100 yards of the businessman's home and workplace.
The extortion statute draws a maximum five-year prison term, but the recommended sentence for Ramos is expected to be 21 months behind bars, according to his lawyer, Gabriel Grasso.
"This is a very good deal for him," Grasso said after the plea. "If he had to go to trial, it most likely would not have gone well for him."
The guilty plea helps keep secret the businessman's identity, which has not been divulged in court papers or proceedings. Ramos won't have to stand trial, and the victim won't have to reveal himself on the witness stand.
U.S. Magistrate Judge Bill Hoffman this month signed a highly unusual protective order prohibiting disclosure of the businessman's name — not even his initials — or company in any public filings. Hoffman signed the order without a hearing or input from the public or news organizations.
In court Grasso told Navarro the defense agreed to keep the name of the victim secret to spare his family further heartache. But Grasso also said "other people" were involved in the case, which he described as a "sensitive situation."
Assistant U.S. Attorney Carla Higginbotham said it is "entirely appropriate" for the government to keep the businessman's identity secret.
"The government doesn't have an obligation to disclose the name of any victim," Higginbotham said.
Navarro said she doesn't know the businessman's name, which isn't necessary to proceed with the case against Ramos. Not disclosing the name encourages victims to go to law enforcement, she said.
An FBI complaint obtained by the Las Vegas Review-Journal identifies the businessman only as a married local resident who has two minor children and who is "part-owner of a well-known business" with access to a company jet.
Over a two-year period, the businessman tipped the stripper roughly $200,000, usually at $10,000 per visit, to dance and have sex with him in a private room at an adult nightclub, the complaint said.
The stripper secretly used her cellphone to videotape herself having sex with the businessman in a hotel room during an October 2014 tryst outside the country, according to the complaint.
Ramos was indicted by a federal grand jury in September. He is accused of demanding $200,000 from the businessman by threatening in text messages and cellphone conversations to make public sex tapes.
The stripper's identity has not been revealed in court documents, and she has not been charged, according to her lawyer, Brian Smith, who was in court Tuesday. Smith declined to name her.
According to his plea agreement, Ramos was paid $200,000 by the businessman during a Jan. 8 meeting. After accepting the money he was arrested by FBI agents, who had been secretly watching and recording the late-night transaction.
Prosecutors aren't seeking restitution from Ramos, but he has agreed to turn over any remaining sex tapes or confirm that no others exist. Ramos also agreed to give the government two Apple iPhones and a laptop used in the extortion scheme.
On his LinkedIn profile, Ramos, who goes by Joshua Ramos, describes himself as a real estate agent, personal trainer and "tech geek" with experience in social media, marketing and Web design. He calls himself a "creative marketing strategist and visual designer."
His profile says he has been involved in several online and social media ventures involving adult nightclubs and entertainment.
Court records show he filed for bankruptcy in July 2011, listing $545,562 in liabilities and $323,019 in assets, including a 2006 BMW. His debts, mostly from credit cards and a home mortgage, were discharged in October 2011.
Contact Jeff German at jgerman@reviewjournal.com or 702-380-8135. Follow him: @JGermanRJ