Man charged with murder, witnesses can't recall stabbing, police say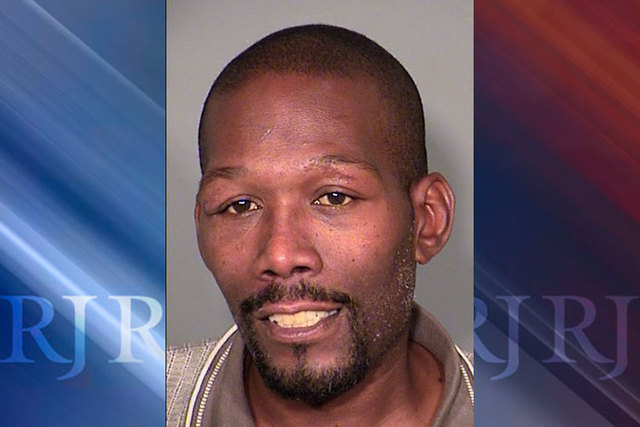 A man accused of murder told Las Vegas police he doesn't remember stabbing the man they say he killed, according to an arrest report, and the two women who witnessed the fight didn't see the fatal attack.
Michael Deshon Jackson, 44, turned himself in Monday. He was booked at the Clark County Detention Center. He faces a murder charge.
Authorities on May 12 were called about a stabbing at a condo complex in the 5900 block of Bromley Avenue, near U.S Highway 95 and Jones Boulevard, police said. They found Reginald Washington dead with a stab wound to the neck.
Jackson, Washington and his girlfriend Danelle Thorns, and Yolanda Traylor had gathered to drink alcohol, eat pizza and watch basketball on TV at the residence in celebration of Jackson's upcoming birthday, the police report said.
Thorns told detectives that she asked Washington to leave because he was drunk and acting disrespectfully toward her, the report said. That's when Washington got mad, accusing her of wanting to have sex with Jackson.
At some point Washington went toward Jackson, who was sitting outside and punched him, Thorns told police.
Traylor said she heard Washington tell Jackson "something to the effect of: If you open your mouth again, I'm gonna knock you the f—- out," the report said.
Washington then punched Jackson in the face and knocked him down, the report said. Thorns said that Washington continuously punched and kicked Jackson while he was on the ground.
Traylor said Washington walked to a sink to wash his hands and that she thought he stopped punching Jackson because he had "won the fight," the report said. She then noticed that Washington was bleeding from the neck.
Jackson and Thorns left the condo, the report said, while Traylor helped Washington and called 911.
Thorns later told detectives that during the fight, Jackson was able to get on his feet and "punch" Washington once, the report said.
She did not see the stabbing, Thorns told detectives.
Jackson turned himself into police. He told detectives that he was drunk on vodka and beer and smoking a cigarette while sitting next to the two women when Washington came outside and punched him in the mouth, the report said.
He thought Washington punched him about five times, Jackson said. He noted that he doesn't remember hitting or stabbing anyone and that he does not carry a weapon, the report said.
But after the fight the women told him to take off, the report said, so he did. Jackson also told police the women were taking pills with their drinks.
Jackson told detectives that "if the girls said he stabbed someone, he must have done it," the report said.
Contact Ricardo Torres atrtorres@reviewjournal.comand 702-383-0381. Find him on Twitter: @rickytwrites.