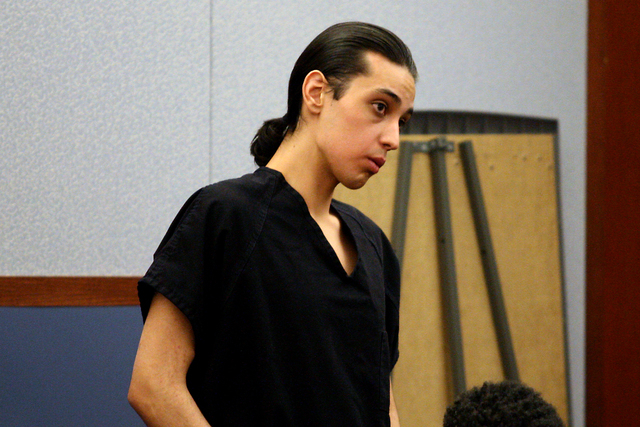 A man was sentenced to 16 to 45 years in prison Wednesday for his role in a shooting that left a teenager paralyzed.
Keaton Belliston was 18 when a gunman fired a bullet into his neck three years ago at a northwest valley skateboard park.
On Wednesday, District Judge Stefany Miley sent the owner of the gun, 25-year-old Jerry Santisteven, to prison for his role in the attack. He pleaded guilty in September to charges including robbery, conspiracy to commit robbery and battery with the use of a deadly weapon.
The Jan. 3, 2012, shooting left Belliston paralyzed from the waist down and his family financially devastated, his mother, Keri Belliston said. Her husband, Keaton's stepfather, committed suicide because of the pressure he felt after Keaton was paralyzed, she said.
Last month, the shooter, Elijah Alvarado, was ordered to serve 16 to 40 years in prison on four counts including attempted murder, robbery and conspiracy to commit robbery and battery.
Alvarado and Santisteven were also accused in a separate robbery at Buffalo Drive and Golden Talon Avenue earlier the same day.
Prosecutor Megan Thomson said Alvarado he fired five shots at a group of teenagers, including Keaton Belliston, Cody Nix and their friend Justin Randall, who had been skateboarding at Mountain Ridge Park near Elkhorn Road and U.S. Highway 95.
Belliston was videotaping Nix performing tricks on his board at about 8 p.m. when Alvarado and Santisteven approached and demanded cellphones and an iPod. The teens turned over their electronics, but Alvarado pulled out a handgun.
Nix said he watched a bullet zoom past the left side of his face.
Belliston turned to run, and a bullet pierced his neck in the narrow space between his carotid artery and jugular vein. Had either vessel been struck, he likely would have died.
Belliston was hospitalized in Las Vegas for more than a month, suffering from pressure sores and fevers before he was transported to a Denver hospital that specializes in spinal cord injuries.
"It was good to see it get solved and closed up," he said after the sentencing. "It kind of made me sleep a little better at night, knowing there's not two more guys out on the streets looking for trouble."
When his stepfather died, the family moved to Salt Lake City to live in a cooler climate with Keri Belliston's father, who helped support them financially until his death in October.
A few months ago, a friend set up a crowd-sourcing page online for the family, saying they are "in dire need of help at this truly difficult time." Keri Belliston, meanwhile, set up a similar page, saying she is unable to work as she helps her son with therapy.
"I draw strength from him, he draws strength from me," she said. "We just have to go on and be strong for each other."
Contact reporter David Ferrara at dferrara@reviewjournal.com or 702-380-1039. Find him on Twitter: @randompoker