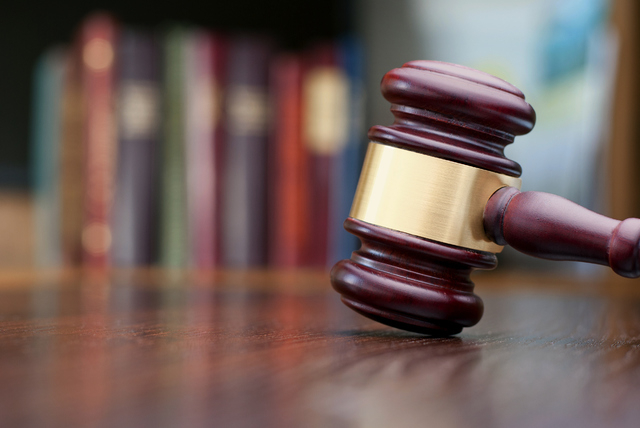 A man prosecutors said was riding in a car that carried $1 million in heroin was ordered released on his own recognizance Thursday, after pleading guilty to two charges.
Defense lawyers for Kevin Allan Perez-Fabela said they would argue for probation at an April sentencing on one count of conspiracy to violate the uniformed controlled substances act and one count of transport of a controlled substance.
The charges stem from a September traffic stop on Interstate 15. Perez-Fabela was a passenger in the vehicle in which police found a hidden compartment with nearly 19 pounds of heroin. He faces a maximum of one to six years behind bars.
Under an indictment that included a charge of trafficking in a controlled substance, Perez-Fabela could have faced life in prison.
Defense attorney Damian Sheets said Kevin Allan Perez-Fabela had no way of knowing what was in the sealed compartment, which police pried open after the stop. Perez-Fabela was headed to visit family in the Las Vegas area, his lawyer said.
The car was registered to the driver, Jezer Sal Garcia-Anzar, who posted $40,000 bail, and has not returned to court since a warrant was issued for his arrest in early October.
At a hearing in October, Las Vegas Justice of the Peace Eric Goodman questioned whether the defendants' constitutional rights had been violated and said the only reason a Nevada Highway Patrol officer pulled their car over was because the driver was Hispanic. The Fourth Amendment prohibits unreasonable searches and seizures.
Police said Garcia-Anzar was driving a Nissan Sentra with Illinois license plates north on Interstate 15 north of Las Vegas at about 10 mph below the speed limit, "impeding traffic," an allegation Sheets disputes.
The trooper noticed a bicycle rack attached to the car without a bicycle and the Sentra crossed "onto the fog line several times" as he followed. The absence of a bike was a possible sign that someone transporting drugs wanted the vehicle to blend in with traffic, the trooper testified to a grand jury.
Prosecutors said the car in which Garcia-Anzar and Perez-Fabela were riding was spotted traveling back and forth across the Mexican border just days before their arrest. But Perez-Fabela was not in the car at that time, his lawyer said.
Both Garcia-Anzar and Perez-Fabela were born in the United States and had California ID cards.
Contact David Ferrara at dferrara@reviewjournal.com or 702-380-1039. Find him on Twitter: @randompoker