Man interrupts Latino event on Las Vegas Strip with racial slurs, spilled beer
September 16, 2016 - 8:18 pm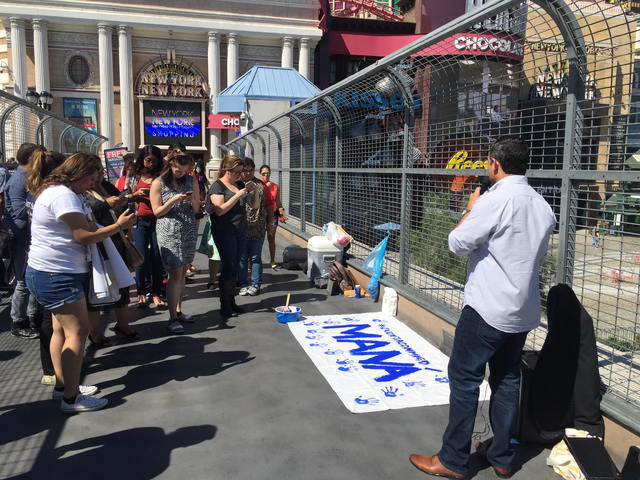 An event on the Las Vegas Strip meant to inspire Latino residents and tourists to vote in November was interrupted at least three times Friday afternoon by a man who yelled racist slurs and threw soda and beer on volunteers, a spokeswoman said.
Local political organizations including America's Voice, PLAN Action and the Latino Victory Project hosted the event. Volunteers displayed a blank canvas on the pedestrian bridge between the MGM Grand and New York-New York and asked passers-by to dip their hands in paint and imprint them on the canvas to symbolize their intent to vote.
"It was not even political. We were just asking people to commit to vote," Viridiana Vidal, Nevada director of America's Voice, said of the event. "We were there having fun and then this guy came along and started saying horrible things to us."
She did not list the slurs he yelled, but said the man also "came up to me and said he wanted to grab my butt." A video one of the group's volunteers posted to Facebook shows part of the interaction.
The man soon walked away, so the group of about 20 volunteers brushed the encounter off. But the man quickly returned, then poured soda all over the group's canvas. He also kicked some of the volunteers and yelled more slurs, Vidal said.
"We didn't call the cops," she said. "We just decided to leave."
As the group packed up the soda-stained canvas, which they planned to send to Maná — a popular Mexican pop band — for an event in Florida, the man returned once more. This time, Vidal said, the man spilled canned beer on the canvas and volunteers, then threw the beer can at them.
"We're just getting used to it now. The election has been very polarizing, and I think harassment is becoming kind of common," Vidal said. "It's sad that this is happening. Hopefully we'll get through it until November."
Vidal said the volunteers still plan to send the stained canvas to Maná for the Florida event, which will feature canvases submitted to the band from across the country, filled with symbolic "votes."
"We're still going to send it," she said. "Ours is just going to stink."
Contact Rachel Crosby at rcrosby@reviewjournal.com or 702-387-5290. Find @rachelacrosby on Twitter.