Man killed by BLM officers near Red Rock was tased twice, shot 7 times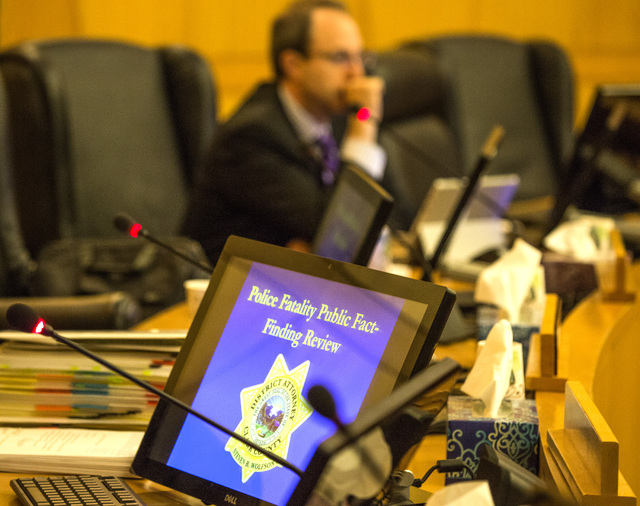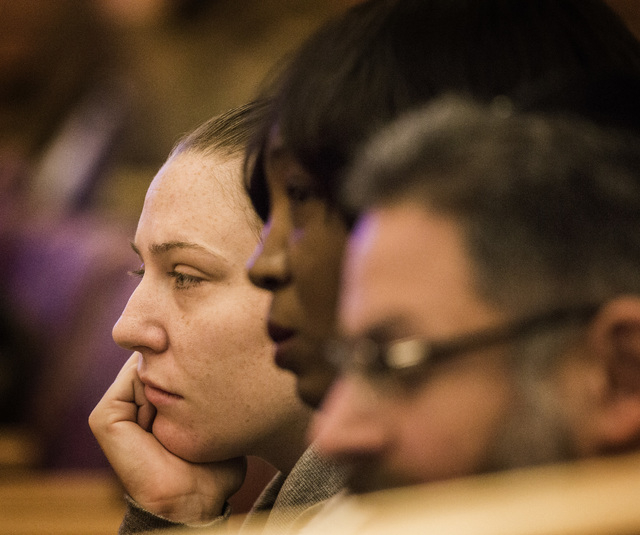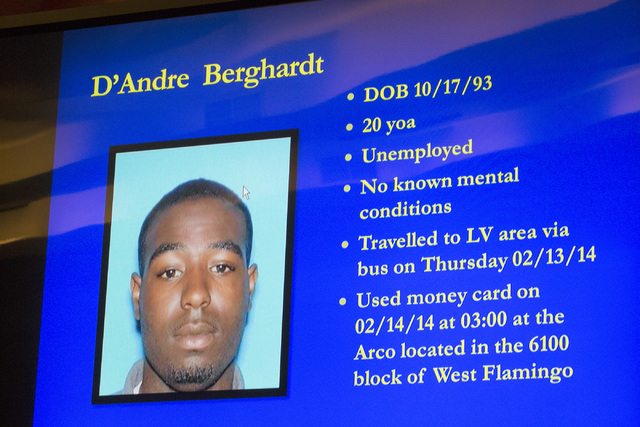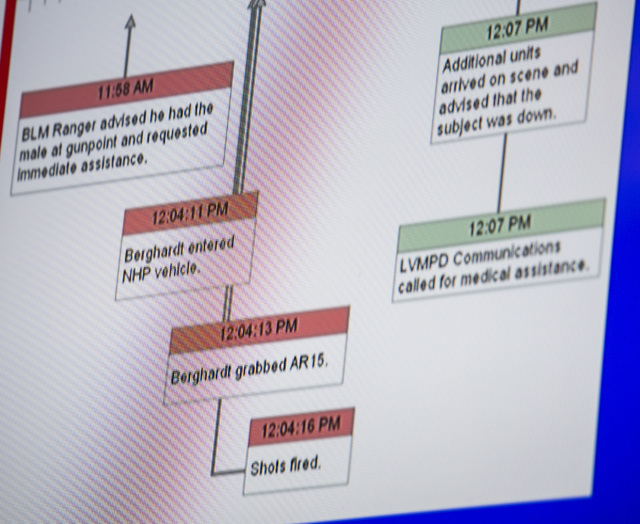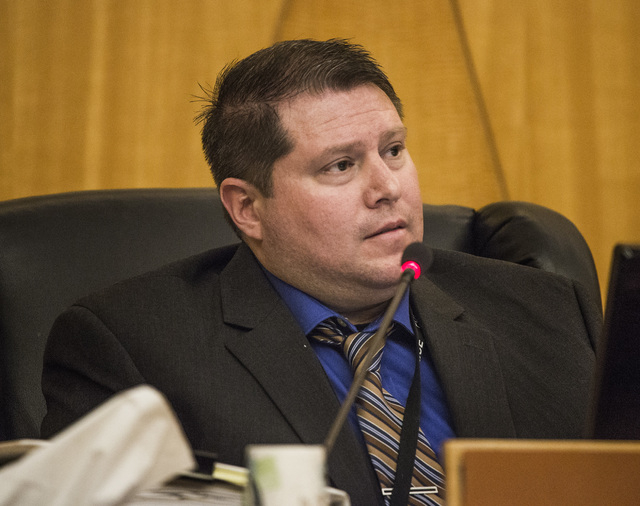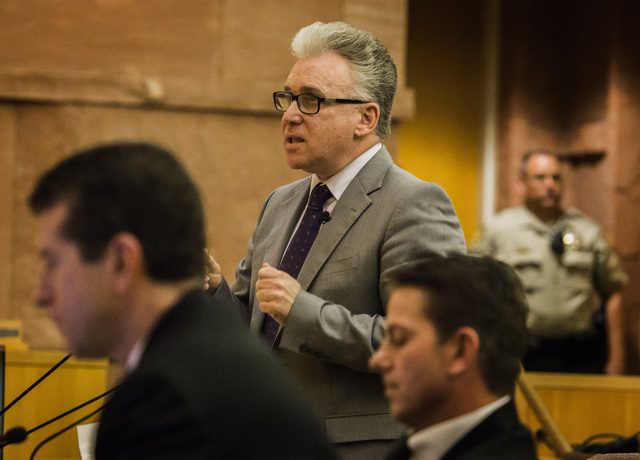 D'Andre Berghardt Jr. was tased twice and shot seven times by Bureau of Land Management officers in an incident on state Route 159 near Red Rock last year, investigating officers testified in a fact-finding hearing Monday morning.
Berghardt, 20, of Los Angeles, was killed by BLM rangers who responded to a call about a pedestrian impeding cyclists along the highway. The Feb. 14, 2014 shooting was caught on video by a bystander.
He was holding a flat-head screwdriver during at least one of the tasings, according to testimony Monday. He kept getting to his feet after the shocks, and at one point said, "Just shoot me in the head."
The BLM officers shot Berghardt after he got into a Nevada Highway Patrol trooper's vehicle and reached for a secured AR-15 rifle. The BLM officers had never cross-trained with the Nevada Highway Patrol, and did not know if the rifle stowed between the driver's and passenger's seats was secure, Las Vegas Police Detective Matthew Gillis testified.
The Metropolitan Police Department was called in to investigate the shooting as an outside agency. The Clark County District Attorney's Office made a preliminary decision that no charges will be filed in the use-of-force death.
It's unclear how Berghardt, an amateur boxer, ended up walking along state Route 159. He had traveled by bus to Las Vegas the day before the shooting and was due to meet his brother at Bally's. When the brother arrived and couldn't find him, he contacted police. Berghardt's family had given him a cellphone, but it didn't have any minutes.
Police were contacted when Berghardt was hitchhiking near Red Rock and a caller reported an assault on a bicyclist.
When BLM officers approached, he had luggage with him, hesitated and gave a false name, according to the testimony. Berghardt asked for water but refused a bottle from an officer, saying it was dusty.
He got tased after he pulled out a screwdriver and held it in a threatening way and didn't drop it when a BLM officer ordered him to, according to the testimony.
When he kept moving after getting tased, officers tried pepper spray. Berghardt then shoved a BLM officer off the roadway and attempted to get into two vehicles stopped because of the incident.
NHP Trooper Lucas Schwarzrock then arrived and struggled with and tased Berghardt. As the trooper was reloading the cartridge on his Taser, Berghardt said: "No more Taser no more Taser, I'll take your f—-ing gun."
The second tasing didn't stop Berghardt from opening the door of the trooper's vehicle. The trooper attempted to pin him between the door frame and the door, but Berghardt still managed toget in and reach for the rifle, according to the testimony.
The trooper backed away from Berghardt after seeing that a BLM officer had drawn his firearm, according to the testimony.
A video recording from a camera in the NHP trooper's car shows Berghardt's hand reaching for the rifle before the two BLM officers fired a total of 13 shots. The video was played at the hearing at regular and slower speeds.
An autopsy found Berghardt was wounded seven times, and had traces of marijuana in his system.
The two BLM officers, a ranger and a special agent, weren't identified by name during the Monday proceeding.
A pending federal lawsuit against the BLM filed by Berghardt's mother, Tracy Meadows, identifies the BLM officials as Meagen Martin and Brian Loftin. The wrongful death lawsuit accuses them of using excessive force.
Meadows said the son's actions — as described to her — were "out of character for him."
"I still don't know what escalated this whole situation," she said, adding that "no one ever came to me and apologized."
Her attorney, Jacob Hafter, was critical of the investigation and of the process. He had filed an emergency motion to stop the Monday review from happening, arguing that the reviews aren't applicable because of the involvement of federal officers. Hafter said the case merits a federal investigation.
Speaking to reporters, he said the process was rushed and didn't adequately explore the backgrounds of the officers involved.
"This is all a ruse," he told reporters.
Clark County District Attorney Steve Wolfson, speaking to reporters afterwards, said the involvement of a Nevada Highway Patrol officer at the scene allows for the reviews to take place.
He said the process provides more information and transparency about cases.
"The bottom line is the statute allows us to have it," he said.
Contact Ben Botkin at bbotkin@reviewjournal.com or 702-405-9781. Find him on Twitter: @BenBotkin1
RELATED:
Grieving father on fatal Red Rock police shooting: 'I won't accept it'
Wrongful death suit filed in Red Rock shooting
Lawyer wants federal, not county, probe of Red Rock shooting
Mother asks why police had to kill her son
Man identified in Red Rock shooting