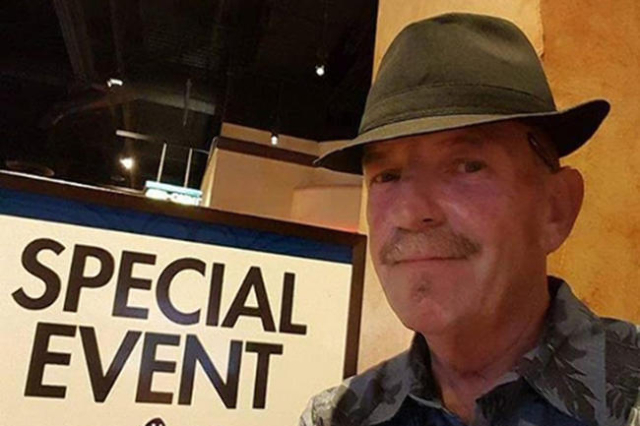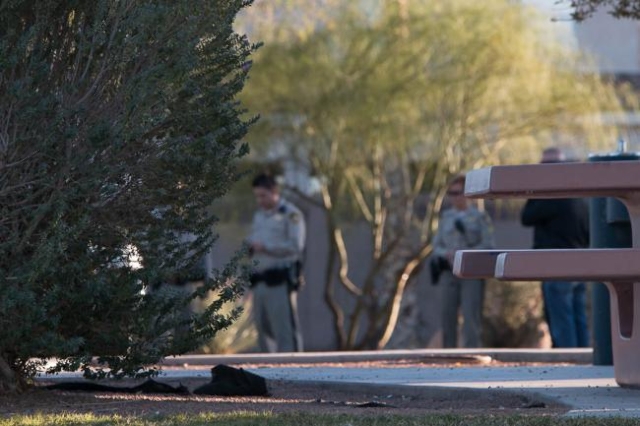 A former New York corrections officer shot and killed by Clark County School District police Friday had knives, a sword and a loaded shotgun in an SUV that officers said he accelerated toward them at a south valley park.
James Francis Smyth was a 10-year Las Vegas resident who spent 23 years as a corrections officer at Rikers Island in New York, Clark County School District police Capt. Ken Young said Tuesday.
Smyth did not have a known criminal record, and his sister, neighbor and fellow corrections officers wonder what led to the shooting.
He certainly didn't have a disdain for law enforcement, according to his sister, Catherine Smyth, and others who reached out to the Review-Journal.
"He had nothing against cops or anything," said Catherine Smyth over the phone from New York. "Something must have happened."
She said she last spoke to him when he called to wish her a happy birthday five days prior to the shooting. She said he was battling cancer.
Joe Nazario said he met Smyth in 1985 at corrections officer academy. He said he and Smyth's other former colleagues can't make sense of what happened.
In an email, Nazario said no one can say for sure what was going through Smyth's mind at the time. "What we do know for sure is that was not the U.S. Marine/correction officer we knew," he said.
Neighbor Mitch Harper said Smyth underwent a dramatic change after a divorce about six months ago. He became unusually chatty and started dressing up in costumes and talking in different accents — Jamaican one day, Irish the next.
Harper said Smyth's odd behavior intensified during the past week, but he seemed quiet and withdrawn on the day he died.
Friday's incident began when Smyth's 2006 Hyundai Santa Fe sideswiped a marked Metro SUV near the intersection of Spencer Street and Windmill Lane about 4:30 p.m., Young said. The officer thought the crash was accidental and began pulling over, but Smyth slowed down, got behind him and sped into the back of the patrol vehicle, he said.
At the same time and about a mile away, Clark County School police officers Eric Schnaidt, 40, and Raymond Cruzan, 48, were at Desert Bloom Park, 8405 S. Maryland Pkwy, investigating an earlier beating at nearby Schofield Middle School. The park was filled with kids playing football and basketball.
After unsuccessfully trying to pull Smyth over, the Metro officer Smyth crashed into turned off his sirens and followed the SUV without chasing it, Young said.
Smyth ran a stop sign and then a red light before turning into the parking lot at the park. That's when the Metro officer turned his lights and sirens back on, Young said.
At first, the Santa Fe appeared to slow down, but then it accelerated toward the CCSD officers and the two students they were talking to, Young said.
Officer Schnaidt's body camera captured what happened next.
The video shows officer Cruzan look toward the sirens and spot the Santa Fe as it accelerates toward them. Young couldn't say how fast the Santa Fe was going, but there was no indication Smyth "made any attempt to stop."
The video then shows a girl running for cover as Schnaidt moves away from the lot and fires nine rounds toward Smyth.
Cruzan fired five times, Young said.
The Santa Fe crashed into the CCSD patrol car, and Smyth died in the SUV, Young said. The entire incident lasted three minutes.
Police found the knives, sword and shotgun in the vehicle, but Smyth didn't have any weapons on him, Young said.
Police are still investigating if Smyth was targeting the officers and if the shooting was "suicide by cop," Young said. For now those are "only theories."
"Smyth had opportunity to avoid officers," he said. It's "evident that he accelerated toward them."
This was the sixth shooting in the 25-year history of CCSD police and the first resulting in death, Young said.
School police began wearing body cameras about three weeks ago, and the system is still being tested.
Contact Ricardo Torres at rtorres@reviewjournal.com and 702-383-0381. Find him on Twitter: @rickytwrites