Man kills himself after central Las Vegas bank robbery
November 13, 2015 - 4:11 pm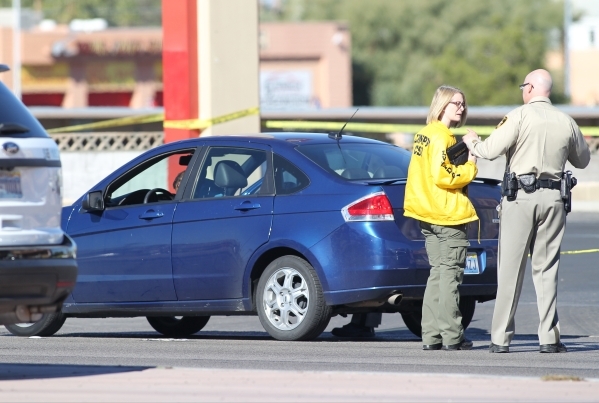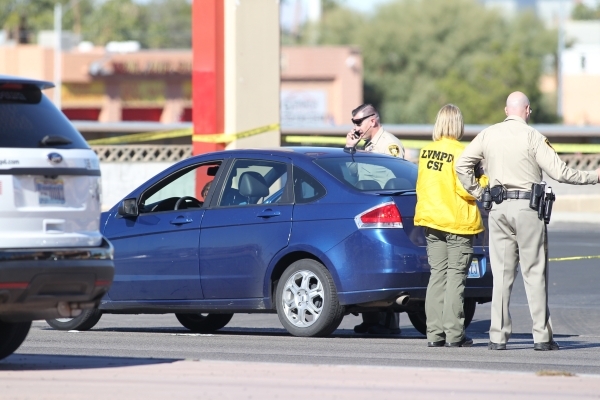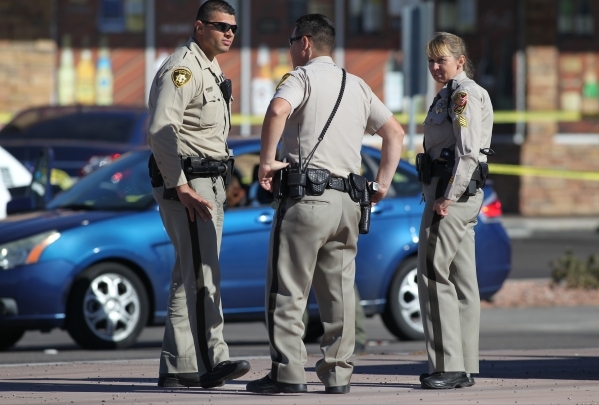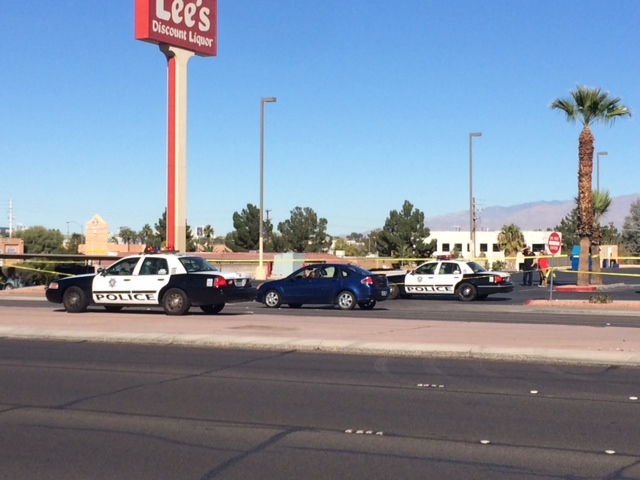 As cars traveling west on East Flamingo Road pulled forward Friday morning toward South Pecos Road's green light, a blue Ford Focus did not.
Inside was a man who police said shot and killed himself. Officers believe he had just robbed a Bank of America east of the central valley intersection before killing himself in his getaway car.
The man, who has not yet been identified, is suspected of robbing the bank at 3608 E. Flamingo at 9:21 a.m. while wearing a black motorcycle helmet, said Lt. Jack Clements, who heads Metro's robbery bureau. The same helmet was found in the car about a block west of the bank.
After the man left the bank, Clements said a citizen pointed a responding officer to the possible robber, who was walking on nearby South Pearl Street before getting into a blue car.
That officer then spotted the car being driven "recklessly" on Flamingo, Clements said. Clements said the officer called for backup as he started to follow the car.
"The officer had not turned on his emergency (sirens and lights), had not attempted a vehicle stop at all," Clements said. "He was just waiting for additional officers so he could conduct a further investigation. That's when traffic began to move (and) the officer heard a pop."
As the surrounding cars kept moving, weaving around the stopped car, the officer approached it.
"He took a walk to check on the driver and found that the driver was deceased in the vehicle with a gunshot wound," Clements said.
Clements confirmed the bank was robbed, but declined to give more details. Metro is working with the FBI to conduct an investigation "to see if the subject is involved in additional bank robberies or if this is just a onetime thing," he said.
Myrna Acosta, 30, was among observers at the scene.
"The driving guy is not moving," she said, wondering aloud if he was dead. "He's been in the same position for a long time."
Teresa Reyes, who drove past the scene, returned to find out what happened.
"At first I thought it was a wreck and when I passed it I just freaked out. I saw him slouched over with the blood right there," she said, holding her hand up to her left ear. "I was like, 'Oh my God, he's shot,' and I was trembling.
"It was scary," she said. "I just kept telling my daughter it was going to be OK."
Contact Lawren Linehan at llinehan@reviewjournal.com or at 702-383-0391. Find her on Twitter: @lawrenlinehan. Contact Rachel Crosby at rcrosby@reviewjournal.com or at 702-387-5290. Find her on Twitter: @rachelacrosby.