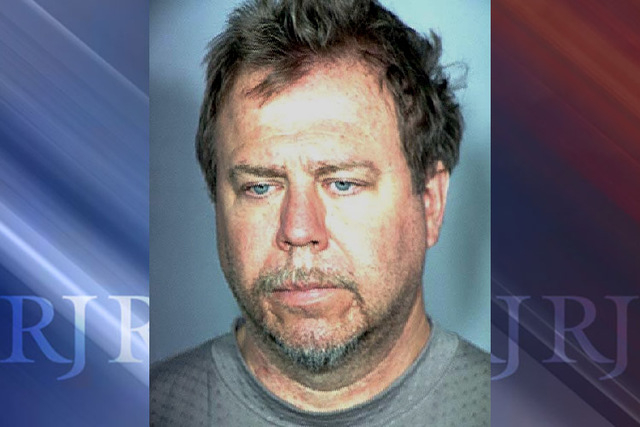 A Las Vegas man who ran a photo studio and a children's pageant before evading law enforcement for 17 months in a child porn investigation is back in a valley jail facing federal charges.
William Clyde Thompson, 54, now faces additional charges linked to child pornography in California, according to the Riverside County district attorney's office. He is being held in the Henderson Detention Center. He was arrested in Needles, Calif., in February along with two people police called his accomplices.
Thompson first was arrested in Nevada in November 2012 and charged with seven counts of using a minor to produce pornography and ten counts of lewdness with a child under the age of 14, according to court records.
He was put on house arrest Dec. 16, 2012, after posting $200,000 bail. Then, police say, he removed his GPS tracking device and fled before a scheduled court appearance in September 2013. That same month, Thompson was indicted in federal court on child porn and child exploitation charges, the release said.
Thompson operated Stonybrook Studios in the 3300 block of West Craig Road and took photos and videos of juveniles in sexually explicit positions for months, according to a September 2013 police report. He also helped run the All American Society Pageant, founded by his wife in June 2010.
In January of this year, California authorities said, the National Center for Missing and Exploited Children prompted an investigation by the Riverside County Sexual Assault and Felony Enforcement/Internet Crimes Against Children task force. Thompson was arrested Feb. 17.
Police said he was using the aliases "Tony Bailor" and "Jason Brock." In addition to the federal and state charges, Thompson faces counts of sexual assault, conspiracy to commit child pornography and lewd acts against a child in Riverside County.
Investigators seized Thompson's cellphone, which led them to two men police described as accomplices: John David Yoder, 44, and Erik Alan Monsivais, 30.
Yoder, of Desert Hot Springs, Calif., was working as a special education teacher's assistant at Desert Hot Springs High School in the Palm Springs at the time of his arrest Jan. 30. Investigators said he had adopted sons and was a licensed foster parent. He pleaded not guilty Feb. 5 in Riverside County to human trafficking, lewd acts on a minor and four counts of sexual intercourse with a victim under the age of 10, said the district attorney there.
Monsivais, of Los Angeles, was arrested Feb. 2 and charged with four counts of sexual intercourse with a child under the age of 10, three counts of oral copulation by fear or force with a child under the age of 14, and human trafficking of a victim under the age of 18, the Riverside County DA said. He pleaded not guilty Feb. 5.
Thompson and Yoder solicited boys at a Desert Hot Spring's skate park in March 2014, the Riverside DA said. Investigators believe Thompson recruited Yoder to solicit boys for his child pornography and photography.
At least one boy was sexually abused by Thompson in Desert Hot Springs and in Los Angeles and Orange counties, the DA said. More children could have been hurt.
Anyone with information can call the assigned law enforcement task force at 866-723-3595.
Contact Kimberly De La Cruz at kdelacruz@reviewjournal.com or 702-383-0381. Find her on Twitter: @KimberlyinLV.