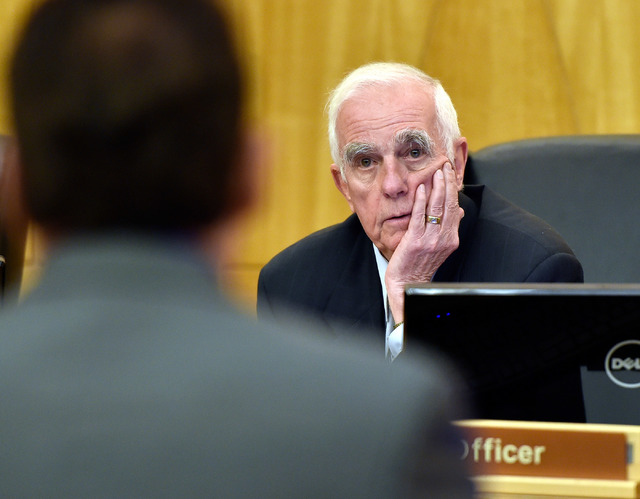 Ronald Wayne Tate had three separate run-ins with Las Vegas police within 48 hours of being shot and killed near the Jean Airport last year, police said during a public hearing Friday.
During a brief standoff outside his RV just before Las Vegas police shot and killed him March 16, 2014, 58-year-old Tate delivered a message.
"All you want to do is hurt me," he said, according to Metro testimony. "All you want to do is get me. Well, I'll get you first."
His behavior, which police described as "bizarre and threatening," prompted calls from three Clark County businesses asking for Tate to be removed for trespassing in the two days leading up to his death, Metro homicide detective Matt Gillis said.
Gillis led the internal investigation into the shooting as part of Metro's Force Investigation Team. His testimony came during a fact-finding review, a process aimed at disclosing details in Clark County police killings.
Officers initially responded to the area after the employees of a skydiving company called police and said Tate had pointed a gun at them.
The employees were clearing space for a drop zone about four miles south of Jean when they noticed Tate's RV, according to police. The employees asked Tate to move, and he pointed a 9 mm handgun at them and told them to "get off my shooting range."
It wasn't clear from the hearing whether the skydiving company's planned landing space was public or private property.
After officers arrived, Tate stayed inside his RV for about 20 minutes before he came out holding a shotgun.
"I don't want to talk to the government," he said to an officer, according to Metro testimony. "You represent the government, and I have no reason to talk to you."
When he "attempted to chamber a round," police said, SWAT officer Charles Moser fired a single shot, killing Tate.
Prior to the trespassing calls, police said Friday, Tate had no criminal history. He had worked from 1995 to 2007 as a corrections officer in Florida for the Polk County sheriff's office.
Retired Las Vegas Justice of the Peace William Jansen presided over the fact-finding review at the Clark County Government building, 500 S. Grand Central Parkway. The fact-finding review replaced the coroner's inquest in 2013.
Contact reporter Colton Lochhead at clochhead@reviewjournal.com or 702-383-4638. Find him on Twitter: @ColtonLochhead