Man shot by Vegas police attempted 'suicide by cop,' undersheriff says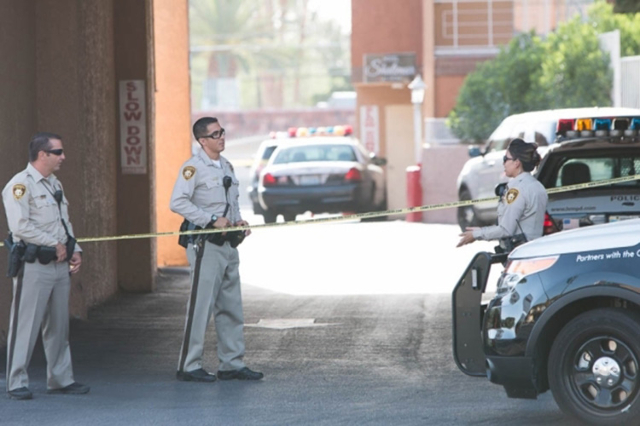 A man shot by police near the Stratosphere on Saturday came to Las Vegas to die, according to Metro.
Patrick Stoltz, 52, a North Dakota native, pointed a handgun at two officers, and they fired on him. He survived, but now faces criminal charges.
Metro Undersheriff Kevin McMahill said Stoltz left letters at the Shalimar Hotel Las Vegas, where he was staying, that said he intended to die and have police do the dirty work.
In a press conference Wednesday, McMahill made an emotional plea, saying that many police shootings are cases of suicide by cop.
"I beg of you to seek help," he said of anyone contemplating suicide. "Please don't put our officers in this position anymore."
Metro officers Jeremiah Beckman and Steven Williams, both with the Downtown Area Command's Tourist Safety Division, shot at Stoltz just before 1 a.m. Saturday in the rear parking lot of the Shalimar, 1401 Las Vegas Blvd. S. Stoltz was hit once in the back of the head and taken to University Medical Center.
He was released from the hospital and booked at the Clark County Detention Center on Wednesday. He faces three counts of assaulting police officers with a deadly weapon and one counting of resisting police officers with a deadly weapon. He is being held without bail and is scheduled for a court appearance July 29, according to jail logs.
Stoltz came to Las Vegas two weeks ago, McMahill said. He spent the afternoon before his encounter with police going to and from his room and the hotel office, where he asked for letters and envelopes. He gave the hotel manager a letter to mail for him.
The hotel manager later received a call about gunshots from Stoltz' room, McMahill said. An employee spotted Stoltz sitting on the ground holding a handgun in the rear parking lot a short time later. Police arrived and made sure Stoltz wasn't in his vehicle. As an officer was peering through the open door to Stoltz' room, the man came out with a gun.
Stoltz brandished an unloaded .45-caliber Sig Sauer P227, which he pointed at the officers using a "two-handed combat grip," McMahill said.
Williams fired five rounds at Stoltz from a 12-gauge shotgun. None of the blasts made contact.
Beckman maneuvered behind Stoltz, and one of the three rounds he fired from a .40-caliber Sig Sauer P226 made contact. McMahill said the officers were about 58 feet away from Stotlz at the time.
McMahill said Stoltz' letters, as well as video recordings of the incident, were not being released to the public, because they will be used as evidence in a criminal trial.
Stoltz has a nonviolent criminal history including a conviction in the Denver suburb of Aurora, Co., for marijuana cultivation, McMahill said. He bought the pistol at a North Dakota gun store in May.
This is Metro's fifth police shooting this year. Last year at this time there had been 11 shootings involving Las Vegas police officers, McMahill said.
Eighteen of the 62 police shootings involving Metro since 2011 had suspects expressing suicide by cop tendencies, McMahill said.
Contact Wesley Juhl at wjuhl@reviewjournal.com and 702-383-0391. Find him on Twitter: @WesJuhl