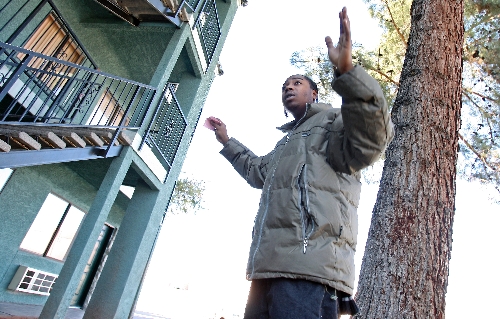 Leonard Greer is a lucky man. Or unlucky, depending on how you look at it.
By any estimation, the bullet fired from a Las Vegas police officer's handgun Jan. 12 should have pierced the driver's side window of his car and buried itself in Greer's body.
Instead it glanced off the window and burrowed nearly straight down into the driver's door of Greer's Oldsmobile Bravada sport utility vehicle.
The 22-year-old was unscathed, if shaken, by the close call.
Greer apparently did nothing wrong and was not arrested. He was given a ticket for obstructing a police officer, a vague misdemeanor citation for which Greer says he was never given an explanation.
The incident received scant notice, though it was the department's first and so far only officer-involved shooting of 2011. Coming just months after two controversial shootings that shook the force and sparked widespread outrage, Greer's wounding or death would have been a major embarrassment for the department.
The officer, Sgt. Darrin Densley, a 22-year police veteran, is on routine paid administrative leave while the shooting is under investigation.
Department spokesman Bill Cassell said no decision on Densley's actions has been made by the department's use of force review board, a panel that reviews such incidents.
Cassell declined to comment on Greer's story of what happened, saying it would be inappropriate while the department's investigation is still open.
The incident angered Greer, a clothing store clerk. He said he has had trouble sleeping since that night.
"For a while, every time I closed my eyes the only thing I could hear was the gunshot," he said Friday.
Greer said he had just paid the week's rent for his small unit on the third floor of the Shelter Islands Apartments on Swenson Street at Twain Avenue. It was about 6 p.m., and he had his receipt in his pocket.
Greer was leaving the apartment complex with his girlfriend, Edna Williams, and her two cousins. As they walked to his car, he saw four uniformed police officers standing in the courtyard on his right.
Greer was talking on his cell phone as he walked past them and said he doesn't remember hearing one of them yell, "Hey," at him just as he was about to get into his car, although Williams said she heard it.
Before he could put his key in the ignition, Densley was standing near the windshield with a gun pointed at him, Greer said.
Densley ordered Greer and the others to get out of the vehicle. Greer refused.
"I said, 'No, I'd done nothing wrong,' and that I lived there," he said.
The officer demanded some proof that he lived there, and Greer said he had a rent receipt and would get it out of his pocket.
With his left hand on the steering wheel, he used his right hand to pull it out of his pocket. He then put his right hand, clutching the receipt, back on the steering wheel.
That's when Densley fired, Greer said. Crime scene technicians later dismantled the door and took the bullet away as evidence.
Neighbor Paul DePrizio said he watched the incident from the corner window of his third-floor apartment and expected the worst.
In the five years he has lived in the complex, DePrizio said, "I've seen some crazy stuff happen, but nothing like that."
He said he could see that Greer and Williams had their hands up.
"The gunshot went off out of nowhere," he said. "No one was reaching for anything."
After the shot, the next thing everyone heard was an officer asking whether anyone had been hit. No one had.
Police later searched his car and his apartment, turning up nothing, Greer said. He said officers thought he or his girlfriend had a gun. He said he doesn't know why.
Greer said the only reason he was given for being stopped was "because I was a black male in a high-drug area."
Simply being a black man in a bad neighborhood might not be enough.
ACLU of Nevada General Counsel Allen Lichtenstein said officers can't legally stop someone just because they think the person looks suspicious.
The incident highlights the issue of when, and how, an officer can temporarily detain someone on foot or in a car — known as a "Terry stop" for the 1968 U.S. Supreme Court decision in Terry v. Ohio.
"(The court's decision) says an officer who has a reasonable, articulable suspicion that someone is engaged in or about to engage in a crime can detain a person for a short period of time, only long enough to determine who the person is and whether or not they're engaged in a crime," Lichtenstein said.
The ACLU of Nevada has urged the Metropolitan Police Department to compile data on "Terry stops," including the legal reason for each, to see whether the department is using racial profiling as part of its 287(g) program.
The program, run through the department's Clark County Detention Center, identifies illegal immigrants arrested in connection with serious crimes and turns them over to federal immigration agents.
A nonpartisan think tank this week released a study saying that the department has largely made good on only targeting illegal immigrants arrested in connection with serious crimes.
But Lichtenstein said the department has not released racial profiling data.
Greer said his insurance will pay for the damage to the car, although the department also said it would pick up the tab. He said that's not enough, and he plans to hire a lawyer.
Contact reporter Lawrence Mower at lmower@reviewjournal.com or 702-383-0440.