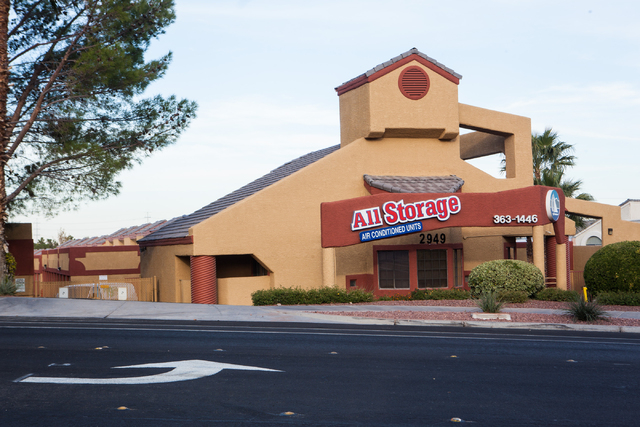 For 10 years, prosecutors say, Robert Dixon Dunn used stolen checks from Joaquin and Eleanor Sierra to pay for the Las Vegas storage unit where he kept their bodies stuffed inside trash bins.
Dunn, 52, was indicted this past week on two counts of murder of a victim 60 years or older, two counts of robbery and 11 counts of theft.
The Review-Journal obtained a copy of transcripts from the grand jury proceeding.
He is accused of killing the Sierras in 2003 and writing more than 100 checks — spending upwards of $200,000 — in the couple's name long after they were dead.
To mask the stinch of their rotting rotting corpses, Dunn had poured cat litter inside the wax-sealed trash bins, which were wrapped in duct tape, court transcripts say. He stacked boxes, books and furniture in the front of the unit kept in his mother's name at All Storage at the Lakes, 2949 Lake East Dr., southwest of the intersection of Sahara Avenue and Durango Drive.
Dunn's mother, Beverly Dunn, died in 2005, but he was the only one who ever used the storage, facility manager Allan Smith told the grand jury.
Early on, Dunn would visit the unit often and pay with his own money, Smith said, but eventually he started sending checks from the Sierras checkbook to pay the rent.
Smith had noticed a strange odor coming from the unit, but blamed it on a leaky roof.
"We always walk in that hall, it would always have a musty — musty, moldy kind of smell all the time, and we used to try to figure out how we're going to get rid of that," Smith said.
BODIES' PRESENCE REVEALED
If federal agents had not discovered the bodies while investigating social security fraud against the Sierras in April 2014, someone else might have.
Earlier last year, Dunn was jailed in California on charges of burglarizing his brother's home. His closest friend, a woman named Mary Pendergast, refused to bail him out because he had threatened to kill her, according to a police report.
When rent payments stopped, the storage unit nearly went into auction. Storage facility managers had even gone so far as to have an auctioneer inspect the unit.
An air-conditioned unit like the one Dunn rented at All Storage at the Lakes goes for about $75 a month now.
Scrambling to make a payment, Dunn tried reaching out to someone in Las Vegas. He found a high school classmate's sister, who helped him with the rent.
That worked for a few months until homicide detectives caught up with Dunn.
Joaquin "Jack" Sierra would have been 97 and Eleanor "Ellie" Sierra 93 when their bodies were found.
MARRIAGE AND INVESTIGATION
Dunn had lived around the country before he was charged in the killings.
Using the alias Robert Bligh in 2008, a police report says, he married Joy Ike in Las Vegas.
He even told her about the Sierras' bodies, saying they were his "rich aunt and uncle," who had killed themselves by taking prescription medications, according to a police report.
Ike had been to the storage unit and did not see the trash bins.
But later another "concerned citizen" contacted authorities after learning that Dunn was cashing checks from an elderly couple and suspected fraud, prosecutors said.
Agents from the Secret Service and the Social Security Administration Office launched an investigation and ran across Dunn's former wife, who told them his story about the entombed bodies.
OTHER DEATHS
Dunn first met the Sierras at an assisted living facility in Anaheim, Calif., where his mother also stayed, sometime around 1999 or 2000.
Prosecutor David Stanton called Dunn a "prolific grifter," who stole from other elderly people in the past decade.
Some of them are also dead.
In August 2013, during the last days of his life, Mark Joseph Taylor cashed out thousands of dollars in gold, wrote checks and signed over a vehicle to Dunn, prosecutors said. He had met Dunn about a year before.
Authorities have said that at least two other people died while Dunn was stealing from them, but the conditions surrounding their deaths, along with Taylor's, have never been investigated.
"I would urge the authorities in the areas where these people died to take a closer look," Stanton said. "And hopefully they will do that in the ensuing months."
Dunn's defense attorney, Amy Feliciano, with the Clark County Public Defender's Office, declined to comment.
UNUSUAL BEHAVIOR
Police reports indicate Dunn exhibited curious behavior over the years.
While Dunn and Ike lived in Long Beach, Calif., they often traveled back to Las Vegas because he liked to gamble, according to a police report. He would always stop by the storage unit in the western valley.
By 2010, the couple had grown apart, and she asked for a divorce. Dunn threatened to kill her, police said.
"He told Joy he was in the witness protection program," police said. "He also said Joy he knew about the laws of the spousal privilege and told Joy he would never divorce her because he was worried about the information he had confided in her during their marriage."
Eventually, they moved to Pennsylvania with Ike's mother, who had numerous medical and mental conditions.
Dunn opened a bank account in her mother's name and stole about $1,200 from the account, police said. About a week after police interviewed him about the missing money, Dunn and his wife moved to New York with her father.
In April 2011, Dunn took a bunch of his wife's medicine and didn't sleep for days, according to police.
"He wrote a lengthy letter to a female neighbor asking her to become his sex slave," police said. "Robert later attached the letter to the neighbor's door."
He was arrested, and he told his wife to use a signed check from the Sierras to pay his bail.
"After getting out of jail, Robert came home, but had a continuous 'feeling of impending doom,'" his wife told police.
She never saw him again.
NO MORE ESCAPE
After Taylor died in 2013, Dunn and Pendergast moved in together in Las Vegas.
"Dunn used Pendergast's credit cards to make thousands of dollars of unauthorized purchases and opened several credit card accounts in Pendergast's name," police said. "Dunn became aggressive and mean toward Pendergast. And on several occasions they argued, and Dunn threatened to kill her."
He was arrested for burglarizing his brother's home later that year.
While he was in jail, authorities said, Pendergast searched through Dunn's belongings and found credit cards in Taylor's name, Elton John tickets bought on one of those cards after his death, and a signed title to Taylor's 300 Nissan Z. She also found some of her own stolen prescriptions
Dunn asked her to bail him out, but she refused.
When Las Vegas homicide detectives interviewed Dunn at the California jail, they told him they had been to the storage unit where the Sierras bodies had been hidden.
He asked for a lawyer.
DISAPPEARED
Dunn believed the Sierras had no extended family, but in late 2002, while living in Reno, the couple had reached out to their closest relative, Dona Baxter, a great-niece, and asked for money, saying they had been robbed.
"They had no money," Baxter testified, "no food."
At first, she gave them $1,000 in cash, but then she learned about Dunn, their supposed caregiver, and became suspicious.
"I told (Eleanor Sierra) that if she had utilities, bills that needed to be paid, I would take them and pay them," Baxter told the grand jury. "And make me a grocery list, and I'll get groceries."
They told her about plans to move to Las Vegas, and she offered to help.
In late February 2003, Baxter arrived at their apartment. It was about 9 a.m., she said.
She knocked on the door, and no one answered. A neighbor told her the Sierras left the apartment around 6 a.m.
Dunn told detectives he had moved to Las Vegas with his mother and the Sierras.
Baxter and her mother were the only relatives the Sierras knew.
They left no telephone number or forwarding address.
No one, other than Dunn, ever reported hearing from them again.
Contact reporter David Ferrara at dferrara@reviewjournal.com or 702-380-1039. Find him on Twitter: @randompoker.