Man who stopped crossing guard attack honored
November 18, 2014 - 9:32 pm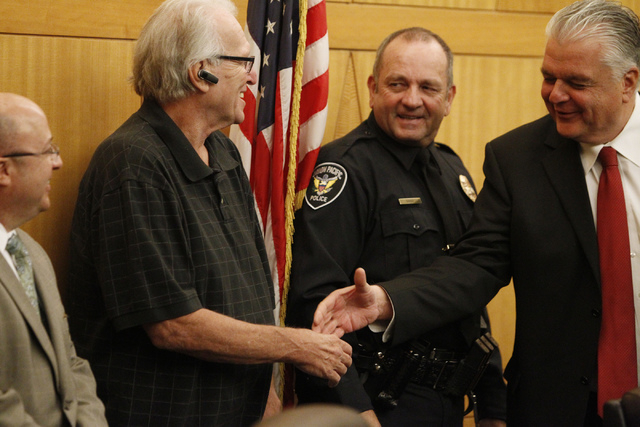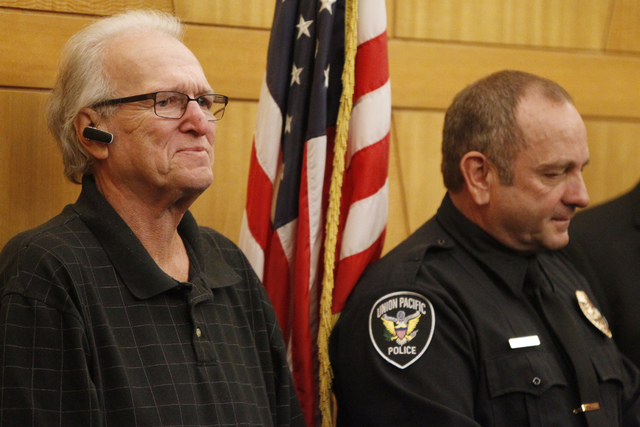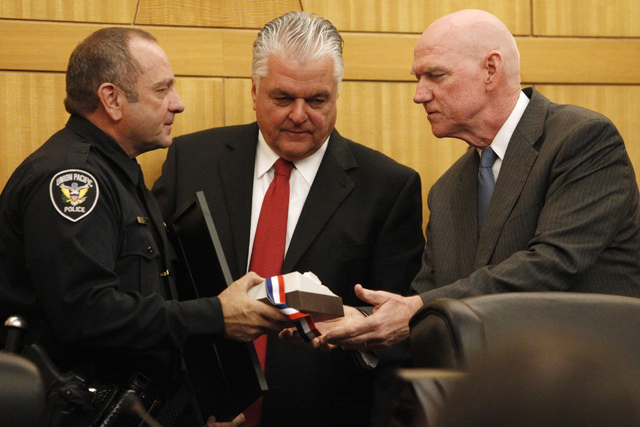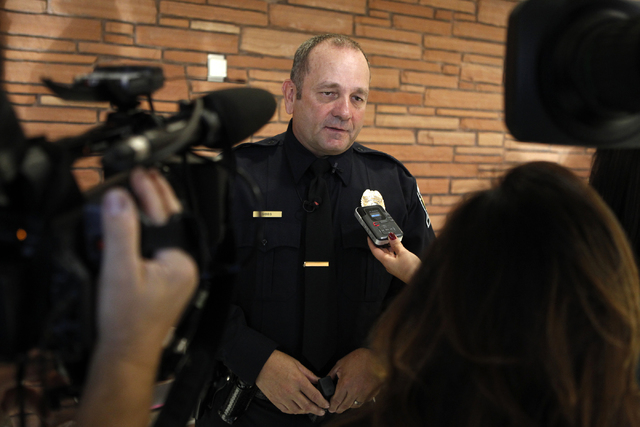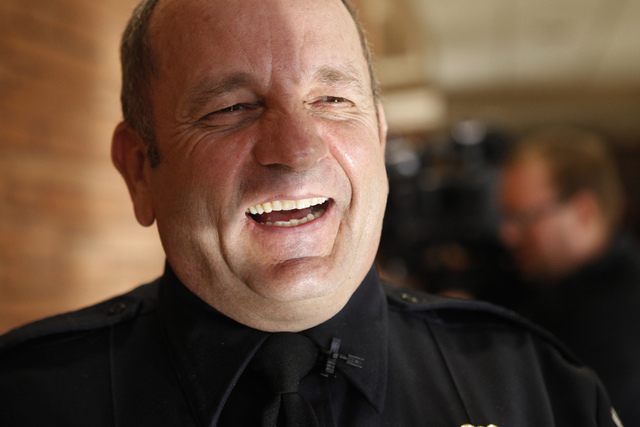 Robert Gibbs wasn't looking to have a day named in his honor, but Clark County commissioners decided he deserved it.
On Oct. 13, the former Metro cop — now a railroad police officer — helped a school crossing guard who was being punched and kicked by a driver. In a nod to Gibbs' off-duty heroism, commissioners honored him with a proclamation calling Tuesday "Robert Gibbs Day" and a county Distinguished Medal of Honor.
Gibbs, also a retired Marine, handled the attention with the modesty of an unassuming hero. Dano McKay, the 65-year-old crossing guard, stood with Gibbs at the recognition ceremony at the County Commission meeting.
"I'm just glad I was in the right place at the right time," said Gibbs, 55.
But Gibbs didn't view his actions as unusually heroic, saying he "was just doing what anybody else would do."
Adam Kondrat, 21, was driving about 50 mph and cutting off other vehicles near Gehring Elementary School, at Maryland Parkway near Silverado Ranch Boulevard, when McKay forced him to stop, according to his arrest report.
Kondrat attacked McKay until he fell to the ground and dropped his stop sign, according to police.
Kondrat's girlfriend, 22-year-old Sabrina J. Torres, grabbed McKay's stop sign and handed it to Kondrat, witnesses told police.
Gibbs was at the scene, riding his motorcycle, and tried to pull Kondrat off the crossing guard.
Kondrat's finger "fish-hooked" the side of Gibbs mouth, ripping it and requiring six stitches. Police arrived and arrested the two, who face battery charges in the incident.
A small scar is still on the corner of Gibbs' mouth.
McKay said he's thankful Gibbs happened to be there. As a crossing guard, he said he has experienced people yelling at him and flipping him off, but never assaulting him.
In Gibbs' view, there are other heroes too: crossing guards like McKay. The county also recognized McKay for his work as a crossing guard, with 15 years on the job. Gibbs said there were a couple schoolgirls nearby when the incident took place, a reminder of the important work of crossing guards.
"Thank God he's out there," Gibbs said of McKay. "He's out there every day. .. They're doing a huge service every day."