Marathoner runs 26.2 miles a day for 26 days for charity
December 23, 2013 - 2:52 pm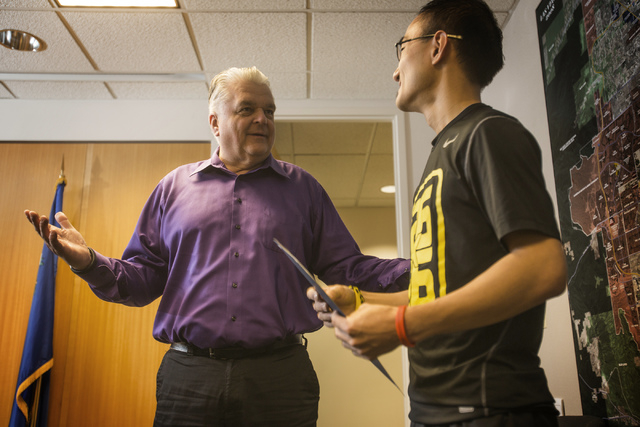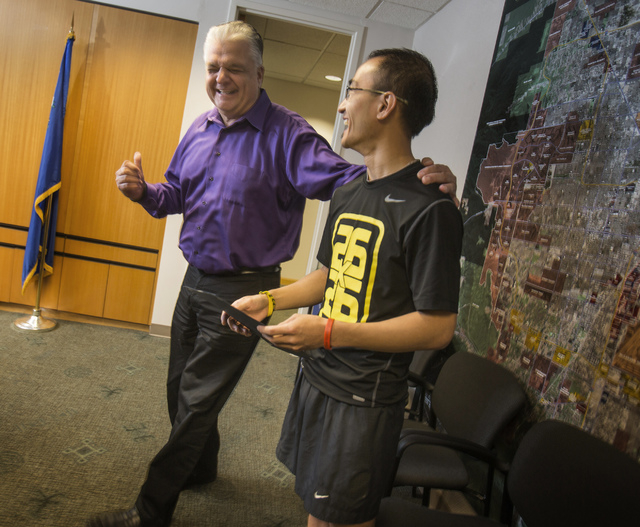 Jayson Black, a little worse for wear, couldn't stop smiling.
On Monday, the Las Vegas resident completed his 26th marathon in 26 days to collect food and raise money and awareness for the Three Square Food Bank. He did all his running in the Clark County region – from Las Vegas to Searchlight to Boulder City – although he also jogged to the Arizona and California borders on two separate runs.
Starting on Nov. 28, or Thanksgiving Day, Black, 28, ran mostly outdoors, but also indoors during the worst of the region's recent cold snap, using the gym at Anytime Fitness at Seven Hills.
Besides suffering through some bone-chilling temperatures, Black also endured tendonitis and – during the final days of his long-distance feat that totaled 681.2 miles – his daily 26.2 mile runs may have caused a stress fracture of his left ankle.
"I didn't want to go to the doctor because I thought he might tell me to stop running," Black said.
Clark County Commission Chairman Steve Sisolak met with Black at the county building and issued a proclamation naming Monday "Jayson Black Day" in honor of his charitable accomplishment.
"Very impressive," Sisolak said as he posed for photographs with Black. "Good for you and thanks for what you're doing. Besides the food, you're raising awareness. I commend you. … You've taken a lot of steps along the way."
Black said that about 15 companies donated food to Three Square to support his run. Also, he raised more than $2,500 in donations on a website he set up. For $1, Three Square can provide three meals.
During a recent visit to the food bank, Black said he saw not just homeless people but also the working poor who were trying to make ends meet on low-wage salaries during tough economic times.
Black, who works with computers behind a desk all day, said the thought of helping others kept him going.
"There were some days that I didn't want to get up," he said, noting his runs usually lasted about six hours each day. He said the charity's motto – hunger doesn't take a day off – spurred him on.
"I feel blessed to have been able to do this," Black said. "This is Las Vegas so it's go big or go home."
Supporters were able to follow Black's step by step journey via social media. He set up both Instagram and Twitter accounts, using @26x26LV as his handle.
He also launched a Facebook page – https://www.facebook.com/26marathons26days – that allowed people to mark his daily progress.
This is what he wrote Monday morning, hours before he crossed the finish line, planning to run his last few miles outside the Cannery hotel casino and ending at Three Square's doorstep:
"26.2 miles. Done. In the bag. Complete. I started 25 days ago with 681.2 miles to put in the bank, and now I have 26.2 miles left to go before this #epic mission comes to a close.
"What an amazing feat to be able to say I ran 26 marathons in 26 consecutive days. There were days I didn't want to crawl out of bed; days I didn't want to lace up, but through #hardwork, #dedication, #motivation and #inspiration, I've made it. #thankyou for #joiningus in this #mission to bring awareness to Three Square Food Bank and the issue of hunger. #thanks to all who have #donated – whether it was a dollar or a can of food or simply your time. #togetherwecanmakeadifference #26x26LV"