Martin Luther King Jr. parade brings diverse community together
January 21, 2013 - 3:21 pm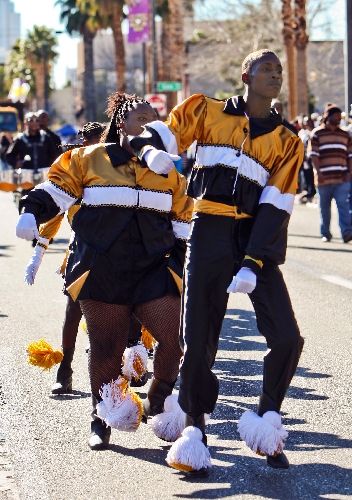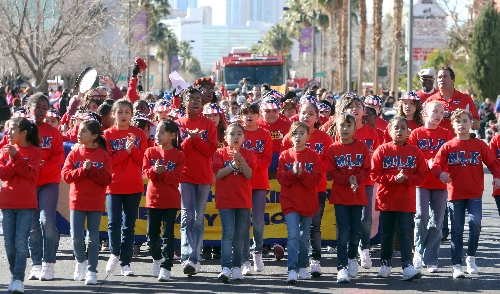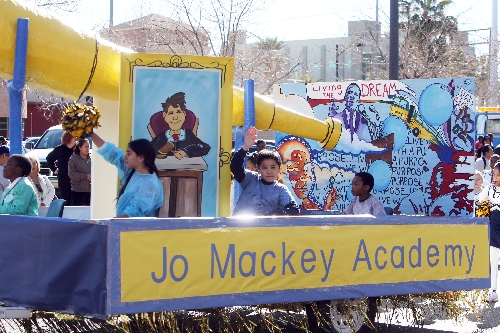 Evelyn Lopez took a seat Monday morning on the concrete along Fourth Street, right next to her mom and several thousand other people.
Soon, Nevada's governor went past, atop a convertible Ford Mustang.
A man dressed like an elf walked by. A clown. A woman with orange hair sold raffle tickets. A marching band came, and then another. Dancing sorority girls and junior military units, Girl Scouts and firefighters strutted. And they were every shade that people can be.
The Black Diamond Drill Team and Drum Squad shimmied by, too, dazzling the crowd.
"We're here today because it's Martin Luther King Day," said Evelyn, who is 9 and in the third grade. "We just wanted to come and show respect for everyone and to let everyone know we're all equal."
Evelyn, said her mom, Joanne Kwesell, had the idea to go to the parade. Evelyn had been studying up on King in school and admires the man.
"She loves Martin Luther King," Kwesell said. "She's just so impressed."
No crowd estimate was available for the 31st annual parade, but organizers said they expected the crowd to top the 18,000 who showed up last year.
The parade, as it always does, featured floats and marchers who made their way up Fourth Street.
But this year was a little different. It took place on the same day America's first black president was sworn in for a second term.
Stacy Simmons saw significance in that.
His kids, who are 7 and 5, will come of age in an America where it is normal for an African-American to be president. He brought his kids to the parade, he said, so they could learn about how things used to be for black people.
"And so they can learn that it's important to do good in the world," he said. "Just to let them know that helping other people is the way to go."
Simmons and his partner of 13 years, Adeline Williams, the children's mother, are both originally from Texas. They said they were pleased that Las Vegas honors King with a parade.
Ginger Paige, who was with her son, grandchildren and her sister, said it's important to show the kids that people of all colors can come together in one place for the same reason.
The grandkids, ages 3 and 7, are mixed race, she said.
"It's extremely important" for them to be aware of King, she said. He helped make the world better than it used to be. He helped make it better for them.
The parade continued on. People of all colors strolled by.
Lonnie Hammargren, the eccentric neurosurgeon and former lieutenant governor, stopped on a street corner and draped a Martin Luther King Jr. T-shirt over his shoulders.
State Supreme Court Justice Michael Douglas rode by. Douglas was the first black chief justice of the court.
A man dressed like an American Indian, with long black hair and a feather, ran by. He carried a sign that said, "Unify. The time is now."
Then there were more dancing girls, a faux pirate ship, a high school ROTC group and a drill team.
Where else would you see all that at the same time but during the Martin Luther King Jr. Parade?
Contact reporter Richard Lake at rlake@reviewjournal.com or 702-383-0307.