Meet the Vegas-area rodent who's more popular than you
April 20, 2015 - 10:28 pm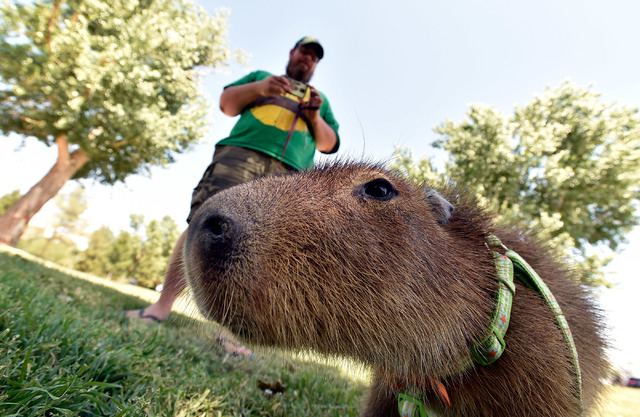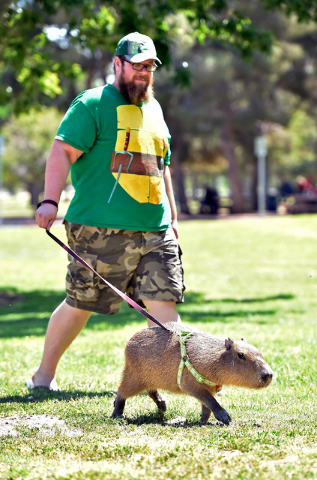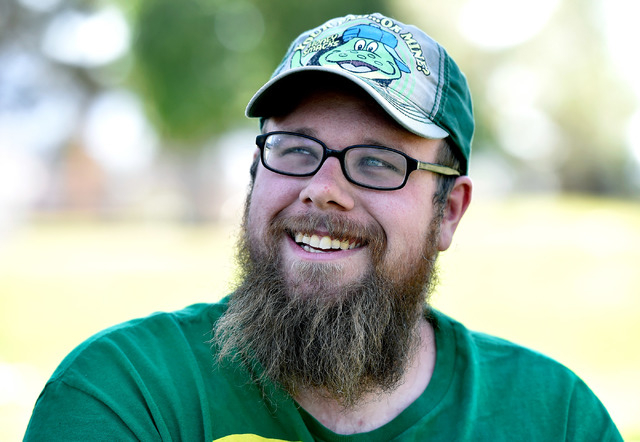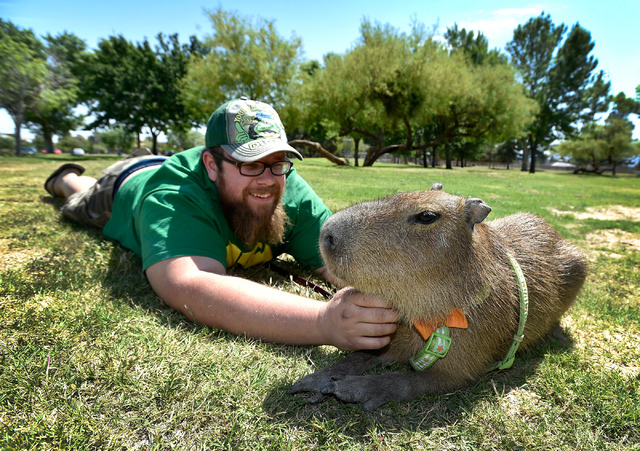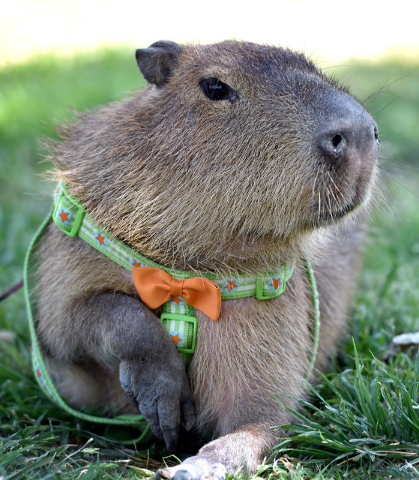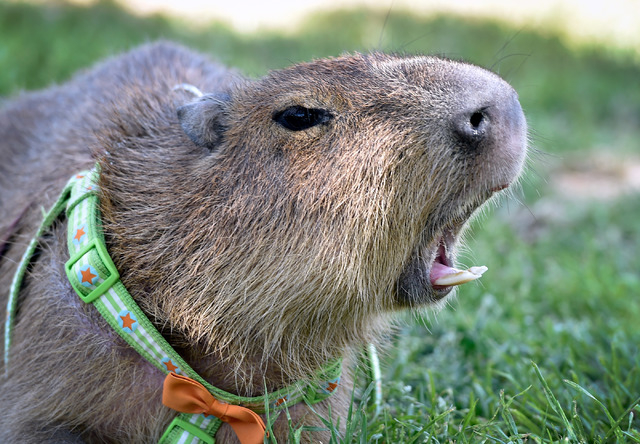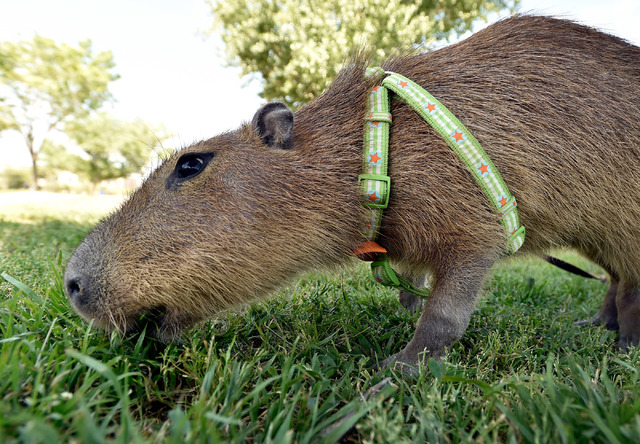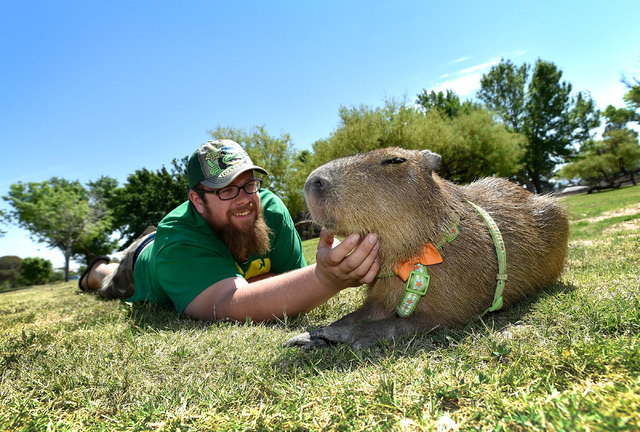 His name is JoeJoe, and he's big on social media.
He has more than 60,000 followers on Instagram, another 5,000 on Facebook, and he brings in enough ad money from his YouTube channel to pay all his own living expenses.
Also, he's a capybara.
(Picture a 50-pound, semi-aquatic guinea pig as big as a basset hound, with webbed feet for swimming and matching pairs of inch-long teeth for stripping leaves off plants.)
JoeJoe lives in White Hills, Ariz., about 60 miles southeast of Las Vegas, but he comes to the valley a few times a month with his owner and webmaster, Cody Kennedy, who works at a PetSmart in Henderson.
You can easily find him on the Internet anytime you want, but if you're lucky, you might meet him in person at Sunset Park, where Kennedy often takes him to lounge in the grass and walk around on a leash, turning heads.
A few people recognize JoeJoe for what he is: a South American native and a member of the world's largest species of rodent. Others aren't so sure.
"Most people come up and ask what kind of rabbit he is, which is weird," Kennedy said
JoeJoe was just 4 weeks old — and about the size of normal-sized guinea pig — in 2013 when Kennedy bought him for $800 from an exotic animal breeder in Mesa, Ariz.
Kennedy grew up in New Jersey in a house filled with wild animals his dad would bring home for them to care for. There were squirrels and raccoons and possums. One summer he helped raise a fawn.
Today, the 27-year-old shares his house and 10 acres with a human roommate and a menagerie that includes a dog, a cat, nine ducklings, two-dozen chickens, four emu chicks, an African crested porcupine, a Mojave green rattlesnake and one Internet sensation.
JoeJoe's stardom began when Kennedy snapped a cellphone picture of him in the car after picking him up in Mesa and shared it with a friend who said she wanted daily updates on the charismatic little guy.
At first, JoeJoe's Instagram account was mostly shared among friends. Then the media in Brazil caught wind of it and featured him in a story about capybaras being kept as pets.
Today, Kennedy figures he spends up to five hours a day shooting pictures and videos of JoeJoe, posting new content and answering questions and comments from the animal's devoted fans. Hundreds of thousands of people around the world have watched YouTube videos of the capybara munching on a Popsicle, playing with a litter of puppies or swimming in a bathtub with three ducklings on his back.
He's got a big following in Japan, Sweden, Brazil and the U.S., and he recently caught on in Russia, though "only in videos where he's with the chickens for some reason," Kennedy said.
The YouTube ad revenue helps offset JoeJoe's food bill, which includes roughly 10 pounds of fruit and vegetables a day and one 35-pound bale of hay each week.
"He pays for himself at this point," Kennedy said.
He only knows of a handful of other capybaras in the area, including two owned by a couple in Las Vegas and several of JoeJoe's siblings living at the Roos-N-More zoo in Moapa.
He said capybaras make good pets — or at least JoeJoe does.
He's house trained and gets along well with the other pets. He likes to cuddle up with the cat, splash in one of his pools on the property or flop on the couch with Kennedy to have his belly scratched.
He also likes Doritos, especially the nacho cheese variety. Capybaras communicate in chirps, whistles and grunts, but JoeJoe didn't make a sound until the age of 1.
When he finally broke his silence, it was to beg for some of Kennedy's corn chips.
"He's very curious and crafty," his owner said. "He's very affectionate."
And soon he may have some company. Kennedy said he's on a waiting list with a breeder in Texas for a companion capybara for JoeJoe — preferably a female looking to start a family.
"That would be awesome," Kennedy said. "He's one of the best animals I've ever had. If I could have a thousand of him, I would."
Just imagine the Web traffic.
Contact Henry Brean at hbrean@reviewjournal.com or 702-383-0350. Find him on Twitter: @RefriedBrean.