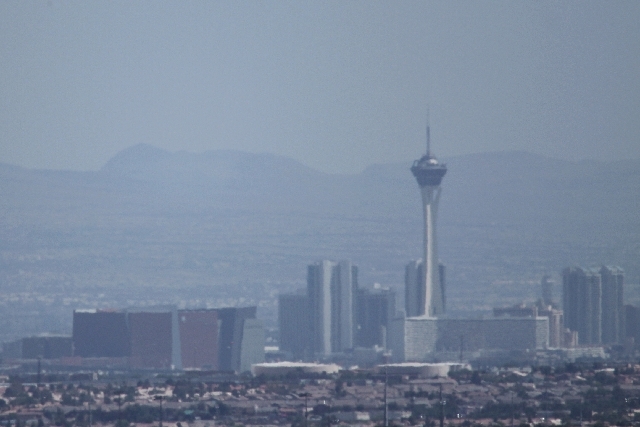 Sunny but possibly smoky skies and warm temperatures are on the horizon for the busy Memorial Day weekend in Las Vegas.
The high temperature is expected to be 88 degrees on Monday, with a low of 67, according to National Weather Service meteorologist Chris Stachelski. The normal temperature for Memorial Day is 93 degrees, and the record high is 108, set in 1974.
Saturday and Sunday both will see a high of 91 degrees and a low of 67 degrees.
Winds are predicted for every afternoon, but the gusts, which could be between 15 and 25 mph, are expected to end each evening, Stachelski said. Lake Mead will be exposed to southwestern gusts, which might affect lake activities.
Things will cool down on Tuesday with a high of 80 degrees and a low of 65, and the possibility of slight showers, especially in the mountains.
Despite the winds, the National Weather Service is not issuing any fire or weather alerts.
Mount Charleston does have fire restrictions in place, and campers are not allowed to build fires, campfires and stove fires without a permit except in developed camp or picnic ground areas. The restrictions are set in place to reduce the risk of wildfires due to drought and minimal snowfall.
The Clark County Department of Air Quality issued an advisory Friday for ozone and smoke pollutants that will be in effect until Sunday.
The advisory pertains to ground-level ozone and smoke due to the wildfire in San Felipe, Calif., local weather conditions, and existing levels of pollutants.
Unhealthy levels of air pollution were not occurring late Friday morning .
Contact reporter Rochel Leah Goldblatt at rgoldblatt@reviewjournal.com or 702-383-0264. Contact reporter Caitlyn Belcher at cbelcher@reviewjournal.com or 702-383-0264.