Memorial service for Desert Oasis teen draws more than 200 people
Updated January 21, 2023 - 6:06 pm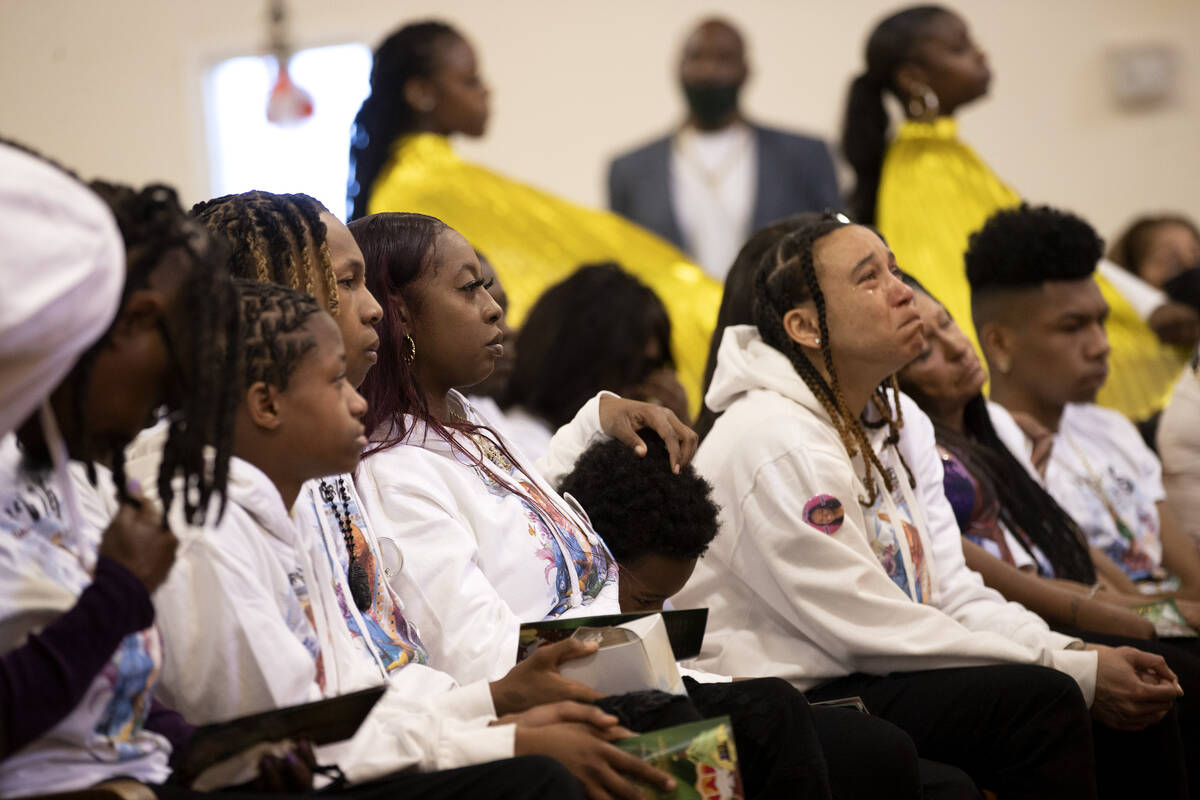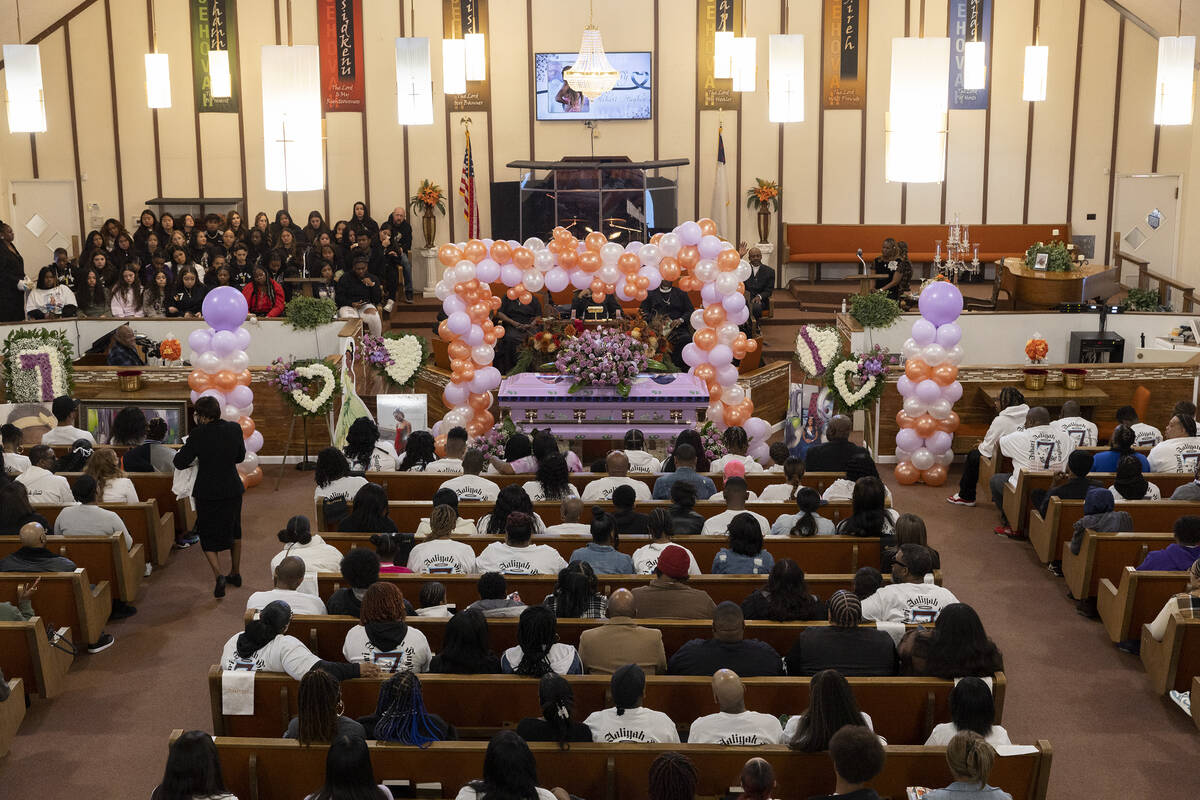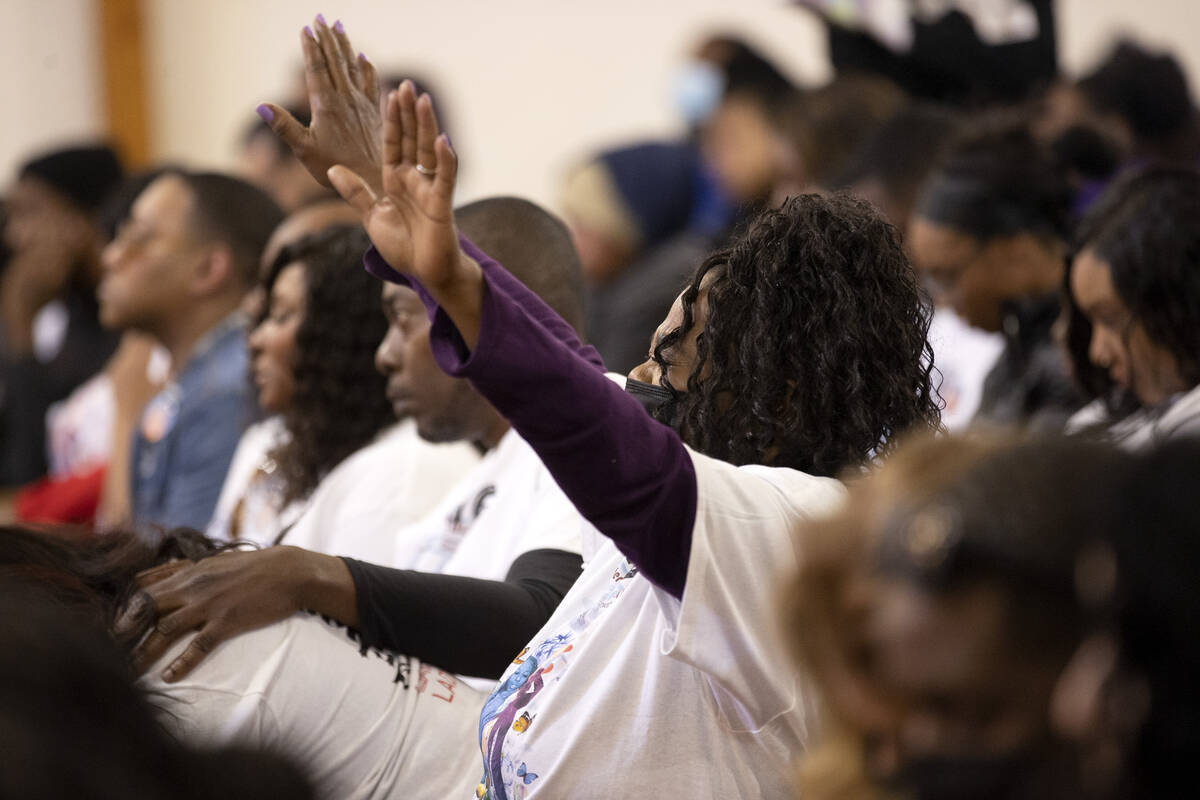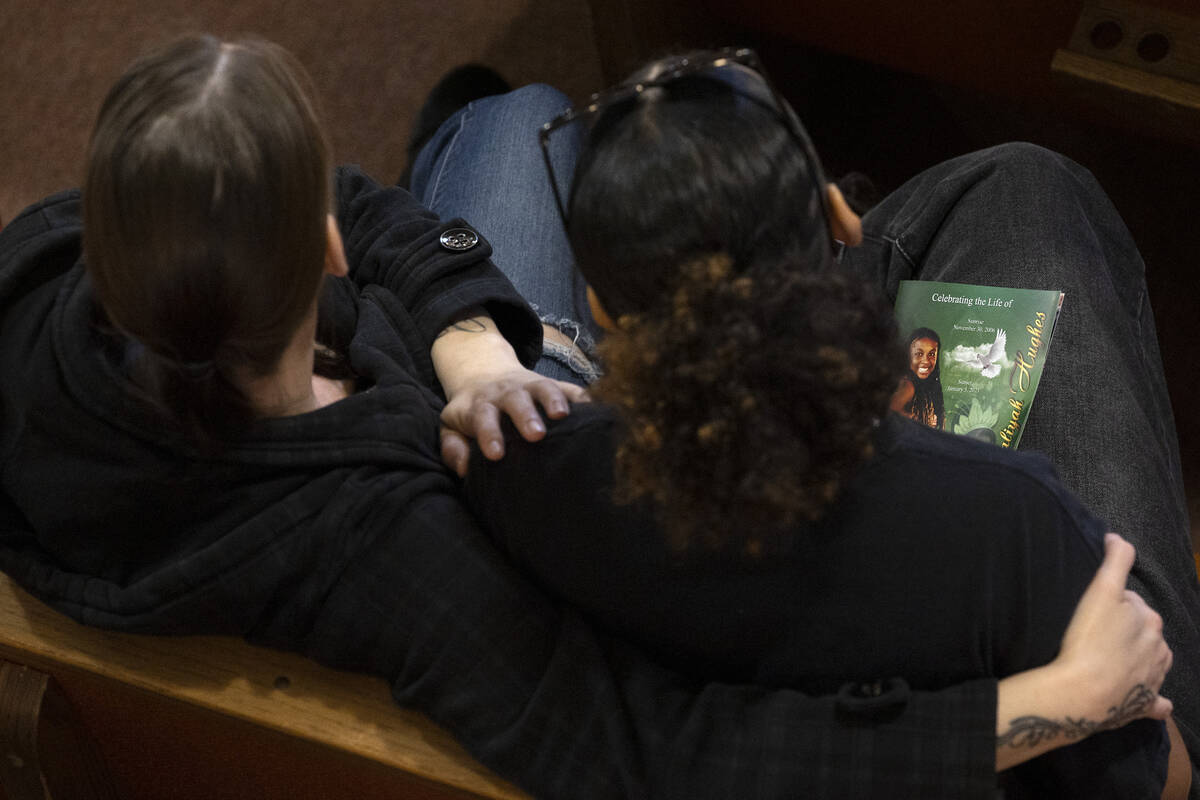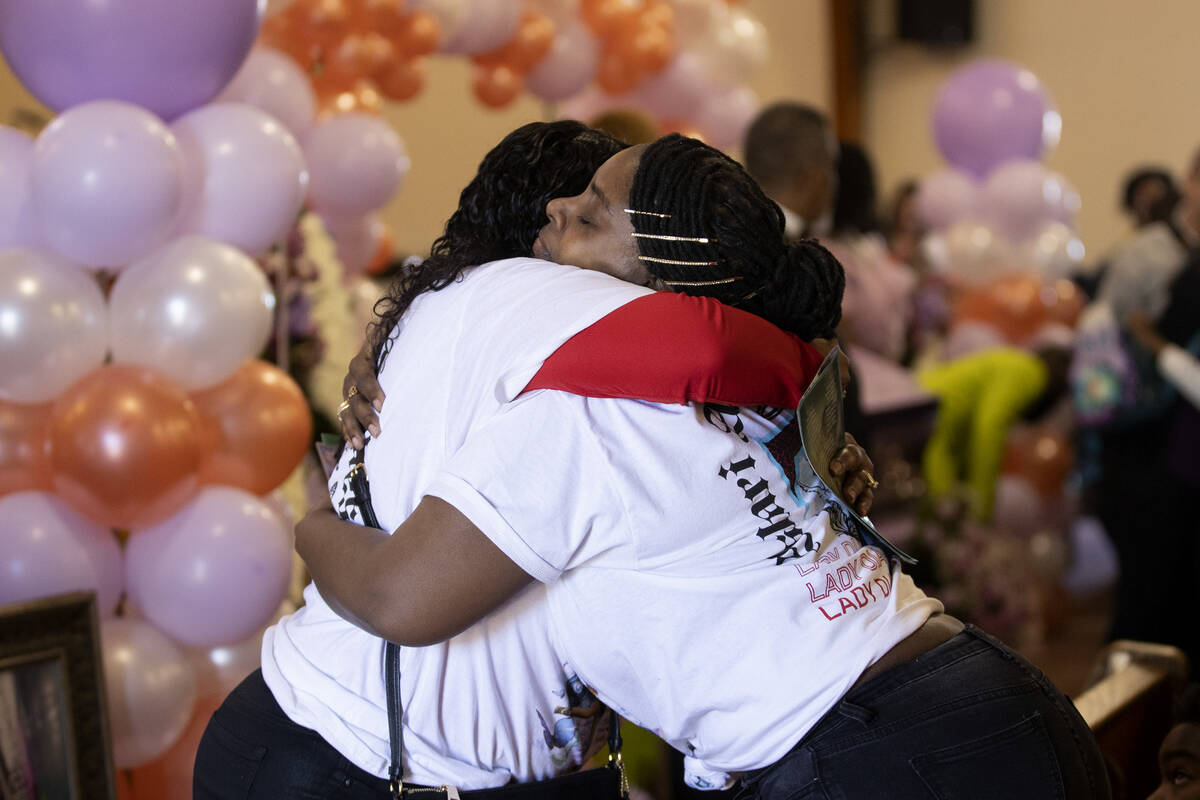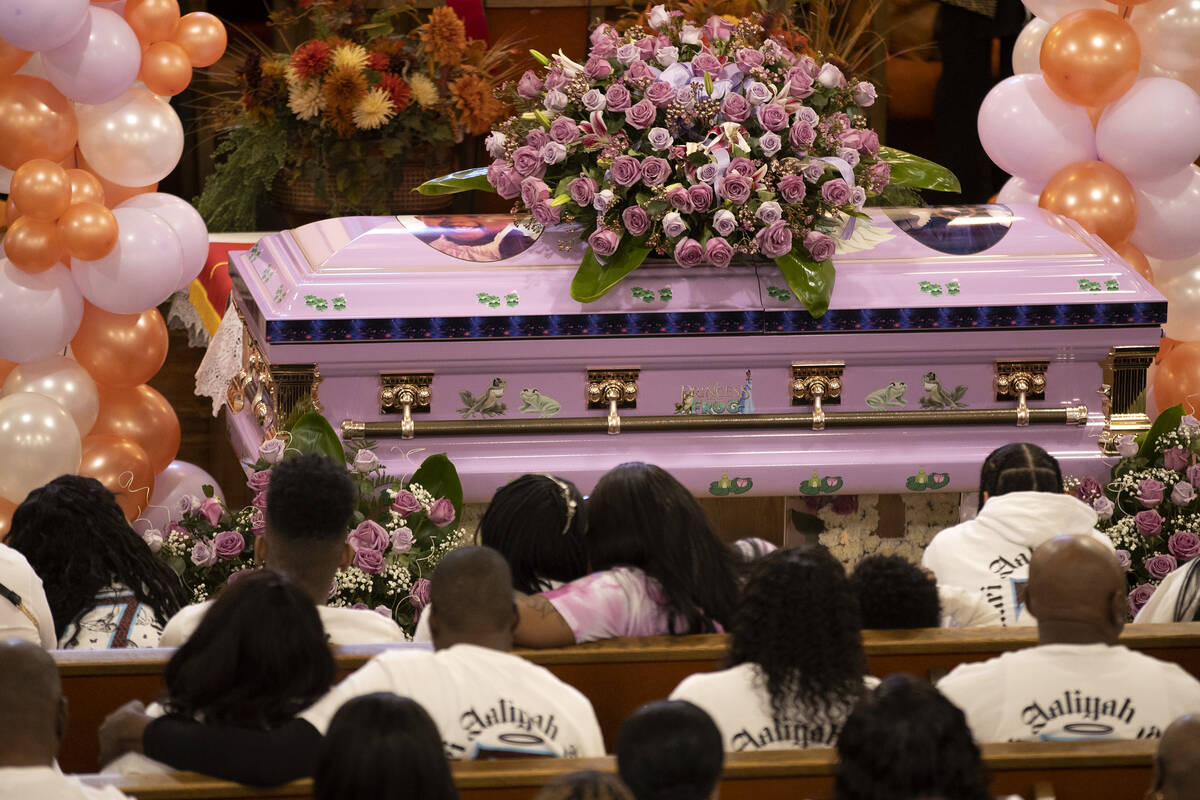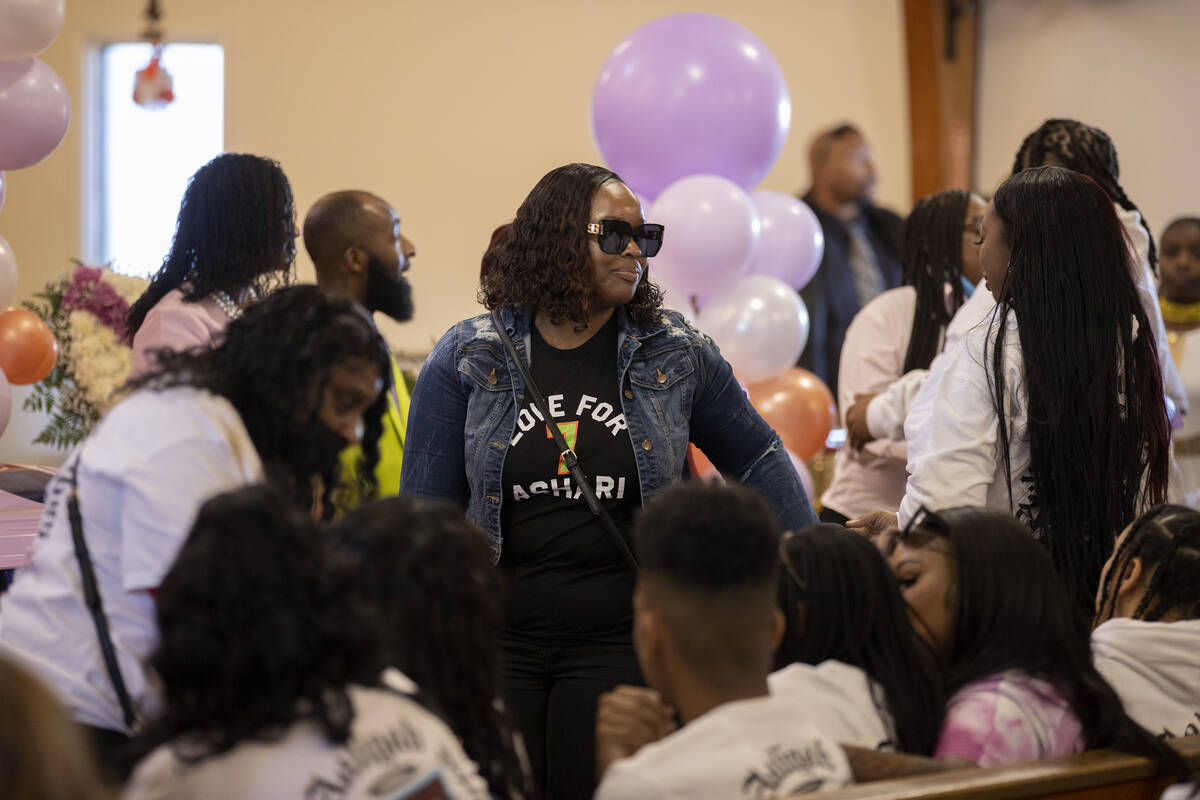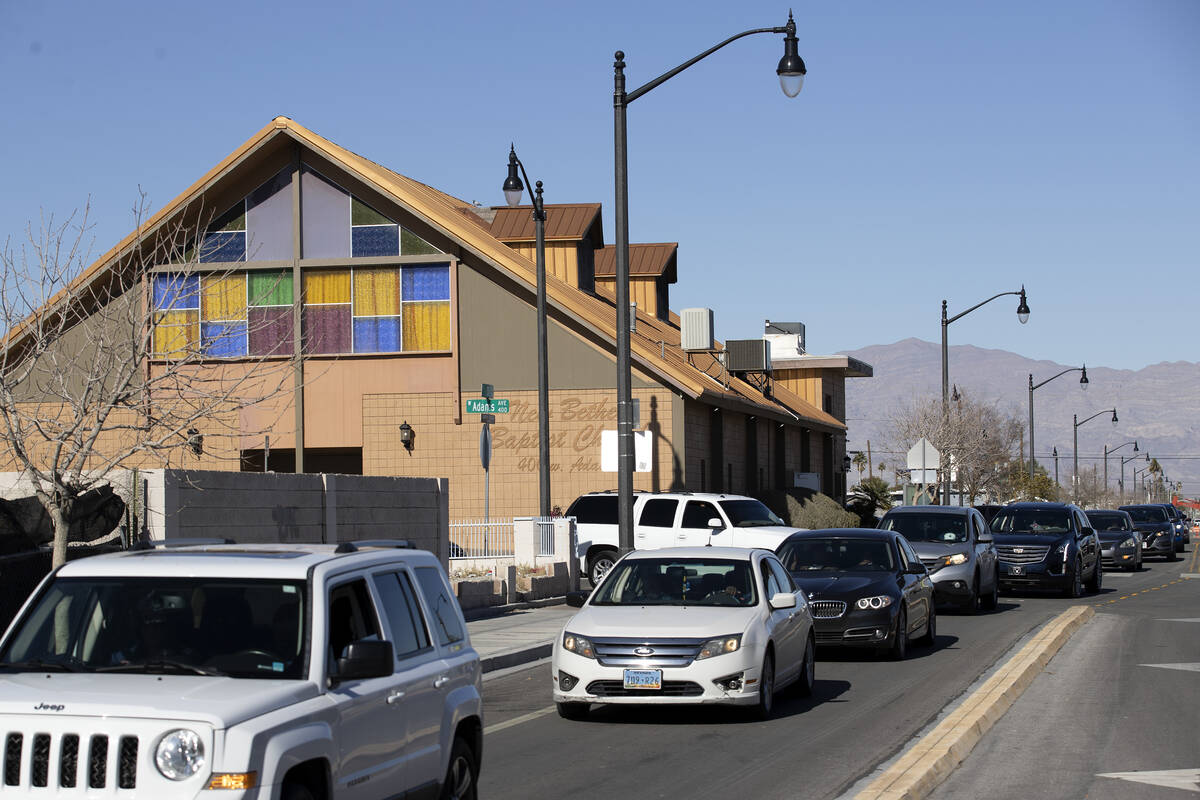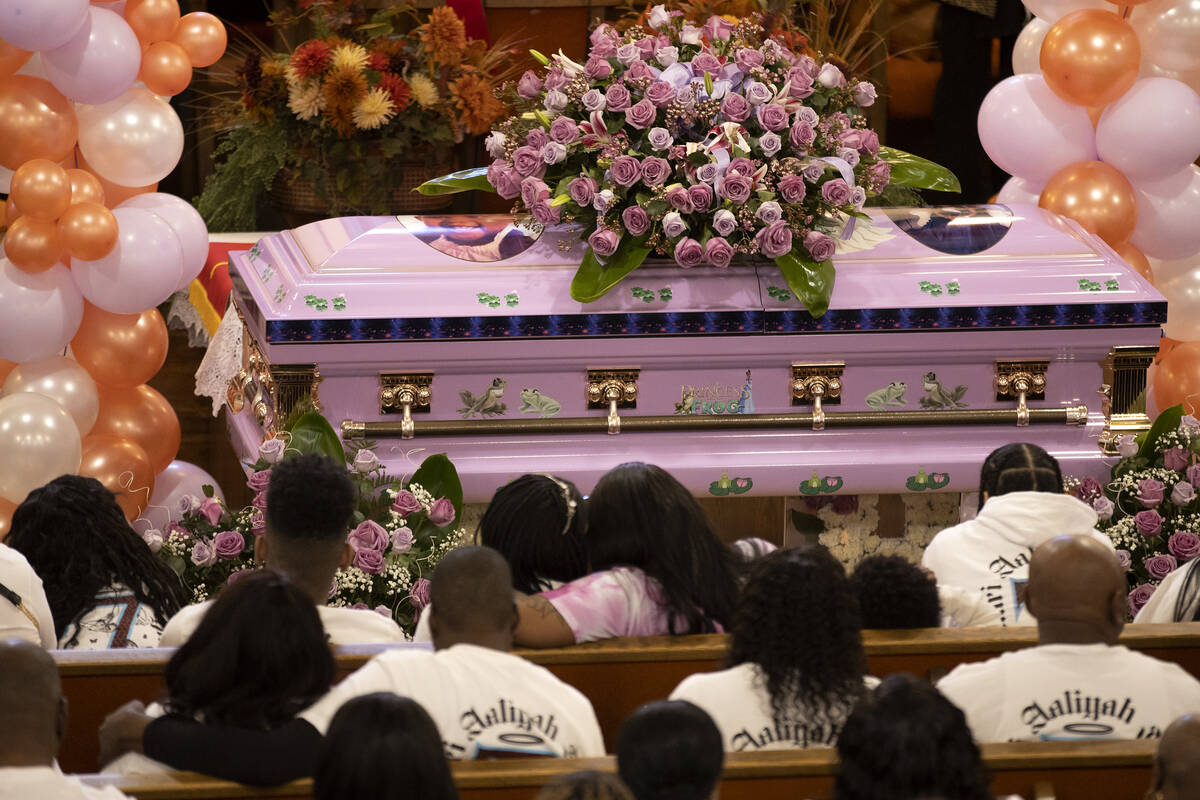 Before a crowd of more than 200 mourners Saturday, pall bearers placed the casket containing the body of 16-year-old Ashari Aaliyah Hughes beneath an arch of pink and orange balloons fronting the altar of the New Bethel Baptist Church in western Las Vegas.
Flanking the pink and gold casket were enlarged photos of the high school sophomore in her homecoming dress and a life-sized cardboard stand-up of the animated Disney character Princess Tiana, a favorite of hers.
The two-hour memorial service for Hughes, who died of a sudden cardiac arrest Jan. 5, concluded with a long line of people filing past her closed casket, many wearing hoodies and T-shirts emblazoned with her name and the number 7 from the jersey she wore for her flag football team, the Lady Diamondbacks.
'A beautiful soul'
In a poignant moment, a woman bearing a fringed pink pillow with a crown on it presented it to a member of the girl's family, who then put the crown on top of the large bouquet of pink roses decorating Hughes' casket.
"This young lady was a beautiful soul," Bishop Charles Marshall said during his eulogy for the teen. "But pay attention. Jesus needed her. It is my belief he needed an angel for this family."
As her acquaintances and friends, including a dozens of students from Desert Oasis High School, passed by her casket, some embracing her family members along the way, church pianist Eli Alford and vocalist Grace Gaston sang, "I'm going up yonder to be with my Lord" from a gospel song by Walter Hawkins.
Hughes, who "referred to football as the love of her life," as her family wrote in the service's program, was alternating as running back and safety for the Desert Oasis junior varsity flag squad that Thursday against Valley High School when she fell on the playing field and lost consciousness.
After school staff performed attempted life-saving measures, paramedics drove her to St. Rose Dominican Hospital, Siena Campus, where she died soon afterward.
The Clark County coroner's office concluded she suffered from a rare congenital heart condition, that can lead to abrupt cardiac death.
A GoFundMe online donation campaign, organized on the girl's behalf by her father Enttroda Hughes, took in $60,412 as of Saturday, from an initial goal of $50,000.
'She liked to bring people closer'
Before the service, a group of Hughes' friends stood outside the church.
They described her as sweet and carefree, someone who liked what almost any other kid her age does, specifically things related to social media.
"She became my closest friend," said Courtney Smith, 15, a sophomore at Desert Oasis who met Hughes as a flag football teammate. "We'd hang out all the time on FaceTime. She was positive. Always laughing and smiling. If someone was sad, she was always willing to talk. She was always a very happy person."
"We'd take pictures of her in the hallway at school," Smith added. "She liked to play (the online gaming platform) Roblox and hanging out with me at her house."
Kaylen Shelby, 17, a junior, met Hughes last summer while they were in training for flag football. She recalled that Hughes liked to sing and dance, and enjoyed playing the video game Fortnite on her PlayStation console.
"What I remember most was her singing, anywhere," Shelby said. "She loved singing. She loved to talk about sneakers and a hair style that came out. She was a smart student. She did her work."
Shelby said Hughes also enjoyed eating green apples, making her own French fries and being on FaceTime with her dog, Channel. Hughes introduced her to people who became new friends, including Smith.
"She liked to bring people closer," she said. "She would bring lots of us closer. After school, she liked to go to parks and practice flag football."
Hughes' aunt Ebonie Rhodes, 43, said Hughes was "very energetic."
"She was just a very likable person," Rhodes said. "She was the life of the room. She'd been that way since she was a baby."
Rhodes turned and looked as throngs of people walked into the D Street entrance to Bethel Baptist near West Adams Avenue.
"You can see she has a lot of friends," she said.
Contact Jeff Burbank at jburbank@reviewjournal.com or 702-383-0382. Follow him @JeffBurbank2 on Twitter.