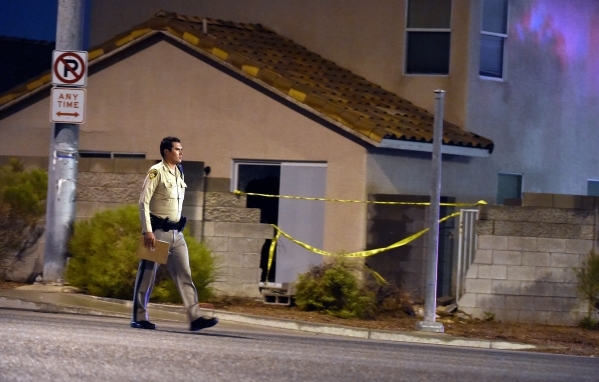 The man Metro said intentionally struck and killed a woman with a truck Monday night fled and had to be brought back to the scene, according to residents at the home he crashed into.
Gabriela Martin De Mendoza's death was classified as a homicide, the Clark County coroner's office staff said Tuesday. The 42-year-old woman died from multiple blunt-force injuries.
Police and first responders were summoned about 5 p.m. to the 5500 block of Donaldson Court, near the intersection of Russell and Lindell roads, Metro said.
Investigators found De Mendoza's body underneath a Chevrolet Avalanche, Metro said. Witnesses told detectives that they had seen the driver, Jesus Cabezas Mendoza, and the woman yelling at each other before the collision.
After the fight, the man drove east, turned around and accelerated the truck before striking her, witnesses told Metro. The truck then struck a house.
A young man who lives at the house on Donaldson said he was upstairs with one of his roommates when the Chevy barreled into the kitchen.
The truck slammed into a kitchen counter, sending it flying into another roommate, said the man, who asked that his name be withheld. The roommate was checked out at the hospital and released.
The woman's body could be seen right outside the home.
"I went out and saw legs, and I wasn't trying to see more," he said.
The roommates rent the home and will be looking for a new place to live, he said.
"Luckily both of our dogs were inside," he said.
The driver was arrested and will face a charge of murder with a deadly weapon, Metro said Monday night.
Las Vegas police did not release the name of the driver Tuesday, but Clark County Detention Center logs show that Jesus Mendoza, 42, was booked in the crash. He faces one count each of driving without a license, failing to maintain lanes and driving under the influence.
No murder charge has been listed, according to CCDC records.
Contact Wesley Juhl at wjuhl@reviewjournal.com and 702-383-0391. Find him on Twitter: @WesJuhl. Contact Ricardo Torres at rtorres@reviewjournal.com and 702-383-0381. Find him on Twitter: @rickytwrites