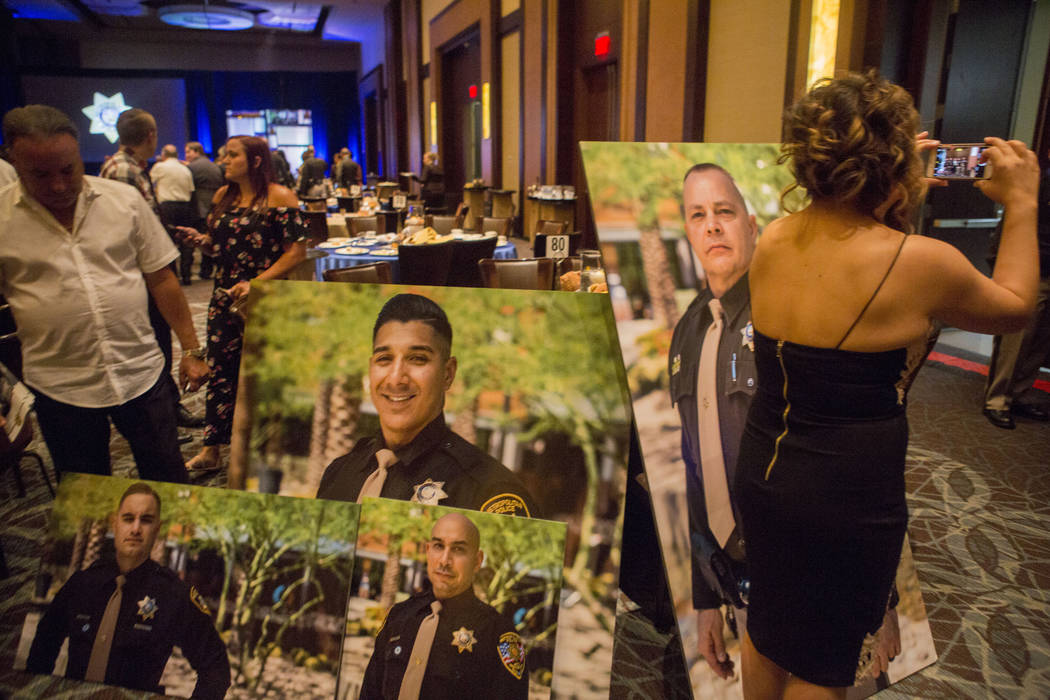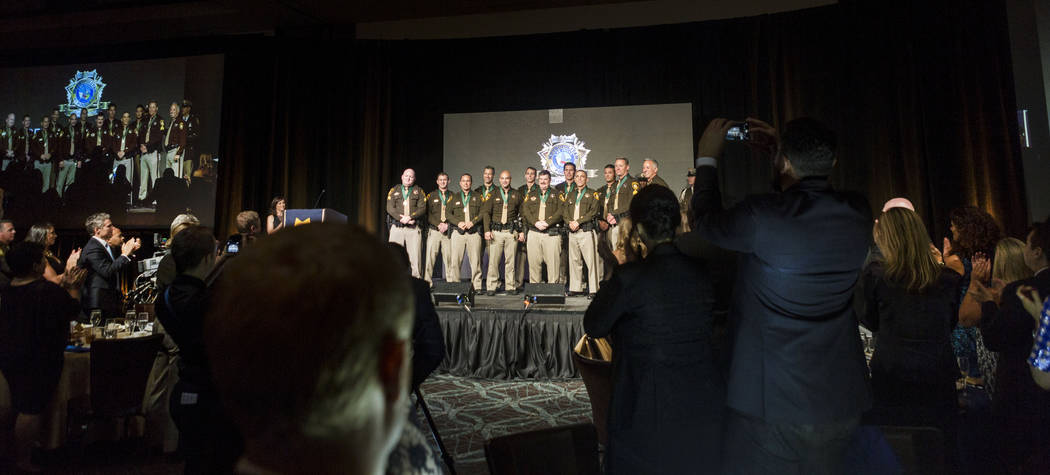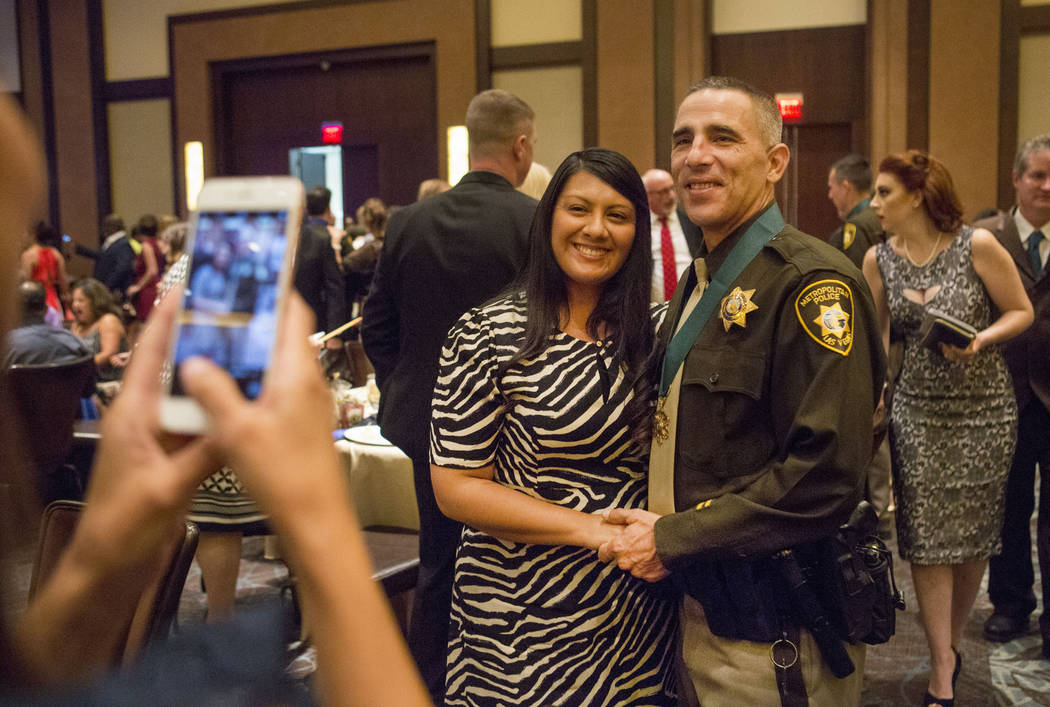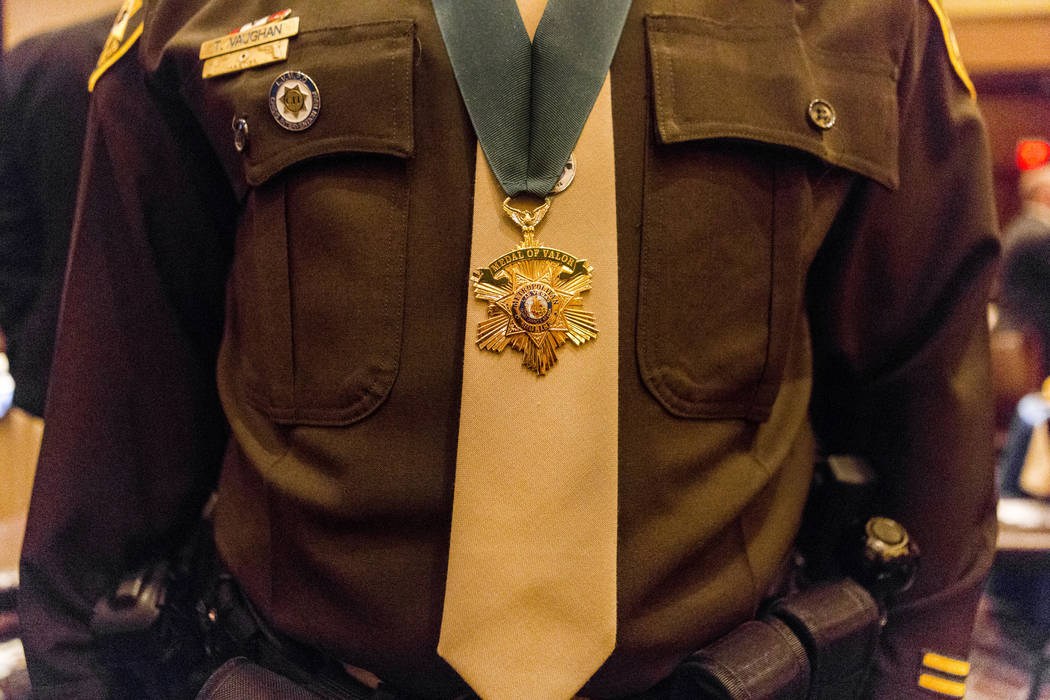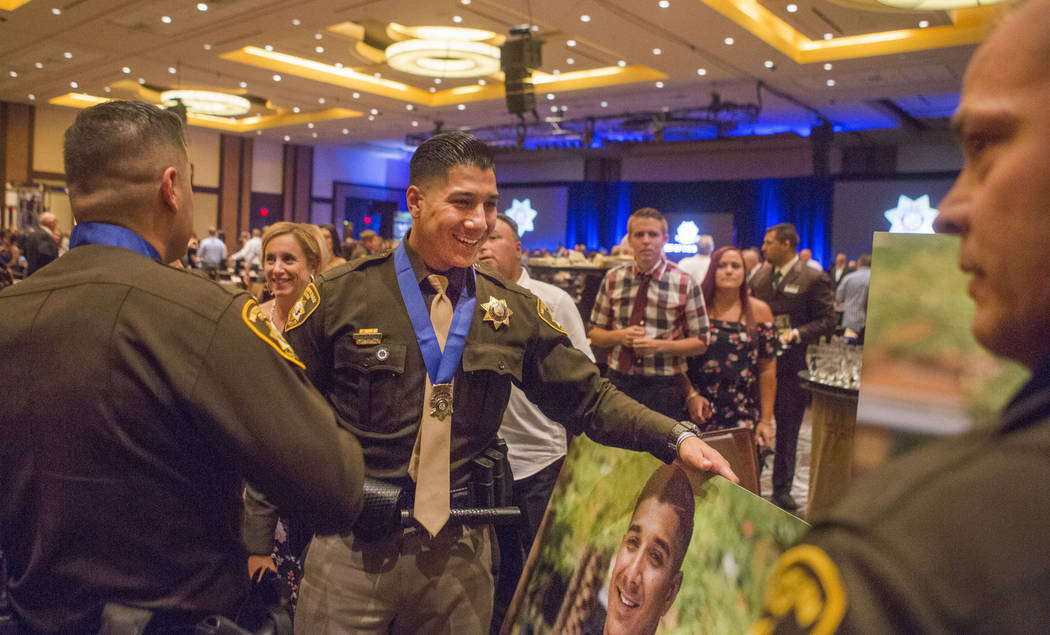 In early September, a Las Vegas-area pastor received a distressing text message from his son: he'd been kidnapped for ransom at a south central apartment complex.
Metropolitan Police Department detective Stephen Balonek was on the case.
He drove to the pastor's home for more information, but didn't know what to expect.
"We were kind of putting our heads together on how to deal with it, because we knew what apartment complex it was in, we just didn't know the apartment," said Balonek, who joined the Police Department in 1999.
But the situation became dire when the victim texted his father a photograph of his bleeding face. Balonek contacted his commanding sergeant, called in a SWAT team and sped to the scene.
Balonek parked outside the complex on East Flamingo Road and Swenson Street near the UNLV campus and planned to stay in his car until backup arrived. Then he saw two men chasing another man and holding what looked like a knife up to his neck.
"So I jumped out," he said.
Balonek ran after the three, closing in on them until he was close enough to order them to the ground. He grabbed his cellphone and called his boss — somewhere along the chase, Balonek lost his radio.
Ten months later, Balonek was honored during Metro's annual Best of the Badge awards gala at Red Rock Resort in Summerlin. During the Friday night gala, the department presented Balonek with a Medal of Honor for his actions that the victim said saved his life.
Along with Balonek, 41 other Metro officers, sergeants and lieutenants received awards for going above and beyond in the last year. They were recognized for courage and bravery under dangerous circumstances in eight other incidents.
Balonek was shy to admit heroism Friday. At first, he did even tell his wife, Robyn, a civilian with the department. She said she learned about the award from a friend.
All in a day's work, Balonek said. His wife — and department leaders — feel otherwise.
"It's not just doing your job, it's more than that," she said. "He's empathetic for everybody he comes into contact with. He just cares."
Since the incident, Balonek has communicated with the victim's father, who said his son is working to overcome the traumatic stress from the attack.
"I'm a dad, too, so, you know, if it was my son, I'd want somebody to do the same thing," Balonek said.
Balonek was set to receive a lesser award Friday, but Sgt. Jeff Clark advocated for his colleague.
"It's always something that's a source of pride for us, to see these officers getting the recognition they deserve in front of their family, their friends, their coworkers and leaders in the community," Clark said.
Contact Jessie Bekker at jbekker@reviewjournal.com or 702-380-4563. Follow @jessiebekks on Twitter.
Gala raises a record $400,000
The annual Best of the Badge awards gala, now in its fifth year, raised a record $400,000 to help fund departmental initiatives and equipment and training for officers. The Metropolitan Police Department holds its annual gala in conjunction with the Las Vegas Friends of Metropolitan Police Department Foundation.
Additional Best of the Badge Honorees
In addition to Metropolitan Police Department detective Stephen Balonek, 41 other officers, sergeants and lieutenants were honored Friday at the department's Best of the Badge Gala at Red Rock Resort. They were recognized for courage and bravery under dangerous circumstances in eight incidents.
Awards included the Unit Medal of Valor, Medal of Honor and Medal of Valor, the department's highest honor.
Here's a synopsis of Metro's accounts of those incidents.
Suicidal Showdown: Unit Medal of Valor
An entire unit received the Unit Medal of Valor Award for evacuating residents and shepherding them to safety Feb. 24, 2015. A suicidal man had been standing on an apartment complex balcony with an assault rifle, threatening to kill himself and police. The man fired 23 rounds in several directions.
Honorees were Lt. David Gordon, Sgt. Bradley Cupp, Sgt. Steve Reese, Sgt. Raymond Weaver, and officers Paul Ake, Bryan Artis, Jared Casper, Michael Franco, Charles Hearrell, Jacob Henry, Seth Leavitt, Bryan Moore, Jimmy Ramirez, Kevin Roundy, Jeremy Vance, and Carlos Zamora.
Threat from Above: Medal of Honor
Officers Robert Bell, Alfred Garcia, Joseph Kabbani and George Nieves received Medal of Honor awards for actions during a violent domestic disturbance in which a man fired a handgun inside an apartment and a woman carrying a 2-year-old boy fell from a second-story balcony trying to escape. Under threat of gunfire from above, the officers rescued the wounded woman and her child, carrying them to awaiting medical units.
Carjacker Capture: Medal of Honor
Motorcycle officer David Corbin and officer Samuel Solorio received Medal of Honor awards for a Jan. 26, 2016, incident. Solorio, who was finishing his shift, heard a call about Corbin pursuing a carjacking suspect. Solorio drove his personal vehicle to the scene and saw the suspect in Corbin's blind spot, aiming a handgun at Corbin. Solorio accelerated toward the suspect, causing the suspect to take attention off Corbin. When the suspect turned and aimed his gun at Solorio, Solorio fired his weapon through the windshield, hitting the suspect and ending the threat to his life and Corbin's.
Neighborhood Nightmare: Medal of Honor
Officers James Coovert, Abudhabi Lewis, and Carlos Luna, and Sgt. Eric Kerns received the Medal of Honor for actions March 31, 2016, during an incident involving a man standing in a street with a shotgun. After gunshots were fired in a northwest valley neighborhood, police determined the man had killed two neighbors and tried to kill his mother.
While Lewis and Luna awaited backup, they tried to talk to the suspect, who appeared to calm down and put his firearm on the ground. Coovert arrived and stayed outside the residence where the homicides occurred. Kerns arrived, and Seeing the man was not responding to de-escalation attempts, deployed his canine partner Nicky. The suspect ran toward his firearm, picked it up and fired one round toward Lewis and Luna, who returned fire.
Killer Contained: Medal of Honor
Officers Lukas Ferris and Bryan Loy received the Medal of Honor for an April 11, 2016, incident in a downtown neighborhood near Las Vegas Boulevard. Arriving officers found a deceased victim with several gunshot wounds, but the suspect had fled. Loy and Ferris set up a perimeter and spotted the suspect running toward officers, firing a gun.
Loy tripped over a boulder and fell to the ground, making his partner believe he was shot. As he was on the ground, Loy shot at the suspect, who was running past him toward Ferris. The suspect collapsed 4 yards from Ferris.
Fire & Ice: Medal of Honor
Detective Brian Dilullo earned a Medal of Honor on his day off. On April 12, 2016, he heard a loud noise and ran outside to find a vehicle had crashed into his neighbor's house and was on fire. Staggering from the crash was a man, whom Dilullo detained for police questioning. Dilullo helped his neighbor extinguish the fire with a garden hose. He saw two people were still in the vehicle; both had been shot and were pronounced dead.
Hot Pursuit: Medal of Honor
Officer Marco Mosqueda received a medal of honor for pursuing a robbery suspect on Aug. 5, 2016. From his vehicle, the suspect fired and striking Mosqueda's police SUV. Mosqueda pursued the suspect, who was traveling at high speed. Once an air unit was tracking the suspect, Mosqueda backed off, joining other officers in forming a perimeter. Hours afterward, the suspect, a Los Angeles gang member who had weapons in his vehicle, was caught.
Danger in the Darkness: Medal of Valor
The Medal of Valor was awarded to Sgt. Jason Hansen, Sgt. Joshua Bitsko and officers Jonathan Adkisson, Samuel Carrillo, Thomas Hemsey, Thomas Keller, Timothy O'Neill, Cord Overson, Louis Russo, Joshua Rowberry and Terrence Vaughan in connection with a Sept. 4, 2015, incident. A report of a prowler at a northwest home led officers Jeremy Robertson and Malik Grego-Smith into a pitch-black backyard where suspects lay in wait.
As officers opened the back door, suspects began firing, striking Robertson's hip with an AK-47 round. One suspect fled and the other stayed in the backyard. Grego-Smith used his body to cover Robertson until help arrived.
Within minutes, a downed-officer rescue team was assembled. Hansen and four officers entered the home to surround Robertson. Three officers covered the back door area where the two suspects were believed to be.
As Hansen talked to one suspect, Bitsko and his team of three K-9 officers went in for the arrest. As an officer used a shield and challenged the suspect, Bitsko's canine partner Loki found the suspect and got him into custody safely. The second suspect was captured later.