Metro executes search warrant at Las Vegas constable's office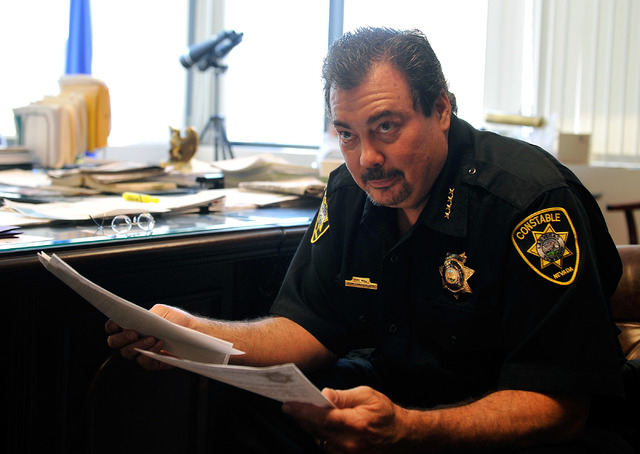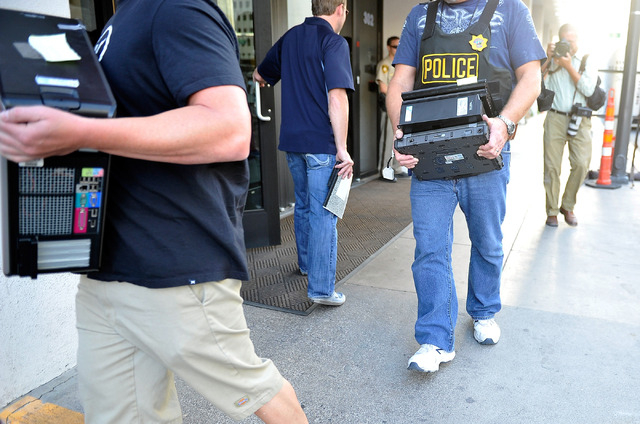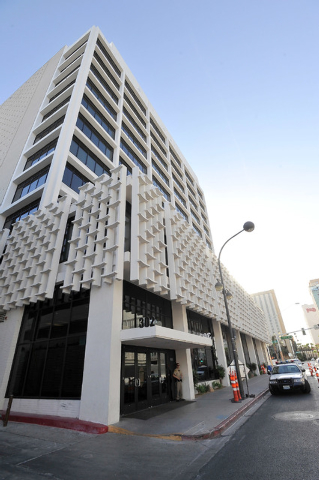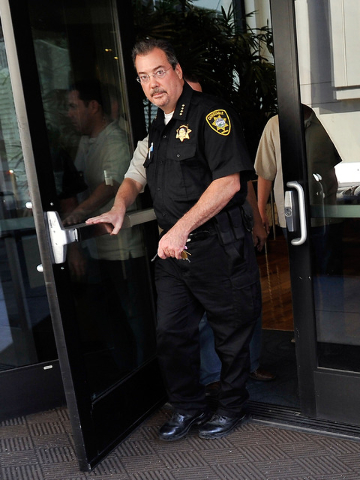 Las Vegas police raided the Las Vegas constable's office Tuesday in an investigation into a secretly recorded telephone conversation between Constable John Bonaventura and County Commissioner Tom Collins.
Police confirmed they were investigating the legality of the recording, which was obtained by the Las Vegas Review-Journal and disclosed in a story in May.
Detectives with the Criminal Intelligence Section of the Las Vegas Metropolitan Police Department spent several hours at the constable's downtown office, 302 E. Carson Ave., executing a search warrant. They arrived at roughly 3:30 p.m. and left about 6:45 p.m.
In a news release, police said another search warrant was served at the same time at an undisclosed residence.
Police said they were looking for evidence corroborating a violation of the illegal wiretapping law, NRS 200.620., and had not made any arrests. Detectives were seen carting away electronic equipment, computers and brown paper bags of evidence from Bonaventura's office.
Bonaventura, who could not be reached for comment, was present during the search of his office. Detectives shut down the office when they arrived and kept the employees in a meeting room. Employees were allowed to leave when their shift ended or after their work station was searched.
Dean Lauer, the constable's chief deputy, declined to discuss what detectives seized in the raid, but he said nothing was taken that would disrupt the office's normal operations.
He said the office would resume operations Wednesday morning.
"We'll be back in business at 8 a.m.," he said.
The constable's deputies are sworn law enforcement officers whose duties include serving court papers and carrying out evictions.
Collins, who was in a County Commission meeting all day, would not comment on the police raid.
"I have reserved my comment for someone else," he said, declining to say if his tight-lipped approach was due to the investigation.
"I know a whole lot more than you all do," he said, smiling as he walked away.
In the recording disclosed by the Review-Journal, Collins was overheard using profane language aimed at other commissioners, including Mary Beth Scow and Steve Sisolak.
Collins later said he didn't give permission to record the telephone conversation with Bonaventura. Under the wiretapping law, it is illegal to record a phone call unless both parties consent.
The exact date of the conversation was unclear, but it appeared to have been recorded before April 18, when Collins signed an affidavit in support of Bonaventura's lawsuit against the county seeking to save his office. County commissioners unanimously voted in March 2013 to abolish the office amid a series of controversies, effective at the end of Bonaventura's term in January.
Bonaventura denied that he recorded the call, though on the copy obtained by the Review-Journal he was clearly heard telling someone he wanted to play the recording for them.
"I wanted you to hear this thing," Bonaventura said in the recording, introducing a person to his conversation with Collins. "This is pretty funny, man. This is Tom Collins. You know he's one of the commissioners, right? He's talking about Scow, the lady I'm running against. You know all of them voted against the office. He's talking about Scow and (County Commissioner Susan) Brager and then I confronted him about why the f—— did he vote against our office and s—- like that."
Bonaventura lost his bid to unseat Scow in last week's Democratic primary election.
The Review-Journal obtained another recording in which Bonaventura talks about wanting to sell off the assets of his office and keep the money out of the hands of county officials.
The conversation, which occurred at the office, was recorded without his knowledge.
Bonaventura is heard saying he wishes he could spend some $3.9 million before the office closes but acknowledges that he cannot spend it all. He aims the brunt of his anger toward Sisolak.
"Right now, with everything going on, I want to spend all the money," Bonaventura is heard saying. "You know, we've got $3.9 million in there. I wish I could just spend it all, and then if they did eliminate the office say, 'F—— you Sisolak, you got nothing … I wish I could do that somehow, but you can't spend that much money."
Contact Jeff German at jgerman@reviewjournal.com or 702-380-8135. Find him on Twitter: @JGermanRJ. Contact Ben Botkin at bbotkin@reviewjournal.com or 702-405-9781. Find him on Twitter: @BenBotkin1.
RELATED:
Illicit recording reveals budding bromance between Bonaventura, Collins