Metro lays out missteps before officers shot, killed fugitive holding cell phone
January 4, 2016 - 10:46 pm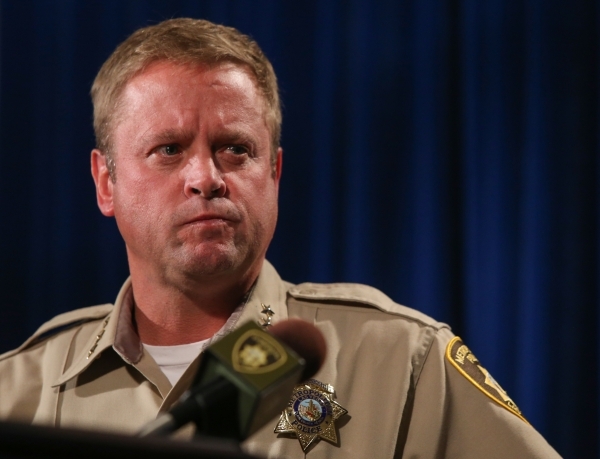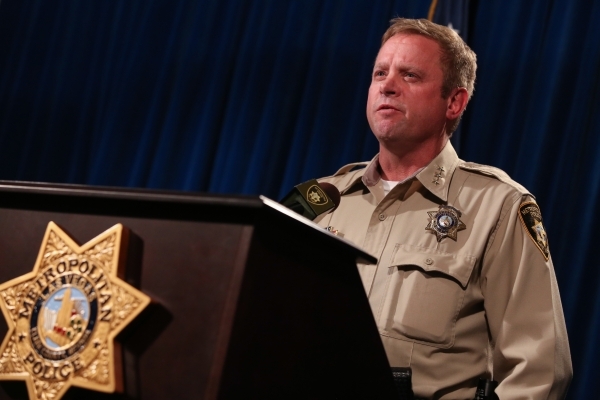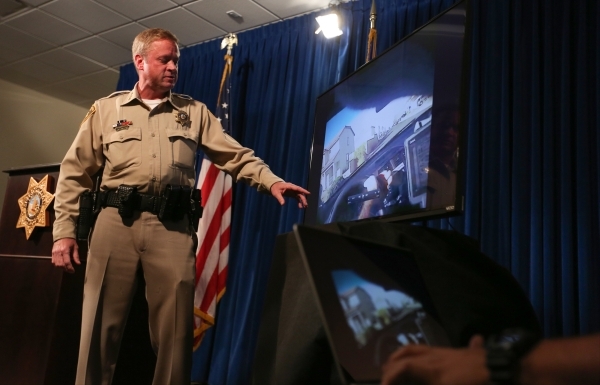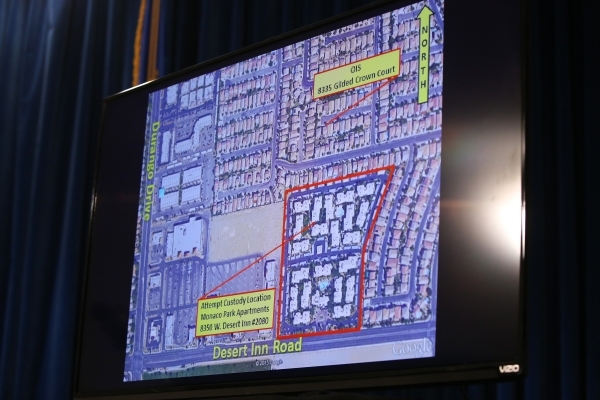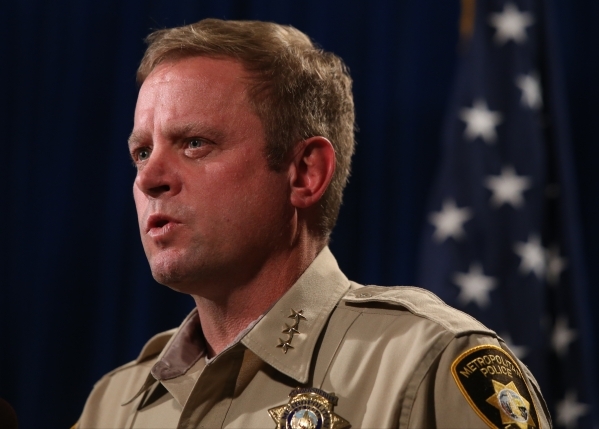 Las Vegas police Monday outlined a handful of missteps, including miscommunication from the U.S. Marshals Office, that led up to the moment two Metro officers shot and killed an unarmed fugitive holding a cell phone in front of a west valley home on New Year's Eve.
Eighteen minutes before the shooting, Metro knew nothing about the fugitive, Keith Childress. Though the agency often works with U.S. Marshals to catch fugitives, Metro had its eye on the Strip that afternoon, where about 1,000 officers were working with the Nevada National Guard to secure the area for celebrations, Undersheriff Kevin McMahill said.
So the local U.S. Marshals office handled the Childress case alone. They watched for him at an apartment that belonged to the fugitive's family friend, just north of Desert Breeze park, for two days. And when he came out that afternoon, the marshals moved in.
But the 23-year-old fled. And at 2:04 p.m., Metro got the call: A man who may be armed and who is wanted for attempted murder is in the area of Monaco Cove, a winding planned residential community.
"Officers from the Enterprise Area Command quickly arrived and set up a perimeter to contain Childress," McMahill said. An air unit watched as the fugitive hopped backyard walls and walked in between homes. Patrol cars followed instructions as the helicopter directed them through the maze of houses. But as this played out, Childress wasn't who they understood him to be.
Though deputy marshals had said Childress was wanted for attempted murder, that "later turned out to be false," McMahill said. Childress didn't have a clean slate: He faced a series of charges including two counts of aggravated assault; two counts of armed robbery; two counts of kidnapping; two counts of theft and burglary in the first degree — all of which stemmed from an armed, March 2013, home invasion he took part in, McMahill said.
But the reason he was a fugitive was because he skipped his sentencing for those charges two weeks ago and fled to Las Vegas to avoid prison time.
"His family showed up along with his defense attorney, but he did not," McMahill said.
When asked if officers may have responded differently knowing Childress was not wanted for attempted murder, McMahill referenced the ongoing investigation.
"We have to go back in and look at every aspect of this particular incident to find ways to mitigate the tragedies that occurred," McMahill said.
Childress also wasn't armed. Though the possibility was true — deputy marshals found a gun in the friend's car as Childress fled — it was later determined the gun legally belonged to the friend, who knew nothing about Childress' history in Arizona, police said.
"This is our first officer-involved shooting where the suspect didn't have a weapon in over two years," McMahill said.
The U.S. Marshals office in Las Vegas did not respond to a request for comment.
On Monday, as McMahill reviewed the incident, he played body camera footage. But the only clip available came from the collar of Sgt. Robert Bohanon, a 37-year-old, 18.5-year veteran of the force. The other officer involved — 27-year-old Blake Wolford, who's been on the force for just more than a year — did not activate his body camera.
"I don't know why he didn't turn it on as of yet," McMahill said. "We have a policy that requires them to turn it on."
When asked what the consequences to that would be, McMahill said, "it depends."
"We've had circumstances where they simply forgot; we've had (circumstances) where their equipment was inoperable," he said. "I have to let the investigation fully vet itself out."
In the body camera footage Metro did show, Childress was only visible in the beginning, just as the two officers pulled onto Gilded Crown Court, a small, no-outlet street in the subdivision.
Childress can be seen casually walking left across the screen and street, making his way up the driveway of 8335 Gilded Crown and ignoring commands from Bohanon to stop before disappearing from view of the camera.
Off-screen, McMahill said Childress stood near the top of the driveway. And at that point, Bohanon can be heard saying, "He's got something in his hand."
Bohanon then incorrectly identified the object as a gun and repeatedly ordered Childress to "get your hands up."
But Childress didn't move, ignoring a total of about 24 commands from Bohanon over the course of two minutes to "Surrender," "Drop the gun," and "Get on the ground."
"If you advance at us, you will be shot," Bohanon said. And Childress did.
From the cover of a neighbor's car at 2:22 p.m., Bohanon fired four rounds, and Wolford fired five as Childress stepped forward and four U.S. Marshals, who had arrived on scene in the meantime, watched. Childress was struck five times — three times in the chest, once in the hand and once in the thigh — and fell, but continued forward, McMahill said.
With the help of K-9 and other officers, Childress was cuffed. Medical personnel responded, but he was declared dead at the scene at 2:35 p.m.
McMahill clarified that a Taser was not used because "you typically wouldn't use a Taser when you're confronting what you believe to be an armed suspect." He added that Childress was about 40 feet away, and Tasers only work within a 21-foot range.
"What could we have done differently to maybe change the outcome of this particular incident?" McMahill said. "Well it's a little too early for me to give you the response to that just yet."
Contact Rachel Crosby at rcrosby@reviewjournal.com or 702-387-5290. Find her on Twitter: @rachelacrosby