Metro offers safety tips for playing 'Pokemon Go'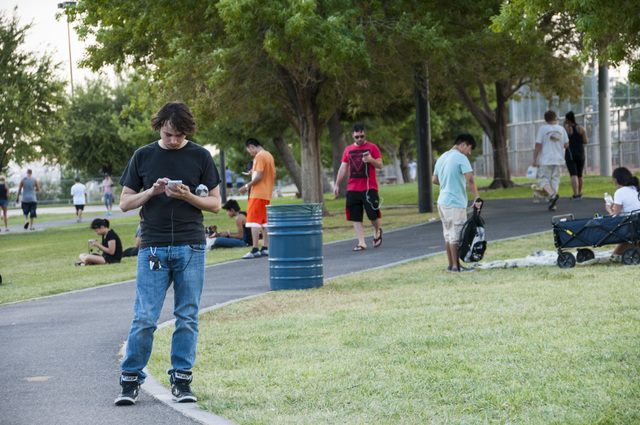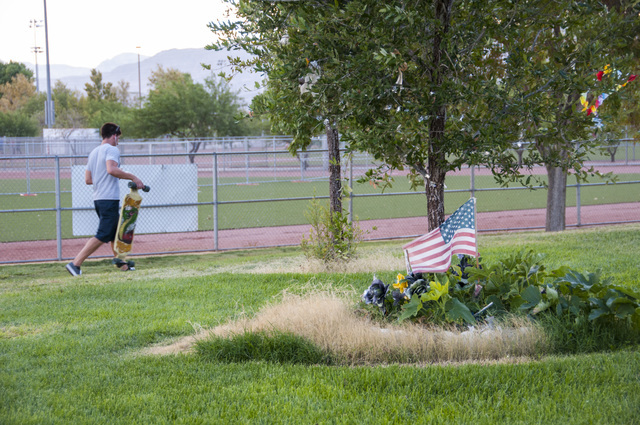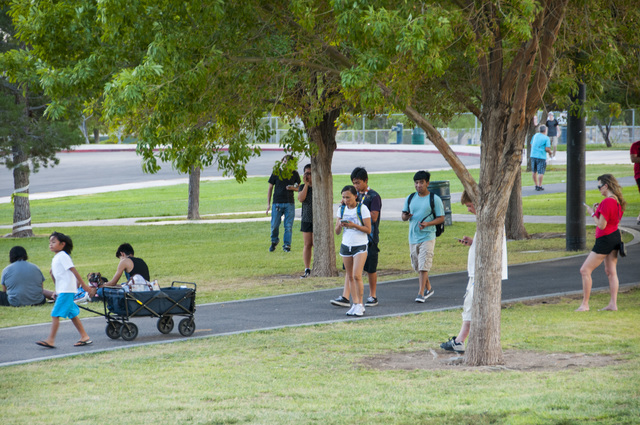 In the wake of violent incidents at two valley parks this week, the Metropolitan Police Department offered tips on how to play the hit mobile game "Pokemon Go" safely.
RELATED CRIMES
On Monday, two people were shot during a gunfight at Freedom Park, near the intersection of Pecos Road and Washington Avenue, when a man in a vehicle attempted to rob a group of six players at gunpoint— and one of them pulled out his own concealed handgun and the two exchanged fire.
On Wednesday, two people were injured at Desert Breeze Park after chasing down a man whose phone was taken by another man; the victim pulled out a knife and slashed at the other two chasing him, causing minor injuries, Metro said.
In a flier, the department shared tips on safe play, including not displaying valuable items such as jewelry and wallets; traveling in pairs while playing; and paying attention to surroundings and other persons while playing.
BUDDY SYSTEM
"We encourage people who may be out and about playing 'Pokemon Go' to use the buddy system, be aware of their surroundings, especially when going to areas that are unfamiliar, and respect private property," Metro spokesman Laura Meltzer said. "Several of the events that have recently occurred in Las Vegas involved crimes of opportunity committed against players of the game."
MUGGED
Samuel Nunn said he had his phone taken at gunpoint near Desert Breeze.
"I was actually mugged a few weeks ago for my phone right when 'Pokemon Go' came out, I was mugged right up the street," said Nunn, who said he has played 'Pokemon Go' at the park since the game's release.
But the mugging and more recent events have not robbed him of his desire to play; less than a day after the knife-related incident at Desert Breeze, Nunn was back and playing.
"I feel safer at the park. I won't really walk off the park unless I'm in a somewhat bigger group."
Though he said he still feels safe at the park, he offered his own tips for players.
"Play in a well-lit area — if not well-lit, very crowded, with a lot of people around you," Nunn said.
DON'T PLAY ALONE
Nunn advised against playing the game alone and praised the spirit of the players coming together. "Especially in this area, there's a very communal feeling."
Nunn said the park typically contains hundreds of people playing the game, and the park doesn't clear out until 3 a.m.
In spite of his bad experience, Nunn said he has made friends playing the game and praised it as a positive activity.
"Overall, I'm not too worried," he said. "There are always going to be some bad people out there, but it seems that there are more people playing to connect with other people. … Most people are here to have fun and play."
Contact Christian Bertolaccini at cbertolaccini@reviewjournal.com and 702-383-0381. Follow @bertolaccinic on Twitter.
LAS VEGAS METROPOLITAN POLICE DEPARTMENT CRIME PREVENTION
POKEMON GO AWARENESS
The crime of robbery is usually motivated by financial gain and is carried out by an individual(s) seeking to cause fear and control of a victim(s). In most cases, a weapon will be involved. Victims may be lured or chosen by random opportunity. Victims need to be aware that the Pokemon Stops and Gyms are being used as criminal watering holes and the lure module can be used to draw additional players to the area. While not all criminal contact can be avoided, there are some crime prevention practices which can greatly reduce your chances of being victimized.
Pokemon robbery prevention:
• Remain audibly and visually aware of your surroundings.
• Trust your gut instincts when seeing or hearing something out of the ordinary or that is suspicious in nature.
• Do Not allow yourself to be in close contact with someone who may be trying to get your attention or engage you in conversation.
• Do Not let individuals you do not know use your phone.
• Do Not display targeted items such as cash, jewelry, wallets, etc.
• Travel in pairs if possible, when playing Pokemon Go, especially at night.
• Don't travel in areas you are unfamiliar with, especially at night.
• Be cautious of groups of individuals who may be paying close attention to you.
• Be aware of who is around you and what they are doing and paying attention to those that approach you.
• Keep in mind that a robber can be anywhere and look like anyone. The threat is not always obvious so, it is wise to be cautious of all situations and unknown individuals.
• Have a plan in mind for when emergency situations arise.
• If a confrontation is unavoidable, remain calm and cooperative. Be willing to part with your valuables to protect your well-being. Do not argue, resist or encourage violence.
• When driving your vehicle keep your doors locked and pay attention to what is going on in the area when you are at intersections.
• Report suspicious activities to authorities and make a report if you have become a victim.
Crime Prevention 702-828-5804 or EACPREVENTION@LVMPD.COM
Enterprise Area Command 6975 W. Windmill Lane