Metro officer at center of Tuesday shooting involved in three prior incidents
January 29, 2016 - 8:41 pm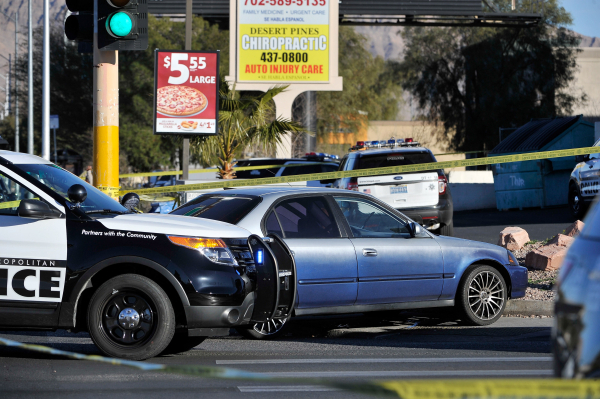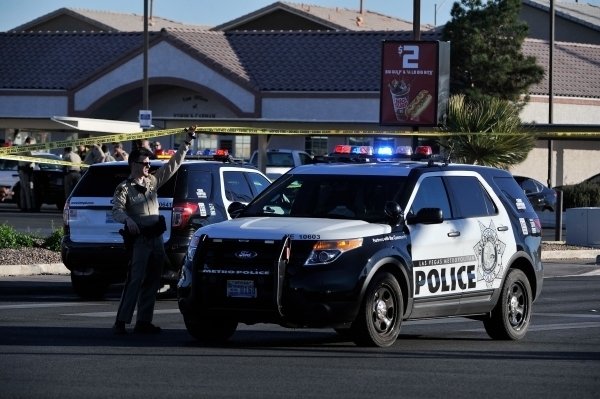 The Las Vegas police officer who shot and injured a man in the east valley Tuesday afternoon during a response to a reckless driving call has fired his weapon while on duty three other times, killing one person and injuring two others.
While working for the Metropolitan Police Department's resident section of Laughlin in January 2014, officer Samuel Solorio fired his first fatal shot, police said at the time.
By that time, he had been involved in two previous nonfatal shootings, according to Review-Journal archives.
On March 16, 2000, Solorio and officer Michael Maloof opened fire on 18-year-old Roy Caton Palmer, shooting him four times. The officers were called to a domestic disturbance and thought Palmer had pointed a gun at them. The gun in question was later identified as a pellet gun.
On Sept. 6, 2001, Solorio responded to a call about a robbery at a Jack in the Box near Nellis Air Force Base. Solorio saw 26-year-old Roy Philson running away and pursued him in his patrol car. Solorio pinned Philson against the wall of a nearby restaurant with his patrol car after the suspect fired a gun at him. Solorio shot Philson twice in the arm and shoulder after the suspect raised his gun again.
Solorio's third officer-involved shooting killed a man, who was a suspected robber on Jan. 31, 2014, at a gas station convenience store in the 3600 block of the Laughlin Highway, police said in 2014. That shooting at the South Pointe Market drew criticism from witnesses who challenged Metro's findings at that time.
Zachary Ryan Andrews, 28, had just robbed a convenience store at gunpoint and was confronted by Solorio minutes later across the street from the business. Solorio told Andrews to step in front of the patrol vehicle, and Andrews followed the order.
But then Andrews pulled a handgun — which police said had been stolen three days before — from his waistband and pressed it to his temple. Solorio tried to convince Andrews not to shoot himself, Metro Homicide Detective Marty Wildeman said during the police fact-finding review in December 2014.
Andrews refused to put down the gun and moved toward Solorio, forcing the officer to shoot and kill him, Wildeman said.
But in a statement given after the shooting, a witness said Andrews was moving away from Solorio. Criminal defense attorney Karen Connolly, acting as the ombudsman for the review, brought up the witness' perspective. The witness, who was walking toward the convenience store, said he had a clear view of the shooting.
Wildeman did not say if Andrews ever aimed the revolver at the officer, only that his hand "remained at the side of his head the entire incident."
After being internally investigated, Solorio was exonerated in his first three officer-involved shootings.
The 39-year-old officer, who has been on the force for 17½ years, has been placed on routine paid administrative leave, pending the latest investigation's outcome, Metro said in a statement earlier this week.
Contact Kimberly De La Cruz at kdelacruz@reviewjournal.com or 702-383-0381. Find her on Twitter: @KimberlyinLV.