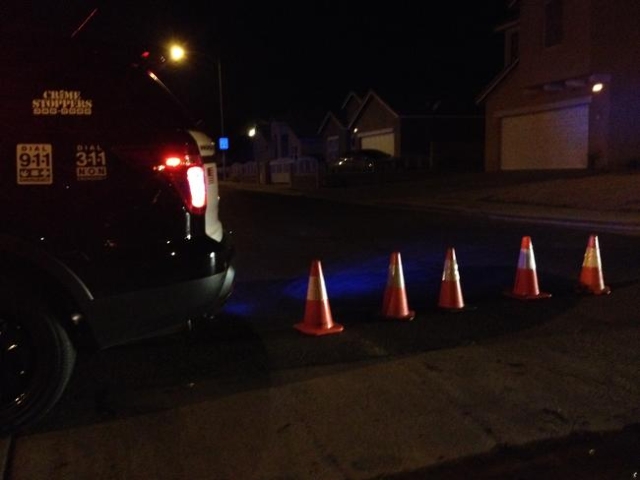 The Las Vegas police officer who shot and killed a man Monday night outside his northeast valley home has been identified as 36-year-old Solon McGill.
Police say Roberto Ortiz Sanchez, 45, pointed a gun at officers in front of his family's home at 3869 King Palm Ave., near Pecos and Alexander roads. When he failed to put down the weapon after they told him to, an officer, identified Thursday morning in a Metro release as McGill, fired "several times" about 9 p.m., Metro spokesman Larry Hadfield said.
Shot and bleeding, Sanchez tried to go back inside his home, police said. He was taken to University Medical Center, where he died.
Two of his four sons — both minors — saw it happen, a family member told the Review-Journal Wednesday.
On Tuesday, Metro released the reason officers showed up at Sanchez's home that night: A vehicle parked out front matched the description of one that left the scene of a robbery just 15 minutes earlier, at a Chuck E. Cheese about seven miles south, at 350 N. Nellis Blvd. When officers arrived at the home, three people were standing around the car, police said in a news release.
As officers were trying to take those three people into custody that is when police said Sanchez came outside his front door, facing the commotion, armed.
Police responded to the Sanchez home just five months earlier on a July morning when the man's 23-year-old son fought back against a pair of armed home-invasion robbers, shooting and killing one.
As of Wednesday night, it was unclear whether the three people outside Sanchez's home were related to him or knew him. Police have not confirmed whether those people were arrested or are still in custody.
McGill has been placed on routine paid administrative leave pending investigation, the release said.
Contact Kimberly De La Cruz at kdelacruz@reviewjournal.com or 702-383-0381. Find her on Twitter: @KimberlyinLV.