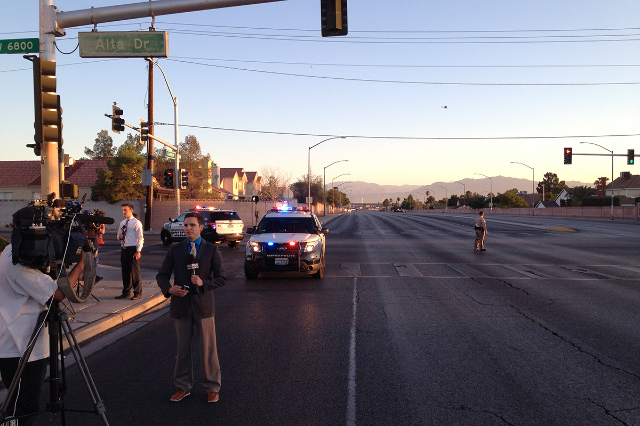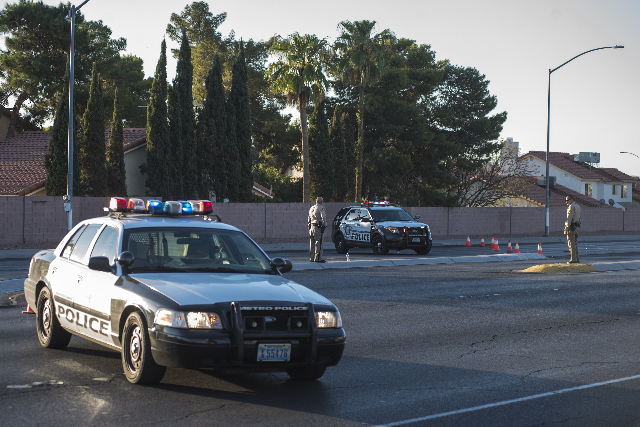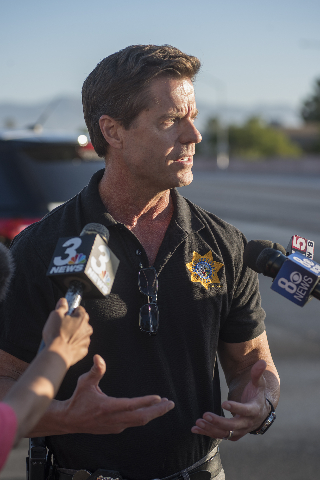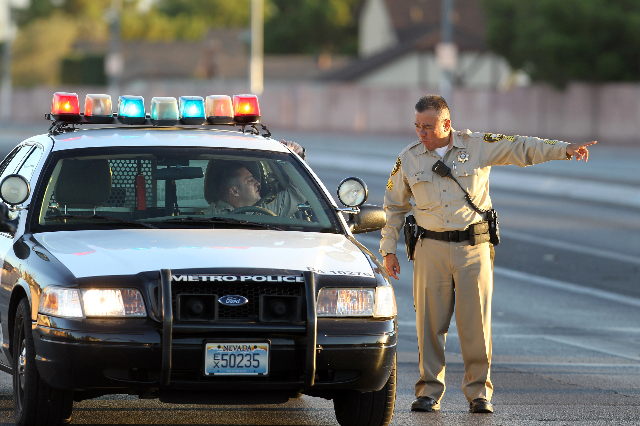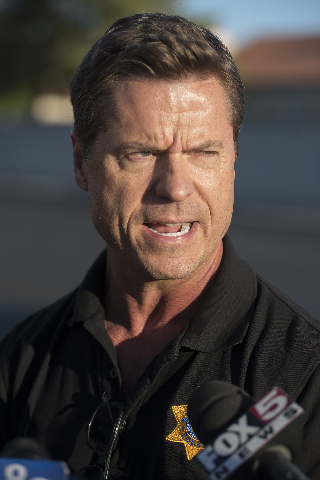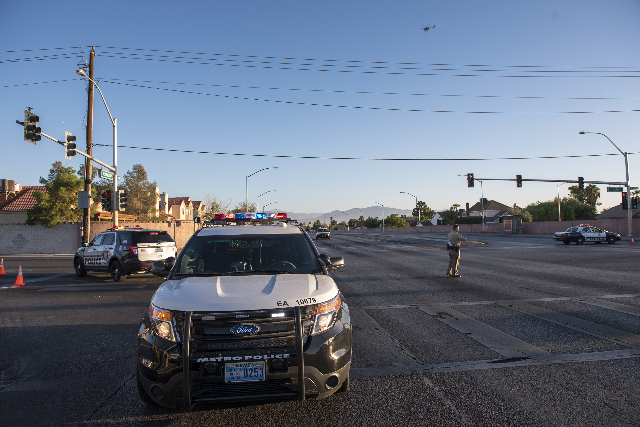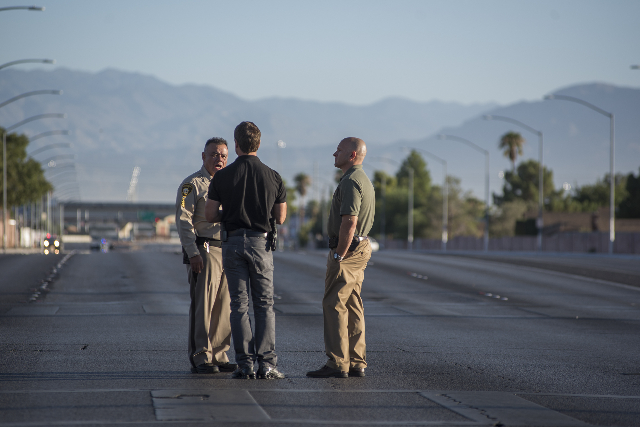 A Las Vegas police officer shot before daylight Friday came through surgery fine, Sheriff Joseph Lombardo said, but one man's wound leaves a mark on the whole department.
Officer Jeremy Robertson, 37, was shot in his upper right leg while investigating a call about armed men in a backyard in the west valley, Lombardo said. He was the third Metro officer wounded in the line of duty in two months.
Two men were arrested afterward and face attempted murder charges, among others. One of them was wounded by an officer's returned gunfire, police said, but he was treated and released from a valley hospital.
Noting recent shootings of police officers throughout the United States, Lombardo said his department is "on pins and needles as we go through this."
Lombardo said during an afternoon press conference that he had just reminded his department Thursday to be "vigilant" but still responsible to the community.
Robertson was shot about 3:45 a.m. when he and another officer, who wasn't identified, were investigating a call about armed men in a backyard in the 6700 block of Oveja Circle, near the intersection of Alta Drive and Rainbow Boulevard.
A 911 caller said one of the men went to the front of the house, rang the doorbell and walked back into the backyard.
When officers got to Oveja Circle, they went into the house and were walking out the back door when someone opened fire.
Police believe that the shooters knew they were firing on officers, Lombardo said, but that initial evidence does not suggest the shooting was a "vendetta" against law enforcement.
Clemon Hudson, 20, and Steven Turner, 24, face two counts each of attempted murder, and one count each of conspiracy to commit battery with a deadly weapon, firing a gun into a structure, burglary while in possession of a weapon and conspiracy to commit burglary, according to Clark County Detention Center logs.
Turner was armed with an AK 47 and Hudson with a 12-gauge shotgun, Lombardo said. Robertson was shot and the second officer shot Turner in the left calf.
It wasn't immediately clear what happened next, Lombardo said, but Turner was able to run away.
Hudson initially didn't surrender or drop the shotgun, Lombardo said. He was arrested in the yard after a police dog bit him on the head and on a hand.
Police announced Turner's arrest about four hours after the shooting. Lombardo said he was spotted while walking on the roadway about two blocks away from the shooting scene.
They were both booked in the county jail after being treated for their wounds, Lombardo said.
Police are looking for a third person who may be connected to the shooting, Lombardo said. That person drove off from near where the shooting happened in a white Nissan Maxima. No further description was given.
The AK 47, the shotgun and a .25-caliber Beretta were recovered in the backyard, Lombardo said. Finding a third weapon adds to Metro's suspicion that there's a third person connected.
Lombardo said that a rifle similar to the AK 47 has been used in recent crimes and Metro is trying to see if the one used Friday is connected.
Metro does not believe the men knew the people at the house they were at, Lombardo said.
Officer Robertson is expected to make a full recovery, Lombardo said. The sheriff described his officer as a 14-year Metro veteran who is married with a 14-month old child and another on the way.
Earlier Friday morning police went door-to-door and searched many vehicles leaving the residential area near the intersection of Alta and Rainbow. Metro's SWAT unit also was in the neighborhood, and a helicopter circled above.
Las Vegas police also checked ID badges for drivers entering the parking lot near University Medical Center's trauma unit, where Robertson was treated.
Roads west of Rainbow between West Cliff Drive and Alta to Lorenzi Street, and south and northbound traffic on Rainbow from U.S. Highway 95 to Alta were closed for about two hours while police investigated.
Two other officers have been shot recently. Neither turned fatal.
A rookie officer was struck by a bullet July 10 after a man who had been pulled over fired from his SUV in the 5600 block of Sahara Avenue. Metro said James Todora had aimed a gun at the head of an officer who had pulled him over. In the struggle for the weapon, a round struck officer Evan Hogue. Police shot and killed Todora.
Bryan Keith Day shot an officer three times, including once in the face, with a pellet gun at an apartment complex at 3040 E. Charleston Blvd. on July 25. Three officers returned fire, striking Day 13 times. He died.
Contact Ricardo Torres at rtorres@reviewjournal.com and 702-383-0381. Find him on Twitter: @rickytwrites.Contact Colton Lochhead at clochhead@reviewjournal.com or or 702-383-4638. Find him on Twitter: @ColtonLochhead. Contact Cassandra Taloma at ctaloma@reviewjournal.com or 702-383-0381. Find her on Twitter: @CassandraTaloma.