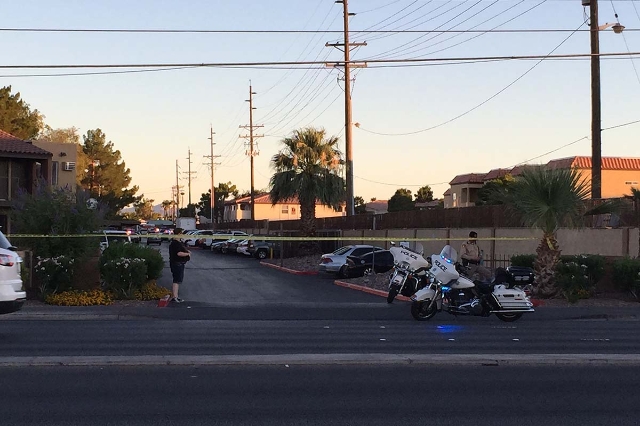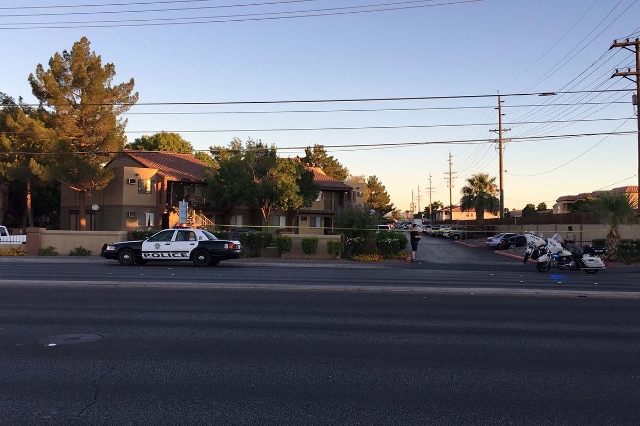 A man was killed in a central valley officer-involved-shooting Saturday night after wounding a Metro officer with a pellet gun while police were responding to a crime involving the man's neighbor.
About 6:00 p.m., Las Vegas police responded to a call from Oasis Ridge apartments, in the 3000 block of E. Charleston Blvd., where a man had been "beaten" in his apartment, Cpt. Chris Tomaino said on Saturday night.
When police arrived to the apartment to interview the wounded man and speak with witnesses, the wounded man's next-door neighbor, also a man, came out and "engaged the officers in conversation," Tomaino said. After a brief conversation, the man then stepped back into his apartment.
When he walked out again, the neighbor of the wounded man had a gun in his hand, Tomaino said, and shot at an officer, striking him once under his left eye.
At least two officers returned fire, killing the man, Tomaino said.
The injured officer was taken at University Medical Center and released on Saturday night, Tomaino said.
Police believe the weapon used by the shooter was a pellet gun, Tomaino said.
The shooting was still under investigation late Saturday night, and was expected to continue into Sunday morning, Tomaino said.
The Clark County coroner's office will release the man's identity.
Saturday's shooting was the sixth officer-involved-shooting of 2015 in Metro's jurisdiction.
Contact reporter Chris Kudialis at 702-383-0283 or ckudialis@reviewjournal.com. Find him on Twitter: @kudialisrj