Metro pairs up patrol officers in response to Dallas shooting, urges valley to 'look out for one another'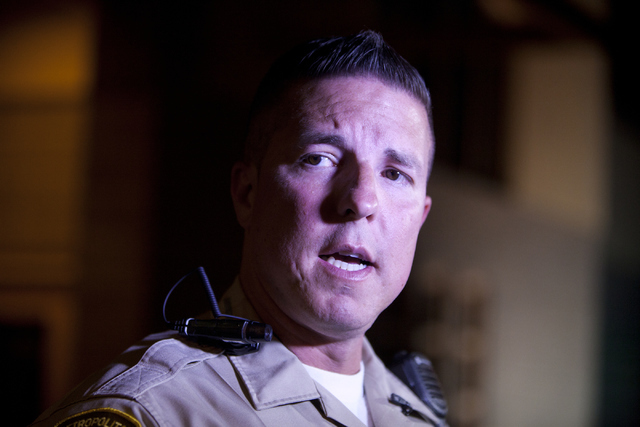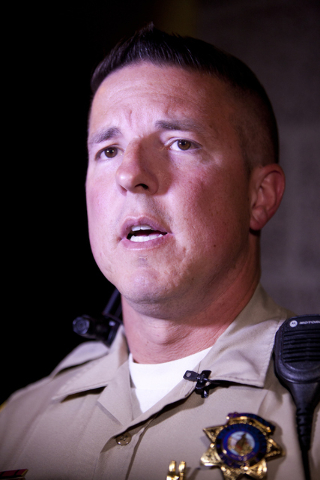 The Metropolitan Police Department abruptly announced Thursday night that all on-duty patrol officers will double up and work in pairs "until further notice" in response to a shooting at a protest in Dallas late Thursday that killed four police officers as of 9:30 p.m.
"Based on open news source reports of protests in several major cities across the United States, on-duty LVMPD officers will be working in pairs until further notice," the announcement, which came shortly after 8 p.m., said. "Though locally we are not experiencing any civil unrest, this move is purely precautionary. Our goal is to maximize the safety of our officers."
Metro Sgt. Jeff Clark said there are no links between the Dallas shooting and the Las Vegas valley during a media briefing in front of the department's northwest substation Thursday night. He added there were no credible threats to the police department.
.@LVMPD Sgt. Jeff Clark on Dallas, Metro response: "Remain calm, remain vigilant & look out for one another." #RJNow pic.twitter.com/G2O5fhYTeP

— Rachel Crosby (@rachelacrosby) July 8, 2016
"Our job is to A, keep our citizens safe, and then B, keep ourselves safe," Clark said about 9 p.m.. "We want to make sure that our employees go home tonight to their families, unlike what happened to those officers in Dallas, Texas today — this evening, actually. Within the last hour."
Clark said the pairing up of patrol officers will last at least through Metro's graveyard shift, which ends early Friday. But it may be extended, he said.
On top of pairing up officers, Clark also said the department suspended civilian ride-alongs Thursday night until further notice.
Cadets and patrol service representatives — who operate in the field but are younger and typically write reports, take crime-scene photos and conduct low-level forensics — were pulled from the field Thursday and instead instructed to work from inside police substations throughout the valley, Clark added. That move doesn't affect many, because only about 10 cadets and patrol service representatives work throughout the valley on a typical shift, he said.
When asked if the move would affect response times in the valley, Clark said it may, because "if you have a shift of 20 officers, now you just went from 20 black-and-whites to 10."
But he quickly added that "the majority of calls that we go on, our protocol is to send a minimum of two officers in place, so we should have your back right there."
The last time similar orders were announced was in 2014, immediately after the fatal shooting of officers Igor Soldo and Alyn Beck.
Clark said his initial reaction to the Dallas shooting was "shock" and "disgust." He said his heart goes out to the Dallas community.
"Having lived in Texas, and having a lot of friends in the Dallas area, I can't imagine what that whole community is going through right now," he said.
"Having been born and raised here," Clark said of Las Vegas, "I understand there's a lot of good people here and a lot of good people that support your police department. These things that happen in other jurisdictions, they do not have to do with us. I urge you to remain calm, remain vigilant and look out for one another."
Contact Rachel Crosby at rcrosby@reviewjournal.com or 702-387-5290. Find @rachelacrosby on Twitter.