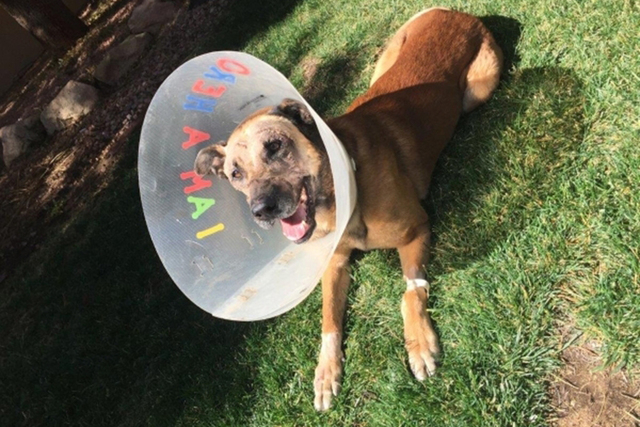 Less than a month after surviving a machete attack, Nicky is back on the job.
The Metro police dog returned to duty Tuesday after three weeks of recovery, his partner and handler Metro Sgt. Eric Kerns said.
Aside from the scars on the dog's mending face, nothing has changed, Kerns said.
"You would never know, other than his shaved face, that anything was wrong with him."
Nicky did not have to undergo rehabilitative physical therapy during his recovery, and he will not have to take any medication for the wounds he sustained in February.
"He is very resilient," and that's what makes him such an effective police dog, Kerns said.
The 8-year-old Belgian Malinois was injured Feb. 12 while trying to subdue a suspect during a 12-hour police standoff. The suspect swung and slashed a machete at Nicky's head, cutting and stabbing the police dog across the face.
Tolavius Timmons, 36, was brought into custody with Nicky's help. He has been charged with torturing, injuring or attempting to kill a police animal and torturing or maiming an animal to terrorize or threaten it, court records show. He also faces charges of resisting an officer with a firearm and damaging state property worth up to $5,000, a charge associated with flipping over a police robot that was sent into his apartment during the standoff.
Nicky was transported to Las Vegas Veterinary Specialty Center where he underwent two hours of surgery.
Since his partner returned to work, Kerns said, he and Nicky have picked up right where they left off.
"I watch out for him, and he watches out for me," Kerns said.
Contact Christian Bertolaccini at cbertolaccini@reviewjournal.com and 702-383-0381. Find him on Twitter: @bertolaccinic